Adrian will be staying with Liverpool for at least another season, with the goalkeeper confirming he is "really close" to signing a new contract.
When Liverpool announced Roberto Firmino, James Milner, Naby Keita and Alex Oxlade-Chamberlain would be leaving this summer, Adrian's name was a surprising omission.
The Spaniard's contract is due to expire on the same day as his departing team-mates, but no confirmation was made over his exit.
Instead, talks are ongoing over an extension, with Jurgen Klopp telling reporters last month that he had a "rather good feeling" an agreement would be reached.
Adrian has echoed that in an interview with The Athletic's James Pearce, describing talks over a new deal as being "really close" to completion.
"I have a great relationship with the manager and the club. We've been in talks and we're really close," he said.
"I know the situation and my role in the squad.
"Everyone wants to play and have minutes on the pitch, but you also need a big squad with good people who will commit everything every day in training."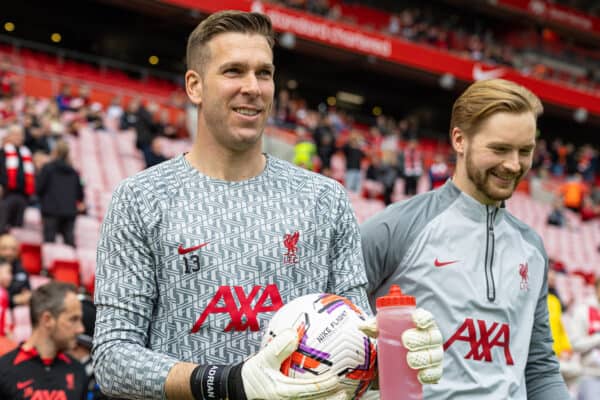 His commitment comes amid speculation over Caoimhin Kelleher's future, as despite Klopp insisting his No. 2 would stay unless an "extraordinary offer" came in, the Irishman is expected to push for a move.
That is unlikely to see Adrian climb the goalkeeping pecking order again, with the 36-year-old instead likely to stay as third choice.
It is a difficult role to grasp from an outside perspective, with a third-choice goalkeeper rarely even making the bench on matchdays.
But as Adrian continued, he detailed the attitude required in the position as he helps push the likes of Alisson and Kelleher.
"Your mindset has to be that you're going to be the number one. The feeling has to be that you can be the number one," he said.
"If you feel like you're the number two or the number three then you're fucked to be honest.
"The motivation and commitment has to be at the highest level with the understanding that players have different roles.
"It's like being single and then getting married and needing to adapt."
Adrian is unlikely to be the only Liverpool player to sign a new contract this summer, with decisions to be made over the futures of Joel Matip and Thiago, who enter the final year of their deals.
Trent Alexander-Arnold is among those whose terms expire in 2025, and talks are likely to be held with the right-back.