Khephren Thuram is a leading midfield target for Liverpool and has many excited about a possible move to Anfield, but what could he offer?
At the age of just 22, Thuram has already amassed 141 first-team appearances for Monaco and Nice combined and has made his senior international debut for France.
Thuram, son of France legend Lilian, has plenty of upside and can be a versatile option in midfield – a combination that will appeal to Jurgen Klopp.
The young Frenchman is widely reported to be on the shortlist for the summer and with links only intensifying, we need to know what we could expect to see from him.
What are his strengths? Will he settle in quickly under Klopp? And does his price tag represent a good deal?
To get the lowdown on Thuram and what he could bring to Liverpool, This Is Anfield spoke to French football journalist Luke Entwistle (@LukeEntwistle).
Firstly, there's a bit of confusion over his role – so what type of midfielder is Thuram?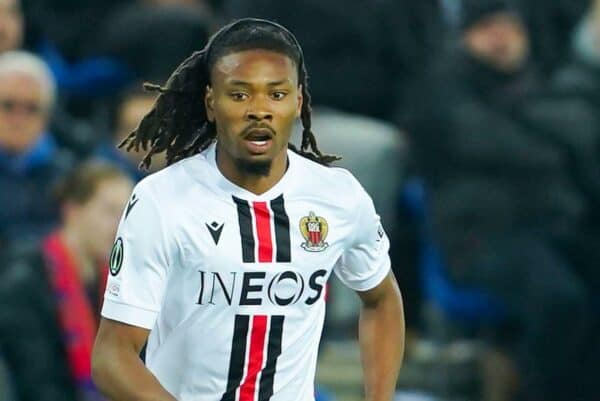 Thuram is a dynamic, progressive midfielder. Coming through the youth system at Monaco, he was profiled as more of a physical defensive midfielder, and breaking into Nice's first team in the 2019/20 season, he was utilised more as an anchor.
However, he is undoubtedly a No. 8, box-to-box midfielder, who likes to progress the ball with carries. He is diligent in his defensive work, but that doesn't usually consist of screening the defence, but rather being aggressive in the press in the opposition's third.
I think Thuram's frame plays a part in the misperception of his profile as people expect such a physical player to be a No. 6, rather than a No. 8.
What are his strengths?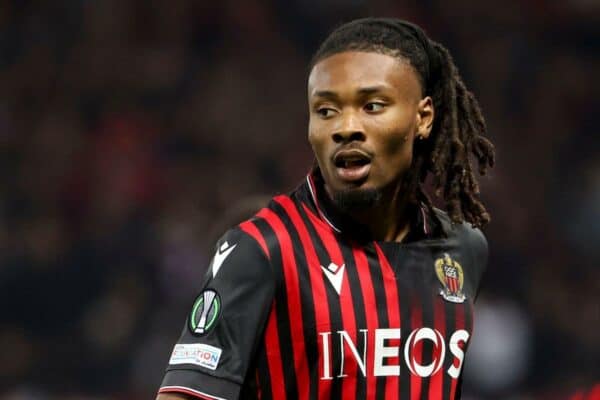 His major strength is his dribbling.
He is a player that, once he has found full flow, is difficult to stop. He often picks the ball up in deeper areas, before breaking through the lines.
He is also an aggressive and efficient presser of the ball, often helping Nice to win the ball high up the pitch. He has also displayed a good range of passing and likes to catch out high lines with balls over the top.
And how about his weaknesses?
His weakness, currently, is his end product. He only has eight goals and 11 assists in 138 games for Nice. He needs to be more selfish in the final third, and also work on his decision-making – when to pass, when to shoot.
If he can add some more statistical attacking output to his game, he would be a much more rounded midfielder.
Are there any midfielders in particular you'd compare him to?

Paul Pogba is an obvious comparison but I'd say he's closest to Moussa Dembele.
The way he glides past players with such elegance is reminiscent of the former Tottenham midfielder, who like Thuram, has an incredible knack for retaining possession in difficult situations.
Does he have the right attitude to fit in at a club like Liverpool?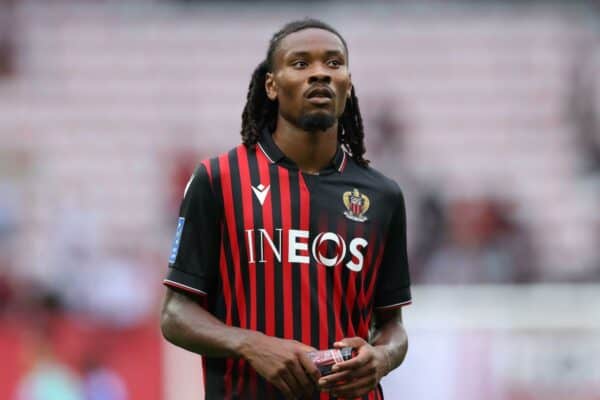 In the press conferences and mixed zones that I've attended with him, he's always come across as a light-hearted character, who speaks well and maturely, but who doesn't take himself too seriously.
From the outside looking in, he doesn't seem like the biggest character in the dressing room, but he has some very strong relationships within it, notably with Jean-Clair Todibo. The former Barcelona defender is also linked with a departure this summer.
He comes from a family of elite sportsmen of course, with his father Lillian and brother Marcus, so clearly he has a strong mentality, and to come through at such a prestigious academy like Monaco's you need that.
He also had the fortitude of character to move away from Les Monégasques in order to secure more playing time, which is also indicative of the kind of driven individual he is.
Reports in Nice suggest he could be available for around €40 million – would that be a good deal?
A €40 million (£34.4m) deal would be a steal for a player of Thuram's quality and potential.
The market rate for such a profile is certainly a bit higher than that. That price for a 22-year-old France international with huge potential for further growth represents great value.
Can you see him being able to make the step up as a starter for Liverpool next season?

Ligue 1 is a physical league, so adapting to the physicality of the Premier League won't be hugely problematic for Thuram, one would think.
However, adapting to Klopp's demands and instructions may take a bit of time. Thuram has played in a midfield three this season, like Liverpool, but he has a certain degree of carte blanche as the most talented and explosive element in that midfield configuration.
Adapting to Klopp's specific, more tailored needs could take a little bit of time. I'd expect him to get lots of minutes next season, should he make the move to Liverpool, whether he is a guaranteed starter throughout is another question, but I would certainly expect that, by the second half of the season at least, he has very much established himself in the setup.
---
* Thanks again to Luke Entwistle for giving us the lowdown. You can follow Luke on Twitter here @LukeEntwistle