What threatened to be a woeful season for Trent Alexander-Arnold ended with him being given a new lease of life at Liverpool, in an intriguing role.
The right-back's 2021/22 campaign finished in disappointment, having not covered himself in glory for Vinicius Jr's Champions League-winning goal in Paris.
It had still been a season to cherish overall, however, as he once again showed why he is Europe's most unique full-back.
There was no suggestion that Alexander-Arnold's 2022/23 campaign would be anything other than a success, but what followed proved to be a wild and unpredictable ride.
Trent Alexander-Arnold, 2022/23

Started: 44 (All competitions)
On as a substitute: 3
Unused sub: 1
Goals: 4
Assists: 10
Overall Season Rating: 6
Big struggles at right-back

From the opening game away to Fulham in August, there were signs that Alexander-Arnold wasn't at his best, as he allowed Aleksandar Mitrovic to head home having been oblivious to him ghosting in at the back post.
It was a poor performance by Liverpool in general, as well as by the player himself, and it was indicative of a large chunk of the campaign.
Too often, Alexander-Arnold fell staggeringly below the level we had become accustomed to since 2018, with a complete lack of effort seemingly on show for Jadon Sancho's goal in the 2-1 defeat away to Man United.
Some of the body language he was displaying felt baffling, and while his perceived 'poor' defensive work had been lazily criticised in the past, there was every reason to lambast it this time.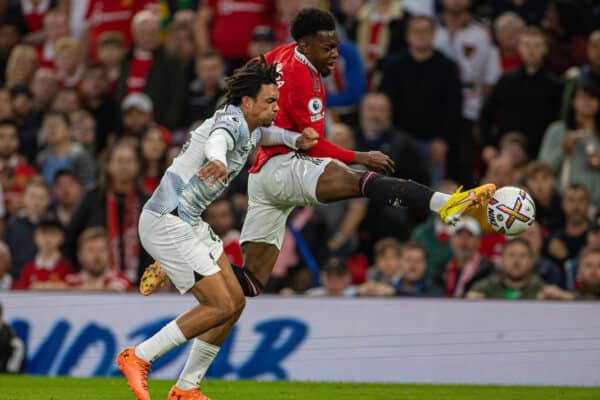 Amid a host of top players performing badly, Alexander-Arnold possibly stood out as the worst of the lot, even if there were moments of predictable class thrown in.
Granted, the 24-year-old wasn't being helped by a team that was falling apart, being given so little protection by an ailing midfield, but his all-round game was still lacking.
A World Cup call-up came as a boost for him, but it only realistically arrived because of an injury to Reece James and he played just 33 minutes of football in Qatar.

By the time April arrived, Alexander-Arnold had registered only two assists in the Premier League – scarcely believable for a player of his ability – and he looked like a player in desperate need of the summer.
Then, Jurgen Klopp and his staff worked their tactical magic and realised that there was a possible way to salvage the Scouser's season.
It is a decision that could prove to be a masterstroke.
A man reborn in hybrid role

With Real knocking Liverpool out of Europe and a top-four finish looking out of the question in the league, Klopp had the license to try something new in the latter part of the season.
Alexander-Arnold's grim form for much of the campaign had led to some calling for him to become a central midfielder – a role he often took up during his youth team days.
Instead, Klopp adopted a tactic that has been used by Pep Guardiola and Mikel Arteta with the likes of John Stones and Oleksandr Zinchenko, allowing Trent to drift into midfield from his right-back position.
While out of possession he remained fairly disciplined – permanently having nobody at right-back isn't going to end well – on the ball he vacated that area, allowing others to fill in.
What we witnessed in the final six weeks of the season was an outrageously talented footballer purring again, looking so at home in a hybrid position.

For much of games, he looked like the most gifted individual on the pitch, getting on the ball and picking out passes that few players in the world are capable of.
Liverpool's much-criticised midfield suddenly had an explosion of life, and their often-lambasted right-back was reborn.
He registered seven assists in April and May combined – it would have been more if some of his team-mates' finishing had been more clinical – and the Reds looked a much better team because of it.
His average of shot-creating actions for those final 10 games of the season rose to 4.3 per game, per FBRef, up from 3.4 per game earlier in the campaign.

The 4-4 draw with Southampton saw him create 10 chances – the most he has managed since the 3-2 defeat to Atletico Madrid in 2020, when he managed 14.
For all his issues, Alexander-Arnold (25) still finished with the third-most big chances created in the Premier League, behind Bruno Fernandes (32) and Kevin De Bruyne (31), and seventh in the assist rankings.
Klopp's men may have fallen short of Champions League qualification in the end, and deservedly so.
But the revival of their No. 66 was a major positive heading into next season.
What next?

There is no question that major reinforcements are going to be made to Liverpool's midfield this summer, with Alexis Mac Allister, Manu Kone and Khephren Thuram all considered targets.
Assuming the Reds nail their transfer business in that area, there is every chance that they could be title challengers again in 2023/24.
But what does Klopp do with Alexander-Arnold?
There are some who want him in midfield permanently, but there seems no sense in that, considering the incomings and the manner in which he has excelled in his tweaked role.
Despite his strong send-off, this was still a season to forget for Alexander-Arnold overall – one that was truly dismal at one point – but there shouldn't be concerns about him in the long-term.
He will always be overly criticised compared to others – James, Kyle Walker and Kieran Trippier all have faults of their own and don't possess close to the same level of technical ability – but Liverpool know his vast worth.

At 24, Alexander-Arnold is still young, and his defensive work can clearly improve, but he should return from his summer holiday re-energised and looking to return to peak form.
Retaining him as a roaming right-back-cum-midfielder has to be the plan, with the extra legs added to the midfield helping negate the issue of him leaving his post at right-back.
Trent 2.0 is upon us.
---
Best moment: A stunning free-kick away to Leicester in May.
Worst moment: The lack of effort for Sancho's goal at Old Trafford.
Role next season: Key man. Perhaps the most important in Klopp's 3-5-2.