After 17 years playing for Liverpool, Steven Gerrard needed to let off steam. Here's the story of how a post-retirement party went viral.
While full of emotion on the pitch, Gerrard is generally known to be a reserved person away from the spotlight.
A career of heavy stress and responsibility left him needing to let off steam, though, and the culminating moment went viral.
After the end of Gerrard's last season, the 2014/15 campaign, the Liverpool squad headed out to the United Arab Emirates for a break.
While there, the captain was inundated with messages praising his career and in his 2016 book, My Story, the No. 8 described one night when it "was time to leave the sentiment behind."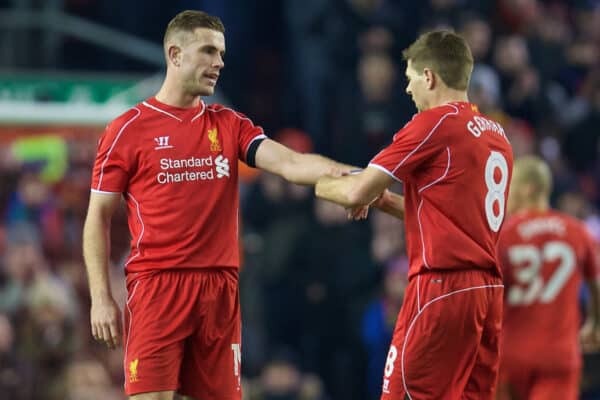 Gerrard recalled the post-season events in Dubai, beginning with how the whole squad were on their way to a restaurant when he received a phone call from Kolo Toure, who hadn't been able to make it due to a charity match in the Ivory Coast.
The Liverpool legend wrote: "We were chatting away but after a while, I could hardly hear Kolo.
"The lads had all started singing the Kolo and Yaya [Toure] song in his honour. They were still singing it after I said goodbye to Kolo and we got out of the Hummer and made our way to the restaurant.
"We had to go up an escalator and I went ahead so I could film the boys. They looked good singing and dancing together.
"Next thing I know Mamadou Sakho grabbed my phone. I could have stayed out but, f**k it, I am the captain. I lead from the front.
"So I raced over to the front of the dancing and singing crew. I took charge. I got into it big time.
"A security guard grabbed my phone off Sakho. And then were had a full set as Sakho joined in and we chanted 'Kolo… Kolo, Kolo… Kolo, Kolo… Toure…!' and 'Yaya.. Yaya, Yaya… Yaya, Yaya… Toure…!'
"The security guard filmed us on a hot, sticky and happy night in the United Arab Emirates," Gerrard fondly recalled.
"How else, but through football, my undying passion, could I have ended up here, feeling so blissfully crazy, singing in Dubai about two brothers from the Ivory Coast, one a teammate and the other an old rival from Manchester City?"

Liverpool had lost 6-1 to Stoke shortly before but this showed there was, in fact, more to life than football.
The Scouser's family is important to him and he described his daughters' reaction to the night's events, saying: "The girls back home were entertained.
"'Daddy what are you doing?' they asked, reasonably enough. 'That's not you.' But it was me.
"Away from the pressure and the worry, the responsibility and the striving, the ambition and the heartache."
It wasn't just his family who were entertained by the video.
The clip went viral after a player's friend posted it online, prompting several high-profile attempts to recreate the dance, even from Kolo himself:
This was, of course, just a footnote to an incredible career, but it was perhaps fitting that his time at Liverpool ended with his human side front and centre, for a man who had seemed so superhuman at times.