After last year's gross mismanagement of the Champions League Final, UEFA president Aleksander Ceferin has personally thanked two Liverpool fans for their work since the event.
It has been a busy year for Joe Blott and Ted Morris.
In their respective roles as chairs of Spirit of Shankly and Liverpool Disabled Supporters Association (LDSA), they have fought to clear Liverpool fans' names, as well as bring about positive change.
What started as two supporters simply going to watch their team play football, resulted in them becoming the first-ever non-natives to give testimony in the French Senate, before receiving a personal show of gratitude from one of world sport's most powerful people.
Following the final's dangerous mismanagement, and subsequent blatant lies from French authorities and UEFA, Blott and Morris set about to ensure the truth was heard and establish change to make sure similar events don't happen again.
This has involved extensive talks with UEFA, and they have gone right to the very top of European football's governing body.
In February, UEFA General Secretary Theodore Theodoridis came to Merseyside for talks. Within 48 hours of that meeting, it was announced that all Liverpool supporters would receive refunds for the final.
More recently, in May, UEFA officials were again in the city for meetings.
This time, Theodoridis' deputy, Giorgio Marchetti, flew in to meet with Morris.
While with Marchetti (below), Morris explained how he received personal thanks from President Ceferin for his work with Blott.
The LDSA chair told This Is Anfield: "Ceferin thanked myself and Joe for our involvement in the last 12 months for working with UEFA to bring about positive change for football supporters.
"So we've basically spoke with the top one, two, three [people] within UEFA.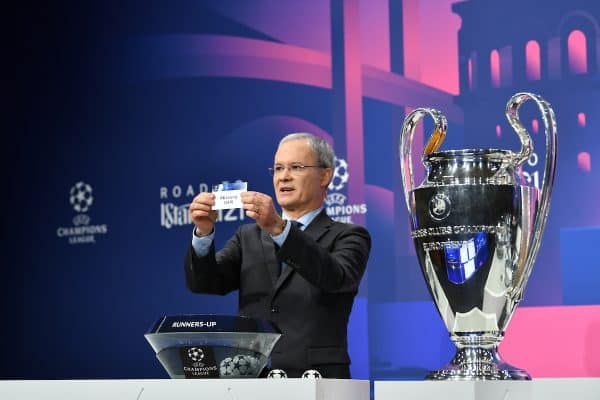 "I think it was very sincere, just the fact that he did it in the first place. He didn't have to do that, I'm just Ted from the Disabled Supporters Association. This is the head of UEFA.
"To show the intent by flying into Liverpool to do this just shows a willingness for change. And to facilitate change, people have to be willing and open to to change. And by what's happening with UEFA, it's clear [for me] to see."
Blott also explained how the English FA have been in touch to apologise for their lack of help in the aftermath.
"We've had a long conversation with them," he said.
"We were concerned that they hadn't done a great deal in backing us.
"They backed Ceferin to be president [of UEFA] again, at the same time we were going through all this. They've reflected on that and said that they were wrong.
"So we've had not only UEFA apologise but also the FA apologising.
"We know that the FA didn't apologise, they were actually complicit in some of the stuff around Hillsborough, so it's a significant and seismic shift in terms of how fans have now genuinely influenced how football is run."
Not all supporters are optimistic about the future of football, but Morris has at least reaffirmed that he believes there is a "strong commitment from UEFA" to change for the better.
"It won't happen overnight and it won't be fixed within two years, but it's 2023 and UEFA have accepted that change is needed, and change will come," he stated.
That change is needed sooner rather than later.