Liverpool's evolution has taken great strides this summer with the arrivals of Alexis Mac Allister and Dominik Szoboszlai, so who better to discuss the new-look midfield with than one of Liverpool's greatest ever midfielders?
It's been the major talking point among supporters for several summers now, with Liverpool's ageing midfield being seriously problematic during last season's struggles.
"We've identified that [midfield] has been an issue for a couple of seasons," admits Barnes.
"Of course, we have been a fantastic team all over the park, but the side got to an age whereby we're looking to lower the age and get more legs and more intensity."
Liverpool added three new forwards in the three transfers windows that preceded this one, with Luis Diaz, Darwin Nunez and Cody Gakpo, freshening the attack.
"We did that with the strikers, with Gakpo, Diaz and Nunez, but we really needed to sort the midfield situation," says Barnes. "We've now done that, plus with what we already have.
"So I'm really hopeful and confident that this year we can do a much better showing than we did last year.
"In terms of the players we have, I felt a necessity for positional requirements. Obviously we couldn't get midfield players last year, so it's pleasing to see we got the players in the right position for me this time."
Goals and assists or more stability?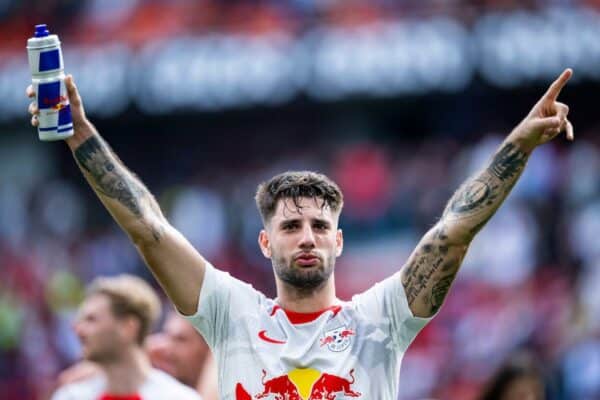 Last season, in all competitions, Mac Allister scored 12 and assisted three, while Szoboszlai scored 10 and assisted 13 – that's 22 goals and 16 assists between the Reds' new men.
For comparison, Liverpool's whole midfield scored 10 and assisted 11 goals last season – and some of them came from players like Elliott and Alex Oxlade-Chamberlain when playing in the front three.
Indeed, not since 2018/19 has a Liverpool midfielder scored move than five non-penalty goals in a Premier League season.
For Barnes, though, it's not necessarily about goals, but more balance and stability for the whole side:
"When we won the Champions League and Premier League, we didn't get goals from midfield, we had good balance, the assists came from the full backs and the goals came from the front three – which is exactly how Liverpool play.
"It's not a question of scoring more goals [from midfield] it's a question of being stronger in midfield, probably to help the full backs get more support, so we defend better.
"We have great midfield players, Thiago's a fantastic player, Harvey Elliott's a great player, but they aren't defensive players, Mac Allister is [more], so we have more strength and solidity in midfield.

"So that when we press we can win the ball up the field, we can get the full backs further forward, knowing that if we lose the ball we're still able to win the ball high up the field because of the strong midfield players that we have.
"So it's about the balance. Nobody expects lots of goals from midfield [necessarily] but I expect it to give us a better balance to allow us to play the way we did before."
The dual signing of Mac Allister and Szoboszlai, two players expected to occupy the attacking midfield roles in Jurgen Klopp's new formation, could remind supporters of when Barnes arrived alongside Peter Beardsley in the summer of 1987.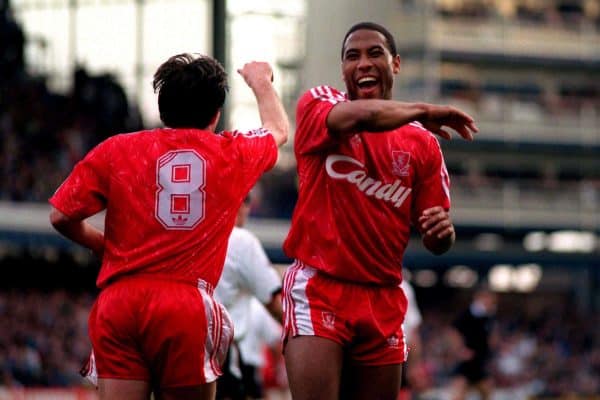 The duo went on to score 35 and assist 28 between them in their first season together at Anfield, in a team that many supporters regarded as the Reds' most attacking and attractive side of all time.
We probably shouldn't expect such numbers from the Reds' new No.10 and No.8 this time, but fans can perhaps hope for a similar impact!
"It's a little bit different now," laughs Barnes. "We've got a lot of attackers, we need more strength in midfield.
"When me and Peter came, behind John Aldridge, we were two of three signings in three years. [Now] every January we're going to sign players, every summer we're going to sign players, so we sign players every transfer window, times are a little bit different."
The real heroes

A Liverpool hero, Barnes was speaking exclusively to This Is Anfield to shine a light on some other heroes as part of the LFC Foundation's visit to eight hospitals in the city to mark the 75th anniversary of the NHS.
The NHS is something Barnes knows about well, with two of his children working as doctors in the NHS.
"I know how important the NHS is and the work they actually do," he says.
"I know the history of it, 75 years ago, after World War Two it was thought what is the best service we can give our people after such a devastating time and they created the NHS, which is the best thing they ever did.
"They're going through hard problems now, of course there's a lot of political reasons why, but as for the work that they actually do on the ground, which is what I'm interested in, forget about the politics behind it, they go above and beyond – especially in the last few years. I support them 100%, I cannot speak highly enough."
Barnes, alongside Bruce Grobbelaar and Alan Kennedy, hopped on the open top LFC tour bus from Anfield on Wednesday morning, visiting hospitals across Merseyside and surprising staff and patients with the European Cup.
There were queues for photographs outside the large hospitals like Arrow Park and The Royal, while at the Marie Curie Hospice in Woolton the three Liverpool legends had a more intimate setting to meet those patients in their end of life care.

"The hospitals we've been to, the work that they do here in the NHS that goes unnoticed, when you speak about end of life care, I can't speak highly enough of the workers," praises Barnes.
"It's about appreciating what the workers do, they're the real heroes.
"The workers have to be here 24 hours a day, for years and years, they are the real heroes. As much as it's great for us to be here, great to be appreciated, I want to appreciate the people doing the real hard work on the ground, which is the doctors and nurses and staff in the hospitals."