Signed in 2018 for £39 million, goes on to lift every trophy possible and five years later sold for £40 million. Fabinho gave the Reds his all, and now the time has come to bid farewell.
The Brazilian leaving Anfield before the new season started would not have been on the bingo cards for the majority, but here we are.
The 29-year-old endured a tumultuous 2022/23 campaign, which will prove to be his last, falling by the wayside after five seasons operating as Jurgen Klopp's lighthouse.
"Inside the 'organised chaos' that we want, that we like, he is like a lighthouse, he controls it," was how assistant manager Pep Lijnders aptly described Fabinho in 2019.
"His timing, his vision, his calmness, it gives another dimension to our midfield player."
A ball-winner, a protector and an intense presence in centre midfield, Fabinho and his inspector gadget legs helped form the basis of a side that won it all over a three-year period.
But the No. 3 has shown signs that his best days are behind him, so the decision for Liverpool to cash in is a logical one.
Well worth the wait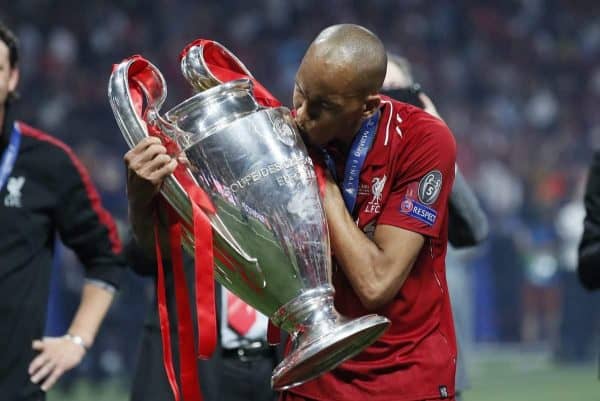 Fabinho's technical ability and capacity to cover the width of the pitch, and come in aid of his team-mates with his defensive nous has defined his time as Liverpool's midfield anchor.
The Brazilian, at his best, stops the opposition at will, enforces himself upon them and leaves no room for argument – he has been indispensable for Klopp.
He was a player that Liverpool had been desperately crying out for for almost a decade, and he answered all of our prayers and then some.
An out of the blue signing from Monaco in the immediate aftermath of the 2017/18 Champions League final defeat, but a perfect one at the time when the Reds needed it most.
Fabinho needed time to adjust, but once he did he flourished. His intelligence, and incisive passing the hallmarks of his game.
In his first season, he lifted the European Cup, and his shutdown job on Lionel Messi while on a yellow card will be fondly remembered. A pillar of consistency amid all the chaos.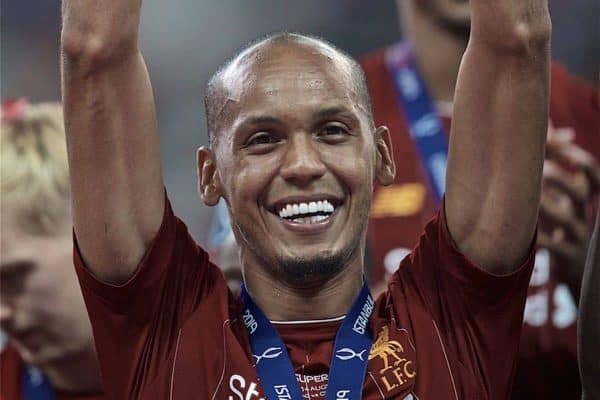 The second season brought two more pieces of silverware – the Super Cup and the Premier League title – though it feels cruel to dismiss him from the Club World Cup triumph even if not part of the squad due to injury.
His versatility then came to the fore when Liverpool needed a centre-back, a role he stepped into selflessly when the team needed him.
"He just is able to do that, you can see that in different situations that his challenging skills are just outstanding, defensively on top of that," Klopp assessed in 2020.
Though his knack for stopping the opposition sometimes caught the referee's attention, his consistent disbelief at receiving a yellow card will be missed – he was carded 47 times as a Red.
In 2021/22, he added a different string to his bow, scoring eight goals – only five Liverpool players ended the season with more.
But even then, amid the goal celebrations, there were warning signs that he was starting to drop off the pace as years as Liverpool's lighthouse began taking their toll.
Fabinho has been a magnificent servant who helped form the foundations of our recent success, but when a £40 million bid is tabled, you knew it was time.
It makes sense

It is hard to say goodbye to the players who helped thrust the club back to where it belongs, and yet we've had to do it a lot this summer.
James Milner, Roberto Firmino, Alex Oxlade-Chamberlain and Naby Keita all departed at the end of last season and Fabinho will now join them, Jordan Henderson too.
We've not been without players leaving before their time at Anfield over the years, but this one feels right.
Fabinho was a shadow of his former self last season, the 29-year-old was off the pace and it was agonising at times to watch a game he once dictated pass him by all too easily.
He shouldn't have had to be the lone wolf and he did need help – which Trent Alexander-Arnold later provided in a change of formation – but it did not hide the deficiencies starting to plague his game.
The old adage of letting a player's legs go on someone else's watch has never been more pertinent, as at 29 years of age, Fabinho has played more football than the average 35-year-old.
Advances in sport science has seen careers extended but the demands of playing for Klopp (16,506 minutes over 219 games) has clearly taken its toll.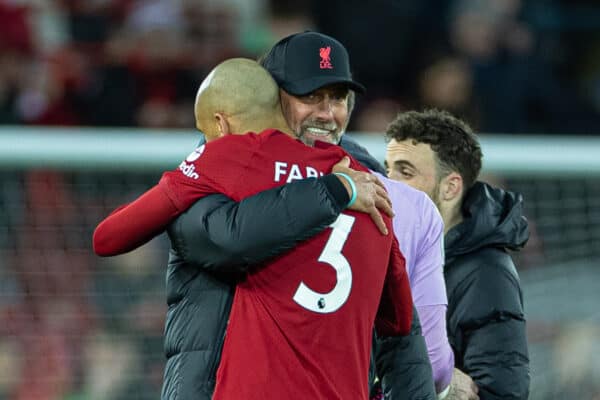 The No. 3 still would have had a place for the coming season, no doubt, but for Liverpool to recoup the fee they paid for him five years ago was always going to be hard to turn down.
Logic tells you selling a 29-year-old for £40 million, the same you dished out for a 24-year-old who went on to play 219 games and lift every trophy with the club, is a no-brainer.
And it is.
As Bob Paisley once said, "my policy is to ideally have five or six men around the age of 26, a couple of youngsters, a couple round the 28 mark and one or two in their 30s. But the nucleus of the team should be experienced and not too old."
The tide has turned and Liverpool know they will need to reinvest wisely, but they will do so knowing they extracted everything Fabinho had to offer and then some.
It's now lights out for Liverpool's lighthouse, but, boy, did he shine brightly.