New signing Dominik Szoboszlai is getting well acquainted with his new manager and teammates during his first pre-season at the club.
The Hungarian became Liverpool's second midfield acquisition of the summer earlier this month following World Cup winner Alexis Mac Allister's arrival in June.
It appears Szoboszlai is already impressing Jurgen Klopp with his fitness levels, although the midfielder has confessed that he has not been put through his paces to this extent in his career so far.
Speaking in reference to the Reds' 2023/24 preparations, Szoboszlai told the Daily Mail: "It was not easy! I came from a really good team in Leipzig and pre-season is hard everywhere but I never had three training sessions a day before in my life!"
No wonder the Hungarian opted to walk, rather than cycle up a hill on the way back to the team hotel after training earlier in the week!
The 22-year-old arrived from RB Leipzig after Liverpool triggered a £60 million release clause in his contract shortly before the June 30 deadline.
He wowed supporters with his impressive showing in the club's lactate test on his first day of training with the Reds and his stamina has not gone unnoticed by the manager.
Szoboszlai made his non-competitive debut for the Reds in Wednesday night's friendly against Karlsruher, an occasion and opportunity that the Hungary captain relished as he continues to adjust to life on Merseyside.
"I enjoyed it a lot. I felt really good, in good condition with good players, in an unbelievable stadium. It was a good first one and I am ready to go now. They squad have been really welcoming, really nice," he continued.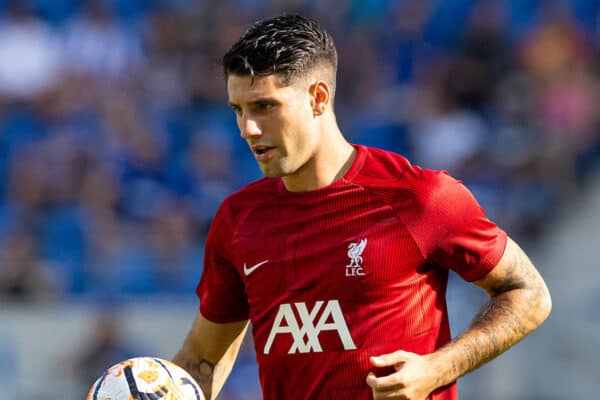 "I feel as if I was here [a long time] already, even though I only knew Ibou. Everybody has been really kind to me, nice and helped a lot when I had questions that needed answering."
Szoboszlai was also asked about his role within the side as the team continues to adjust to the 3-4-3 formation employed by Klopp towards the end of the season.
The midfielder insisted that he is happy to operate in a number of different roles and that he is just keen to get on the field as much as possible:
"I just want to be on the pitch! But as a number eight, a number 10, if I have to slide back a little bit to take the ball as a No. 6? No problem. I want to be more towards the goal but, yeah, I'm a box-to-box [midfielder] I would say!"