Former Aston Villa and Everton midfielder Thomas Hitzlsperger has questioned Jordan Henderson's support for LGBT+ issues after the Liverpool captain made his controversial move to Saudi Arabian club Al-Ettifaq.
The 41-year-old came out as gay in 2014 and was the highest-profile footballer to do so.
Henderson's move to the Middle East has been criticised due to his alliance with LGBT+ groups and the Premier League's Rainbow Laces campaign.
Homosexuality is illegal and punishable by death in Saudi Arabia, while the state stands accused of a host of other abuses including placing harsh restrictions on women's rights and the right to political protest.
"So Jordan Henderson finally gets his move to Saudi Arabia. Fair play to him, he can play wherever he wants to play," Hitzlsperger posted on social media.
"Curious to know though how the new brand JH will look like. The old one is dead!
"I did believe for a while that his support for the [rainbow emoji] community would be genuine. Silly me…"
Liverpool's Club Supporters Board, founded last year and including representatives from Kop Outs – the LGBT+ fans group – and the women's supporters club, said Henderson's decision to move to Saudi Arabia had caused "hurt and division".
"Jordan Henderson was a true captain and true leader for Liverpool on and off the pitch," said a statement.
"We know he did much to promote inclusion on and off the pitch. He stood out as a principled footballer.
Making the armbands black and white so you can't see the rainbow. We see you. https://t.co/X1Ts78Eodd

— Daniel Storey (@danielstorey85) July 27, 2023
"We are therefore very disappointed by his decision and the hurt and division it has created.
"The very essence of the Liverpool supporters board is to be inclusive and ensure all Liverpool fans, whatever their faith, religion, gender identity, sexual orientation or disability can attend and enjoy football.
"That's what we want for fans, that's what we want for football. We stand in solidarity with our allies from Kop Outs, Liverpool's LGBT+ Fans Group."
Henderson's former team-mate Jamie Carragher feels that the criticism being aimed at the midfielder is justified.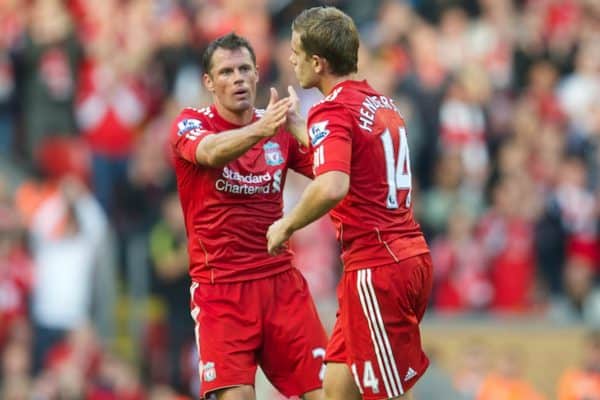 Writing in his Daily Telegraph column, the defender-turned-pundit said: "Henderson has a big problem to deal with because of his previous remarks in support of the LGBTQ+ community.
"I fully understand that criticism and it is justified. Jordan was heralded on the back of his speaking out, so he has difficult questions to answer, and the critical reaction towards him will have a negative impact moving forward for those communities who cherish support from high-profile figures.
"When other footballers hear the criticism directed at him, they will not say 'I can't go to Saudi'. They will be told by their advisors to keep their mouth shut in case they move there in future, thus avoiding accusations of hypocrisy.
"That will equate to buying silence – a grave impact of sportswashing."