Jurgen Klopp has been at Liverpool for nearly eight years now and sometimes a fresh perspective is needed, and the manager has found that in his new sporting director.
It has been a summer of change so far for the Reds, on and off the pitch. Players have departed and signings are still to come, while Anfield's new look is nearly complete.
A change in sporting director saw Jorg Schmadtke appointed after Julian Ward's exit, with the German tasked with overseeing a pivotal summer for the club.
He has remained close to Klopp on Merseyside and during their Germany training camp, offering a fresh perspective that the manager values as he puts his squad through one intense session after another.
"We now have Jorg Schmadtke here, he saw a lot of football over the years and he's really impressed," Klopp told the 'We are Liverpool' official podcast.
"Really impressed by the quality and intensity of training sessions.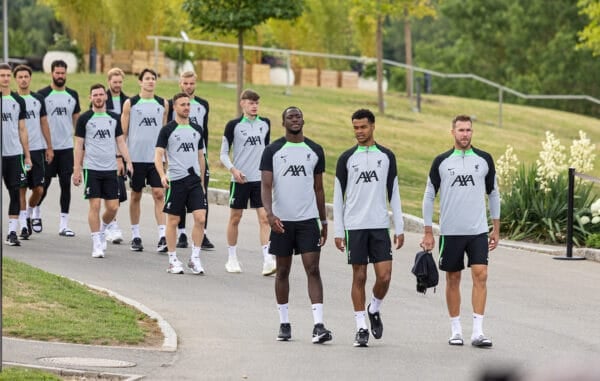 "For us, who are always around, I can see differences. I can see when it's really bad, I can see when it's really good. But I expect a lot.
"It's not that I leave a training session when it was really intense and I think, 'oh my god, it was really intense'.
"That's what I want to see and that's what I, most of the time, get.
"But him, who is not [here] for that long now, it's nice to have this outside view now, he says 'my god, that's real quality. The young kids are really good'. Yes, they are."
The two have a lot of respect for one another and have known each other for a long time, they even played against one another in 1992 when Klopp's Mainz met Schmadtke's Fortuna Dusseldorf – the Liverpool manager left with the bragging rights!
Change is a necessary part of evolution and Klopp will be the first to say he cannot do it all on his own, it is why he will value what Schmadtke and those around him bring to the table.