Despite impressive showings in pre-season, Jurgen Klopp has said Alexis Mac Allister will still "need time" to bed in.
'He will need time' is a line we've heard often before. Sometimes it is true, sometimes not.
Two of Liverpool's best players are a prime example; Mo Salah hit the ground running when he signed in 2017, while Andy Robertson had to wait for a chance to nail down his first-team spot.
Fortunately, it seems Mac Allister will be more like the former and get off to a flying start.
However, given the demands on Klopp's midfielders, there is no guarantee – and the manager has been quick to reiterate this.
After Liverpool's 4-0 trouncing of Leicester, in which Mac Allister impressed again, Klopp said that the Argentine will "need time."
The German added: "Even in the season, it's not that you have the first game and it's the best game of the season.
"It would be really horrible if that were the case."
Klopp is right about Liverpool needing to avoid peaking early. However, that doesn't mean the Reds won't want a fast start.
Over the last 20 years, the Reds have struggled to comeback from early-season issues, and almost always finish higher after a strong start.
Klopp also spoke about how it wasn't just the new signings who are still to be fully prepared for the campaign ahead.
The boss explained: "Everybody has still a bit of work to do, that's absolutely fine.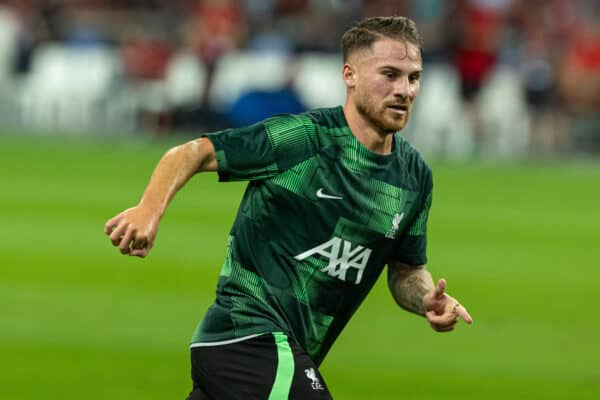 "Tomorrow, in the morning, we have recovery and after that we will have a proper, proper video meeting where we go through all the things so far and we show the boys good and bad.
"In the afternoon [we have] a proper physical session and then we prepare the Bayern [Munich] game with two sessions. That's it."
Though Bayern are considered one of the world's best, it will still be difficult to take a real view on Liverpool's readiness for the new season.
We may have to wait until the Reds' Premier League opener, or even beyond, to find that out.