Sunshine and a line of fans welcomed the Reds as they made their way to their first training session on day four in Germany, and Jurgen Klopp was all too happy to take some selfies.
The Reds have settled into the German town of Donaueschinge in the Black Forest region, providing a quiet and secluded spot to get down to business.
The setting is slightly different from previous pre-season training camps but there is a clear focus on ensuring the summer preparations are as smooth and efficient as possible.
Klopp is putting his side through double training sessions and they cycle to and from the training pitch every day, and a crowd is slowly growing along their journey.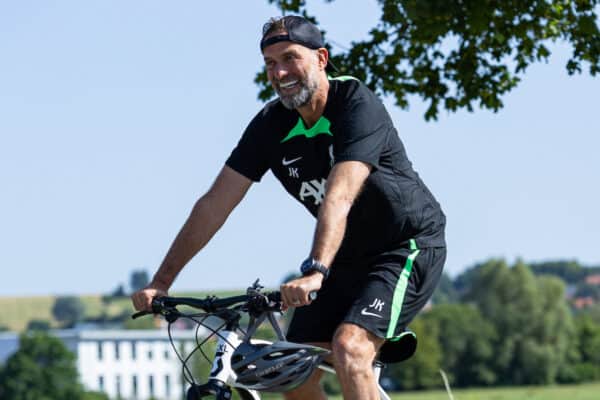 The manager, who was born in the region, has been more than happy to stop and take selfies.
And even the local authorities could not deny themselves a chance to pull the manager over and take a quick photo – the kind of traffic stop Jurgen will not mind making!


Some seemingly enjoy the bike rides more than others, but they do not have a bad view as they make their way to and from training!



The sunshine will be a welcome sight – although perhaps not for Andy Robertson – after rain and wind greeted the team in Liverpool last week.
Even Alisson made a cheeky nod to the woeful English weather earlier in the week, saying "You know this light (pointing to the sky)? [It's the] sun."


The scenery is really giving 'Take Me Home, Country Roads' vibes. It is the ideal setting to get ready for the long and taxing season ahead.



Liverpool will not be taking it easy despite their first friendly of the summer looming on Wednesday, at Karlsruher, as the sweet spot for technique and tactics comes when "slightly exhausted."