Anfield's new pitch is now almost fully installed, as revealed in new photos from This Is Anfield from inside and above the Reds' home.
The new Anfield Road Stand is coming along nicely, with progress continuing in the interior and exterior – but it is the pitch that has drawn attention recently.
It was removed earlier last week after the cranes completed their final work inside the stadium for the new stand, another nod that the new season is fast approaching.
The new pitch is now almost fully installed, as you can see from the images and video below – it's looking very green compared to when we last saw it!


In total, the new pitch takes only a matter of days to be laid and three weeks to become match ready, meaning that Anfield will be ready to welcome Bournemouth in just over five weeks.
The groundsmen will be responsible for painting the lines on the pitch and putting the goal posts back in place when it is time to do so.
The new pitch was grown at a turf farm over the last three months – pretty cool, right?


We can now also clearly see the ongoing developments to the new stand from both inside Anfield and outside, with the new layout of Anfield Road outlined with a lone of concrete blocks (image below).
The Anfield Forever Walkway is also moving at speed, an area for fans to, literally, cement their place in the stadium's rich history in front of the Shankly Gates.

With the new season only a month away now, excitement is building as the images of what Anfield will look like will soon become a reality with the new stand's completion.
We can't wait to see what the Anfield atmosphere has in store with an extra 7,000 supporters in the ground – is it August 19 yet?
---
Anfield Road End Expansion – Key facts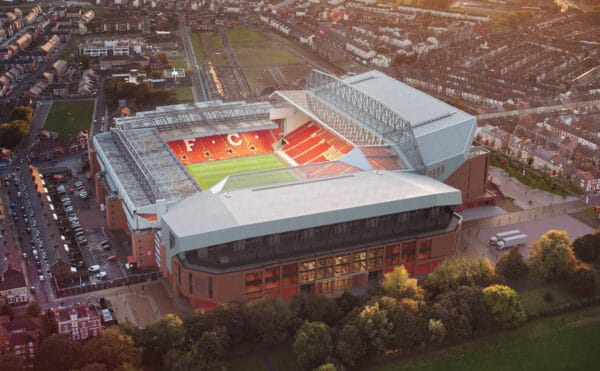 To be completed before the first home game of 2023/24
New capacity set to be be 61,015
Expanded stand will hold 15,967 supporters
The lower tier will remain same but with larger concourses
Estimated build cost of £80m