Jurgen Klopp is known to work his player hard during pre-season, but it is at this point of exhaustion where the important work gets done.
Liverpool are almost a week into pre-season and have all but two senior players back at the AXA Training Centre – Curtis Jones and Harvey Elliott have an extended break after their U21 Euros triumph.
The Reds reconvened on Merseyside and will travel to Germany on Saturday and subsequently Singapore, a busy schedule that goes hand in hand with training and friendlies.
But as the manager explained last season, his team got a head start on their summer preparations after a campaign to forget was reinvigorated by a change in system.
It does not mean pre-season will not be intense, far from it. The boss has explained that is actually part of the process, that his team work at the point of exhaustion.
"There is a big physical part, we cannot ignore that – and we will not," Klopp said of pre-season plans to the club website.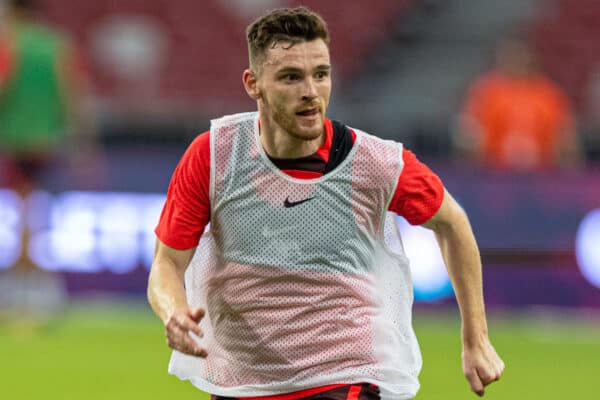 "There is a big tactical part and when you do all the running stuff then you must do a lot of technical stuff as well because technique is one thing, but technique when you are slightly exhausted is a completely different thing. That's what we do.
"It will be intense and there will be a lot of things, but we said last year: we started the new season last season already and that's why we work now on how we want to play, how we want to set it up, how we can be more in a different set-up, more flexible and all of these kind of things.
"I am really looking forward to that."
Liverpool showed promising signs of what they are capable late last season, a run of seven straight wins and unbeaten in 11, and it leaves plenty to be optimistic about.
"There are a couple of elements that we always need because that makes no difference – whatever we play, counter-press will be a big part," the manager continued.
"I hope we don't have to use it that often because I want us to keep the ball and then in the end of possession, shoot it in the back of the net!
"It doesn't work always like this so for that we need to work on that, we need to work on defending, on attacking… we know our issues and that's what we work on.
"Not with the finger in all day and saying, 'That was not good, that was not good'. No, we start from a specific point and from there we just go through the things again with some players who know already and other players who didn't hear it that often.
"In the end, we will be good."