Trent Alexander-Arnold declared Liverpool's ambition to win the league this season, after an opening-day draw.
You would be forgiven for thinking Liverpool may play down expectations after last season's failings – Alexander-Arnold isn't adhering to that train of thought.
After the Reds' 1-1 draw vs. Chelsea, in which they had just 34% possession, the No. 66 remained optimistic about his team's chances this campaign.
Speaking to Sky Sports, Alexander-Arnold said: "We've proven over the years we're able to do it (win the title).
"Our aim and ambition is to go and win the league. We're not going to be shy about that and nor should we." ?

Trent Alexander-Arnold outlines Liverpool's targets for the season. pic.twitter.com/nUFGwLxNU2

— Sky Sports Premier League (@SkySportsPL) August 13, 2023
"We've brought in a player who's won the World Cup, we've brought in a player who's won things in Germany as well.
"We're bringing in winners, that's the thing. We've got a winning mentality and our aim and ambition this season is to win the league.
"We're not going to be shy about that and nor should we."
In the interview post-match interview, Liverpool's inverted right-back was also quizzed by former-Red Daniel Sturridge about his position.
The Liverpool vice-captain explained: "There are times when we'll lose the ball and it's quicker and easier for Ibou [Konate] to go into a right-back position then I slot into a centre-back kind of role and cover him.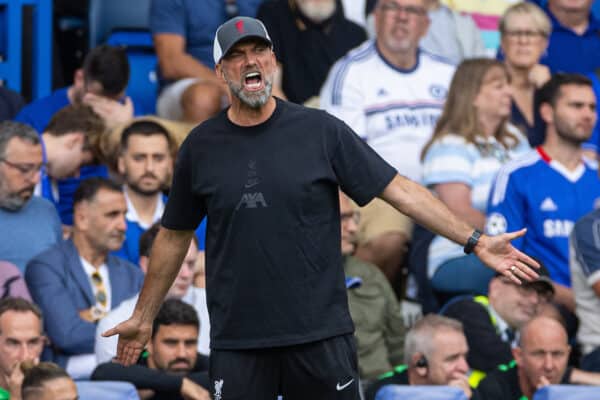 "There are also times when, if are left winger loses it, it's not as hard. But our philosophy is counter-pressing, going and winning the ball back.
"That's the first thing on my mind. If the ball's around me, and it's the same for everyone, you don't play a position, you don't play where you're supposed to.
"If the ball's there be won, you swarm as a team and go and get it back."
Against Chelsea, it was clear of Liverpool's aim to stay high and push Chelsea back.
They were only able to properly execute this in the early stages, though, and even in that period, Chelsea looked dangerous.