A shortage of goals against the bottom 10 last season may have convinced Jurgen Klopp to roll the dice in 2023/24, as Aaron Cutler explains.
It is always dangerous to draw too many conclusions from pre-season but if recent friendlies are anything to go by, Liverpool are preparing to outgun their opposition.
A return to 'heavy metal football' could be part strategy and part necessity. Either way, Klopp's 'second' Reds team could begin their journey in much the same way as his first.
Amid countless failings last season, a drop in goals will not have gone unnoticed by the coaching staff. Declining output is a concern itself but a poor return against the bottom 10 quickly extinguished any hope of a title challenge and, ultimately, a salvage operation for Champions League football.
Startling numbers

A beleaguered Liverpool mustered 75 goals last term, the second fewest in Klopp's reign, counting full seasons solely.
Indeed, we only struck fewer times in the fateful Covid campaign, where our final tally stood at a lowly 68.
For context, the Reds put the ball in the net 19 times fewer last season than in the previous quadruple-chasing Premier League campaign.
But that doesn't quite tell the whole story. Closer analysis reveals output against the bottom 10 to be pretty alarming.

The final goal total across those 20 fixtures was 39, just under two a game.
It is important to note however that amongst that 39 are two hammerings which serve as real outliers.
Forget not, that final total includes the 9-0 trouncing of Bournemouth and the 6-1 humiliation of a sorry Leeds. Those two results went a long way towards swelling the overall total.
You could even throw in the final day draw with Southampton, a 4-4 'spectacle' with more of a testimonial feel.
In actuality, Liverpool proved easy opposition for the 'cannon fodder'.
The Bottom 10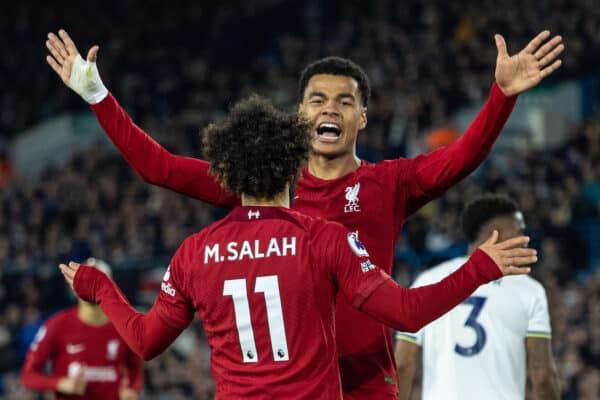 We failed to score in seven of those abovementioned 20 fixtures and only managed our first goal away to the bottom 10 on April 17, this Cody Gakpo's opener in the aforementioned humbling of Leeds.
All of this served to bring about a points haul of 36 from a possible 60. Once again, only 2020/21 proved less fruitful against the Premier League's bottom half sides.
Simply put, you have no chance of competing for the title when winning just three games away from home against the league's bottom 10, all of which occur after mid-April.
So what does Klopp do about this?
Judging by pre-season the manager is preparing to give up control of games in the hope his team can outscore the opposition. This will be intentional, to a point.
One of the most promising aspects of pre-season has been the fluidity with which Liverpool have attacked.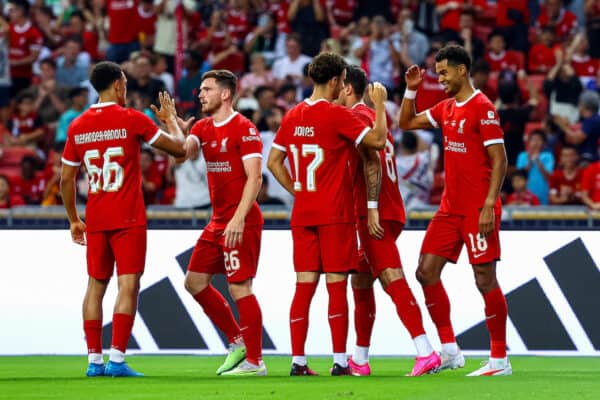 All of our forward players (including Ben Doak) have been amongst the goals.
Darwin Nunez remains a work in progress but continues to have the knack of popping up in dangerous positions. If he can convert even 10 percent of the chances he's presented with his goal return will shoot up.
Elsewhere Luis Diaz looks determined to prove a point. A fine player and a fan favourite, the one question mark hanging over the Colombian relates to his numbers, or lack thereof. Having bagged against Greuther Furth and Bayern Munich – and celebrated enthusiastically on both occasions – he looks hellbent on upping his output.
Add in the potency of Diogo Jota and the inevitability of Mo Salah and it's not unreasonable to think goals will be plundered. Gakpo meanwhile is becoming chief architect, knitting everything together and chipping in with his own share as his predecessor in the false nine position did so effectively for so many years.
Defensive frailties

Another reason Jurgen may be prepared to take off the handbrake however could be the continued imbalance of his midfield.
On the positive side, both Alexis Mac Allister and Dominick Szoboszlai look like good additions. Some felt the former would be deployed deeper, but his incisive runs and intricate passing have seen him adopt more a traditional No. 10 role. This should help increase our productivity and ingenuity from deeper.
Trent Alexander-Arnold's reinvention also continues apace. Everyone admires his long-range passing but shorter, vertical balls have helped to break the lines this summer. When fed into players like Mac Allister, capable of receiving and spinning in one movement, this adds greater potency to our attack.
With so much threat going forward, it's understandable that Klopp would back his boys to hit big numbers. He may, though, be doubling down due to a lack of options in the opposite direction.

However they spin it, Liverpool are currently without an out-and-out defensive midfielder.
Fabinho was first choice in that position and would have been heading into the new campaign. Jordan Henderson will have been seen as his deputy. Both have moved on.
Talk abounds that replacements will be sought, with Romeo Lavia seen as the most obvious incoming. Even if the Belgian is signed however, it's unrealistic to think a player of his profile and stature can replicate the role of peak Fabinho.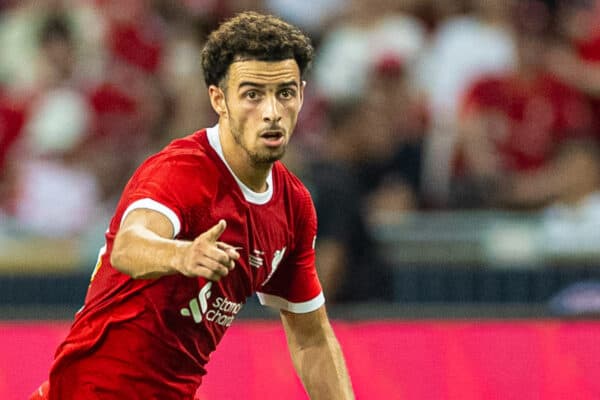 Similarly, neither Stefan Bajcetic nor Thiago, while capable of sitting deeper, are of that mould. The short-term solution or perhaps stop gap appears to be Curtis Jones.
The 22 year old has kicked on hugely in the last few months and starred for England's youngsters in a similar role this summer. Truthfully, however, he is more of a ball-playing midfielder, one lacking that natural defensive instinct.
Despite recycling possession smartly against Bayern, he was too easily bypassed by runners on several occasions, leaving Liverpool exposed. That's no fault of his own but if he is genuinely set to be reinvented as a No. 6 he will have to remodel his game and learn on the job.
Shipping goals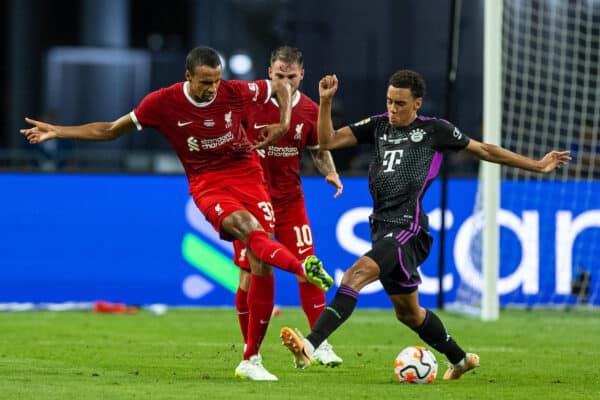 More broadly, Liverpool are shipping goals at an alarming rate.
Again, context should be applied. This is pre-season, where games are known to take place after double training sessions. Many of the chances and goals given up have also occurred when senior players have been swapped out for kids.
Structurally, however, the Reds look vulnerable.
The hybrid role adopted by Alexander-Arnold continues to leave the right flank exposed and puts a huge emphasis on the right-sided centre back to cover oceans of space. While Ibrahima Konate can do that to good effect, neither Joel Matip nor Joe Gomez can.
The high line has also been broken on multiple occasions, even if the offside flag should have intervened several times.
Pre-season or not Liverpool have notched 15 goals so far this summer and conceded 10. Leicester aside (who actually had their moments) these fixtures have been akin to basketball games and the early days of Klopp's premiership, when our attacking prowess made up for defensive deficiencies.

It's not unreasonable to think the manager has considered the profligacy of last season, combined with both the weapons at and not at his disposal and decided to roll the dice.
The great Liverpool team he turned into English, European and world champions were great at controlling games and grinding out results when they needed to. It did, however, take two-three years and multiple transfer windows to reach that point.
The intervening period was spent attacking sides with almost reckless abandon. This led to some thrilling encounters and results both good and bad. It was ultimately enough to realise Champions League qualification.
Expect Liverpool to blast themselves back into contention this season, taking aim at the bottom 10 in particular.