Darwin Nunez's double to down Newcastle on Sunday provided Liverpool with the most unlikely of wins, but it may not be enough for a spot in Jurgen Klopp's starting XI.
Four-time European Cup winner Phil Neal played 417 games in a row for Liverpool. Yes, you read that right; most Liverpool fanatics know this already.
It is a statistic worth repeating, because it really will never be repeated again. That isn't because our players aren't as good or aren't as durable, but it just isn't the modern way.
In theory, Andy Robertson could play every game in a season but the potential performance drop-off would be too great for the manager to risk it.
The modern game is also immeasurably quicker. Neal and co. were athletes in their time but, in most cases, footballers these days put their bodies through so much more, in training and during matches.
A present-day equivalent of Neal's record would be to play every league match for nearly 10 years. With cup games in the mix, a repetition of the Liverpool legend's feat is unthinkable.
How does all this relate to Darwin Nunez then?
It's a squad game now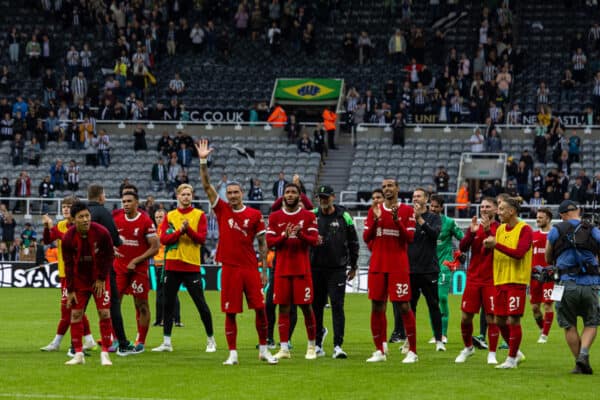 Nunez can be thankful that a record like Neal's is now unattainable.
Gone are the days that you have one substitute and the rest would be lucky to see any action at all – even consistent starting XIs are on the decline.
There is still some truth in needing to have a first team that are consistently playing together, Arsenal benefitted from this last season.
If Liverpool were to play the Europa League final tomorrow, we would all like a specific team to start, give or take maybe one or two players.
In truth, though, these occasions are few and far between. Most of the time, Klopp is juggling different interests.
On a weekly basis, the manager has to take into account training, recent form, players' capabilities and advice from the sports science team to make a decision on who will start at the weekend.
No longer is 'central midfielder A' better than 'central midfielder B' simply because one starts over the other.
You can be great WITHOUT starting every match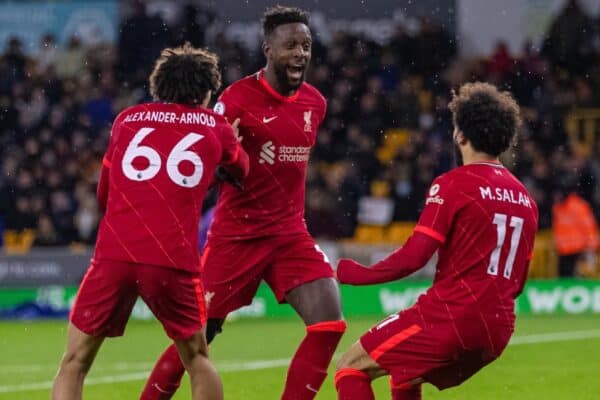 This all benefits Nunez because it means he can still have a good season without necessarily starting every match.
Of course, footballers want to play every game – it is the same right down to grassroots level – but it doesn't happen like that anymore in elite football.
There are very few players that will start every match in a season. The closest Liverpool get to this is probably Mohamed Salah, Virgil van Dijk and the full-backs. Even the goalkeeper is rotated for the League Cup.
Liverpool's array of attacking talents mean that that each of them need resilience, each of them need to be able to take being left out on the chin.
It is slightly easier nowadays, though, knowing that it is not an indefinite discharge from the team, only a temporary one.
How does Klopp pick the team?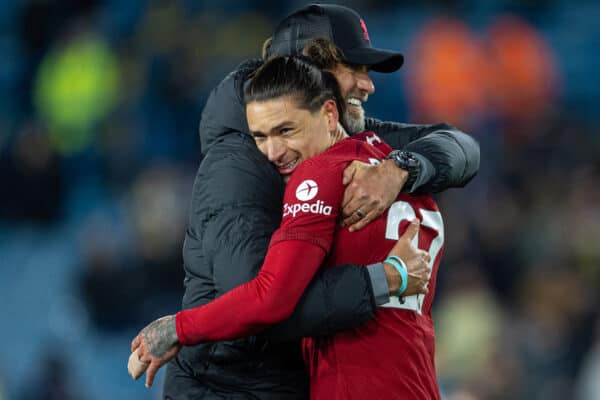 This season, Liverpool's front three will be picked on form, sports science, the opposition and even whether we are home or away.
While Salah, Cody Gakpo and Luis Diaz are 'first-choice' at the moment, playing in the Europa League allows Nunez and Diogo Jota to stake their claim for the big games, just as the No. 9 did vs. Newcastle.
Klopp will likely already have an idea of which games his forwards will each play over the next month or so, if not further in advance.
The manager eluded to this after beating Newcastle, saying: "He was obviously fired up from not playing, not starting, then put all the energy in these two shots…
"Everything is OK. Really, I understand the question. It's clear he's not happy – how can a player be happy when he's not starting?
"The thing is it's early in the season, we need to find stability, we need to find a formation, we need to get results."
Klopp went on to say how things will change after the international break.
"And then we'll play every three days anyway and everybody will play, there's no doubt about that," the German added.
"Even if Darwin would have started the first three games, he would not have played more games afterwards because of the intensity. He can't."
So, when will Nunez play?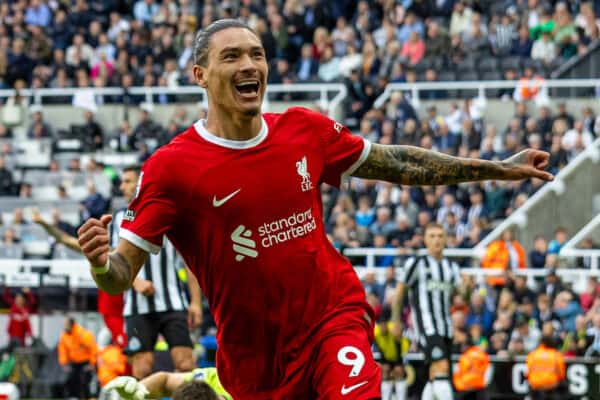 In advance, Klopp and his analysts will identify which teams it would suit Liverpool's attackers to play against. From that, they can come up with a plan.
For this reason, it came as a slight surprise to some that Nunez didn't start vs. Newcastle.
There was always the prospect that he would be able to exploit the Magpies' relatively slow defence, and provide a direct route up the pitch for Liverpool, like he did against Eddie Howe's team last season.
This did happen, just not until much later on.
Last year, Nunez would often play on the left wing. It seems this year, though, that Klopp will use him as a central striker when deployed.

Like the rest of Liverpool's attackers, that versatility gives Klopp even more options and Nunez more chances to start.
Don't expect to see the Uruguayan becoming the first name on the teamsheet any time soon. However, if he has found his goalscoring touch, it will be very difficult for Klopp to leave him out.
Like we saw on Tyneside, he's not bad off the bench either.
In any case, at the very least, the enigma that is Darwin Nunez will continue to provide theatre through brilliance, stupidity or a mix of both.