At the start of the summer, and even well before it, there were obvious gaps in the squad that needed to be addressed. With just days left, there's been only three new signings.
It promised to be a significant window for Liverpool, the next phase of Jurgen Klopp's evolution in motion as a handful of long-serving players bid farewell.
Alexis Mac Allister and Dominik Szoboszlai have proved exciting new additions but the unexpected exits of Jordan Henderson and Fabinho left more for the club to do.
So far that has seen them land the experienced Wataru Endo but nothing further.
There were dreams of Jude Bellingham, which were quickly snuffed out, a £115 million offer for Moises Caicedo knocked back and consequently widespread frustration at the inactivity.
With this in mind and only a few days left in the window before the Reds' fate is sealed, Joanna Durkan (@JoannaDurkan_), Jack Lusby (@LusbyJack) and Adam Beattie (@beatts94) assess the current situation and what is needed before Friday's transfer deadline.
Firstly, how do you view the club's activity so far?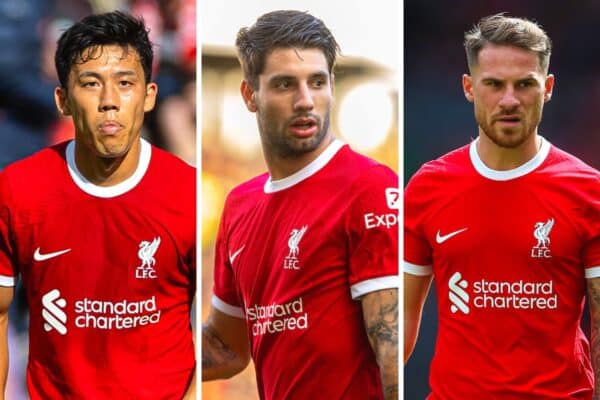 JOANNA: It's a strong foundation but it should not be anywhere close to being the full complement of signings.
Szoboszlai and Mac Allister are two gems and are already showing their worth and what they will add to the side moving forward. Two shrewd additions.
I said once he signed that Endo had to be brought in alongside a younger player ready to compete for a place in the XI for it to be deemed a savvy transfer, but I don't have a lot of faith that will be the case.
I worry about his lack of pace and the lack of depth at No. 6 – and I know I'm not the only one.
JACK: Looking at what they have pulled off, at face value you have to applaud Liverpool for their signings.
As Jo says, Szoboszlai and Mac Allister are studs in midfield – you could build around for years to come – while Endo should at least be a strong, short-term fix.
But the manner in which Liverpool have conducted their business concerns me.
Public bids for Caicedo and Lavia, the failure to sign either and the now desperate pursuit of late reinforcements is so far removed from what we grew used to in previous years.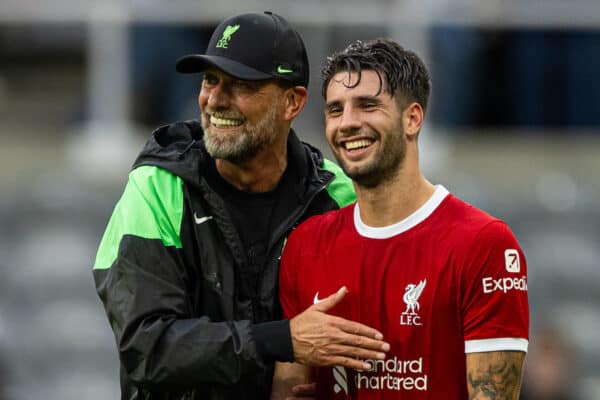 ADAM: It couldn't have started much better in fairness, but they've allowed their strategy to go completely out of the window since.
Signing Mac Allister so soon after the Southampton game feels like another lifetime ago now but at that stage, you felt like they had a clear plan and they were executing efficiently.
He and Szoboszlai are visible upgrades on what we had last season and we've seen glimpses of that already, but everything else has felt a bit clumsy.
Would you rather Liverpool signed a centre-back or midfielder in what is left of the window?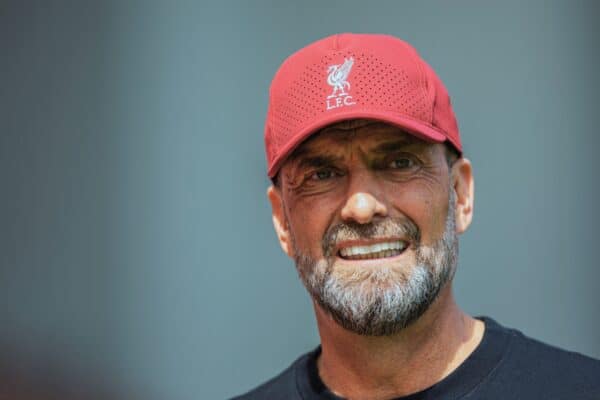 JOANNA: Ideally, both! We've needed only three matchdays to show the tightrope we're walking when it comes to depth and our seemingly never-ending injury woes.
How we've left it this late, or not at all, to bolster the defence is staggering. The change in system demanded it but the need has been there for quite some time.
The back-line that started at Newcastle was the same one from the 2019 Champions League final, fresh blood is needed – especially when Andy Robertson's key attributes are being nullified.
I've been edging toward a midfielder for some time but at least we made three signings in that position compared to none for the defence.
JACK: It shouldn't be one or the other. It should be both. But if the 3-4-3 stays, it's got to be centre-back.
The Newcastle game might have cast Gomez, Matip and even Jarell Quansah in a favourable light, but recent seasons have shown the current crop cannot be relied upon to stay consistently fit.
Already we're planning without Van Dijk and Konate for the short term – and it feels very familiar.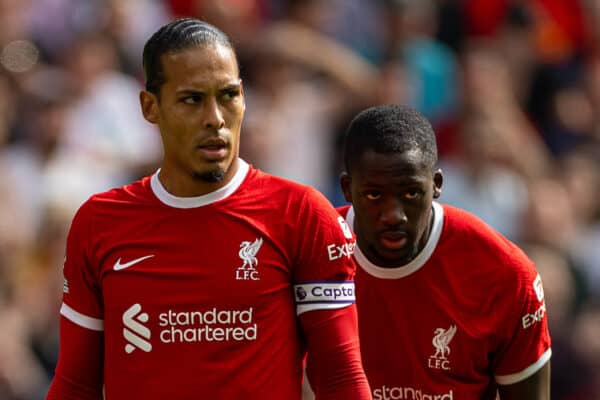 ADAM: Defender all day, for me. Klopp's words about needing to be lucky with injuries were a bit of a worry because we can't allow that to be an excuse again.
I'm amazed by the lack of defensive links, I honestly couldn't pinpoint one who it feels like we're going to pull the trigger on.
Micky van de Ven and Josko Gvardiol have both gone elsewhere in the Premier League and Levi Colwill signed one of them 20-year contracts Chelsea like giving out, although these things do have a tendency to come from nowhere like Szoboszlai and Endo did.
With that in mind, if we could sign one player before the deadline, who would it be?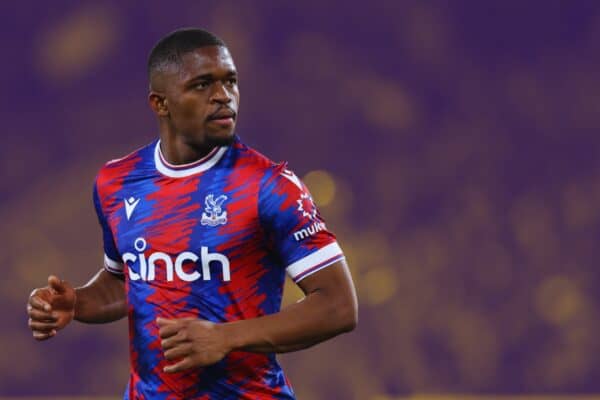 JOANNA: At this point we have been linked with seemingly every midfielder known to man and with a lot in the camp for a new defender, I'm going to go with Cheick Doucoure.
I think he'd be a good addition to the side and would prefer him over, say, Ryan Gravenberch. Two completely different players but when pressed, I'd be going for Doucoure.
JACK: Liverpool need another high-potential all-rounder at the back. Ideally a left-sider, but with Konate's shaky fitness you could argue either side.
I won't lie and say I've seen anything of Goncalo Inacio, Arthur Theate or many of the names being thrown about – but if I had to pick one, why not Marc Guehi?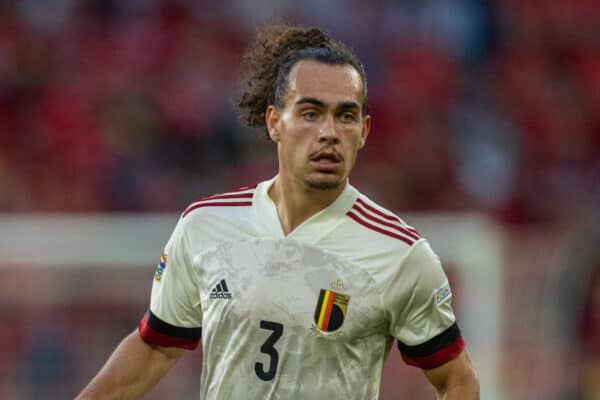 ADAM: His name doesn't seem to be inspiring many, but I'd actually be quite keen to get Gravenberch, unlike you Jo.
He's probably not the profile of player we need currently and I'm not convinced we can give him the minutes he wants straight away, but he looks to me like the type of player Klopp can turn into a world-beater.
I'd prefer a defender, but right now, I just can't see who that player is.
Looking ahead, how much rests on finding solutions in the next few days?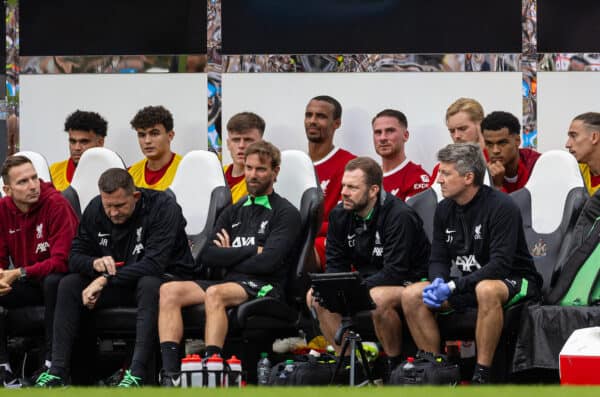 JOANNA: It is a frustrating cycle that we find ourselves in seemingly year on year, that we know one or two more of the right additions will prove a game-changer.
And yet we sit idle and let the moment pass and this is when we hear the constant 'next summer' line. You can only kick that can so far down the line before the cycle of Klopp and the spine of this team miss the window of opportunity.
This squad has endless possibilities and it would be negligent to make them fight with one arm behind their back.
Landing at least one signing, and not just any old player – *cough Arthur* – is a non-negotiable for me.
JACK: Liverpool are probably a signing or two away from competing comfortably at the very top – or, with a lack of, remaining part of that underdog pack.
They could still achieve great things with the squad at Klopp's disposal already, but they'd be walking that tightrope again if deadline day passes with no more arrivals.
Sign another centre-back and a dedicated No. 6 and Liverpool will be vying for the title.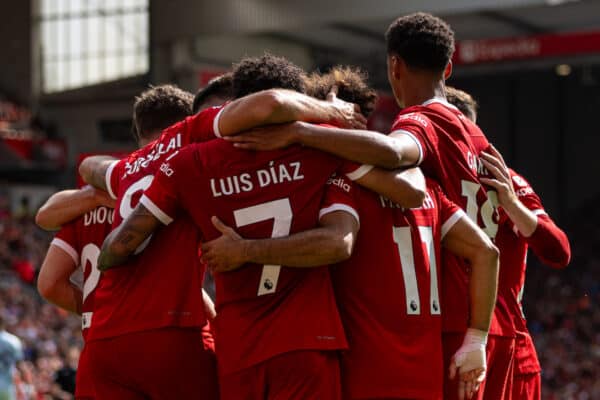 ADAM: We've already seen signs that we can be competitive this season if we've got the tools, but we're relying far too much on good fortune if we stick with what we've got.
I do think we've got a better squad than a lot of our own fans are giving us credit for and I'm certainly not as doom and gloom as most, but two smart additions make us the best-placed team to make a run at Man City for me.