With Alexis Mac Allister's Anfield debut ending early due to a harsh red card, Jurgen Klopp hinted that Liverpool could look to appeal the decision.
Mac Allister made his second start for Liverpool, and his first at Anfield, on Saturday as he took up No. 6 duties against Bournemouth.
But just before the hour mark, the £35 million signing was shown a straight red card for a challenge on midfielder Ryan Christie.
His studs went into Christie's ankle, but did so with little force and at a normal height to battle for the loose ball, leading to surprise when he was dismissed.
Thomas Bramall, refereeing his first-ever Liverpool game and only his 10th in the Premier League, was not overturned by VAR.
And speaking after the 3-1 win, Klopp admitted he plans to "talk about" the decision, suggesting the club could make an appeal.
"I saw the red card back and for sure we have to talk about it," he told Sky Sports.
"I understand 100 percent how it looks for a ref in that moment but when you see it back it is the inside of the foot and no power behind it.
"It is not ruthless, it is just mis-hit the ball and then hit slightly the shin of the other player.
"We saw harsher challenges which were not a red card and this shouldn't have been.
"I don't know exactly what we have to do, but we should talk about it again."
Klopp explained in his post-match press conference: "The punishment, being down to 10 men for 30 minutes, is already punishment enough.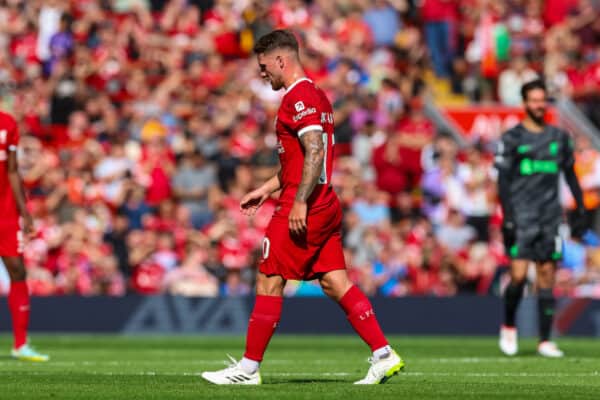 "Let's see, we have to talk to the authorities."
In the VAR booth was Paul Tierney, himself involved in a Reds fixture for the first time since his brush with Klopp, supported by Constantine Hatzidakis, the linesman who elbowed Andy Robertson.
Supporters may find this concerning, of course, and Bournemouth manager Andoni Iraola himself doubted it was a red card.
"For me, the red card was more kind of 'orange', this situation was kind of 'orange'," he said in his press conference.
"It's a difficult decision. I understand the referee in his decisions, because they were not easy decisions."