Jurgen Klopp flopped to the floor during Liverpool's draw with Chelsea and it is unlikely to be the only time this season, but it wasn't the only thing fans spotted.
The Reds' start at Stamford Bridge promised all kinds of possibilities, namely one that would have resulted in three points returning to Merseyside.
As it was, that wasn't to be. Luis Diaz's goal was cancelled out by Axel Disasi and with each side having a goal chalked off for offside, it was anyone's to win or lose.
The contest was played out amid the battle for midfield transfers but for 90 minutes, plus all the additional time, all focus could be on the football.
It threw up mixed reviews but also with talking points.
Klopp sent to the floor
Jürgen Klopp really didn't enjoy that decision ? pic.twitter.com/iNR2L8vmso

— Sky Sports Premier League (@SkySportsPL) August 13, 2023
The manager is not new to throwing himself on the floor when it comes to refereeing decisions and Sunday was no different!
And you couldn't blame him. Dominik Szoboszlai's challenge looked legal from most perspectives but Anthony Taylor did not see it that way.
? – Klopp after the referee whistled against his team. pic.twitter.com/bS0sCE9GqW

— ??? ???? ? (@TheEuropeanLad) August 13, 2023
Klopp might have held his tongue, but his actions spoke louder than words. Sadly, we don't think this will be the last time we see this type of reaction.
Consistency, anyone?
Liverpool robbed here imo. Handball means penalty, especially when the hand change the direction of the ball after a strike/header pic.twitter.com/KelcCMjB3l

— Foxey (@foxseabirds) August 13, 2023
We've seen them given time and time again and yet, Liverpool were not on the right side of the decision – surprise, surprise.
Nicolas Jackson's hand was in the way of Luis Diaz's goal bound header and VAR determined that the referee did not need to take another look, but fans were quick to point out the discrepancy in decisions after just one round of games.
Lewis Dunk's 'handball' vs Nicolas Jackson's 'ball to hand'…

Prime example of everything that is still wrong with VAR. pic.twitter.com/yWZakk2MZN

— Charlie Haffenden (@JournoHaff) August 13, 2023
Ref didn't even look at the screen for Liverpool though. Absolute dross, inconsistent, incompetent.

— Matt Ladson (@mattladson) August 13, 2023
It is going to be a long ol' season.
Henry in town…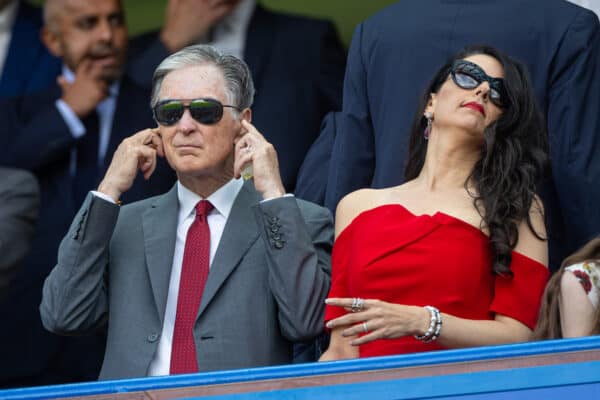 With the Liverpool owner in town and in attendance, as you can imagine, there were quite a few reactions to his presence, especially with transfers in the air!
John Henry in the transfer meetings pic.twitter.com/MXseO8CbiW

— Woodsey (@DWLFC94) August 13, 2023
John Henry is at Stamford Bridge and starts in the No.6 role for Liverpool this afternoon.

— Henry Jackson (@HenryJackson87) August 13, 2023
John Henry being in London pic.twitter.com/tJApfq1xsp

— Jimmy (@EntireDesign_) August 13, 2023
When Boehly met John Henry at Stamford Bridge today: pic.twitter.com/hV1tQRMLkA

— Ify (@Samuel_Anene) August 13, 2023
We want more of this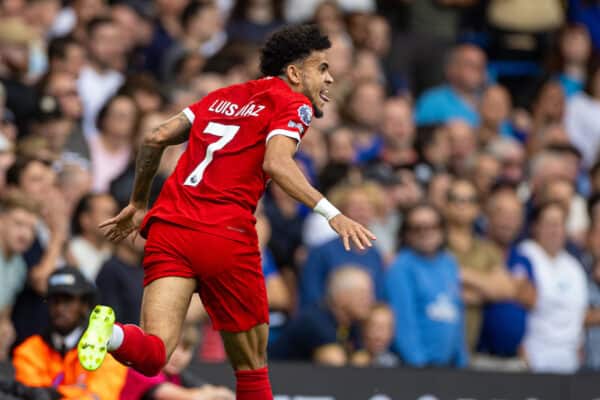 Six passes, one exquisite assist and a tidy finish from the No. 7 – liquid football that we want to see more of!
From back to front, it was a beauty and the combination between Alexis Mac Allister and Mo Salah is one we can look forward to seeing more of this season.
The football we played here was delightful! ?

Expect to see a lot more this season, especially when we make the right signings! pic.twitter.com/s8hyI568AG

— ? (@LFCApproved) August 14, 2023
Absolutely sublime from start to finish and a sign of what Mac Allister can do. Salah unreal as usual.

— Leanne Prescott (@_lfcleanne) August 13, 2023
A boss team move finished off by Luis Díaz. ????pic.twitter.com/d5pqTzvjxe

— Boss Liverpool Goals (@BossLFCgoals) August 14, 2023
More of this please, Liverpool.