Liverpool will thrill supporters this season, but history shows the additions Liverpool must make to be formidable.
There are striking similarities emerging between the 2017/18 season and the fresh campaign ahead.
That season, which resulted in an unlucky Champions League final loss, was the start of Jurgen Klopp's great team. They had built on the top-four finish achieved the previous year and couldn't stop scoring.
Forty-one goals in 13 Champions League fixtures were banged in, but there were also frustrating times when Liverpool just couldn't pen teams back for long enough to kill the game.
This would invite the inevitable sucker punch late on.
Echoes of 2017/18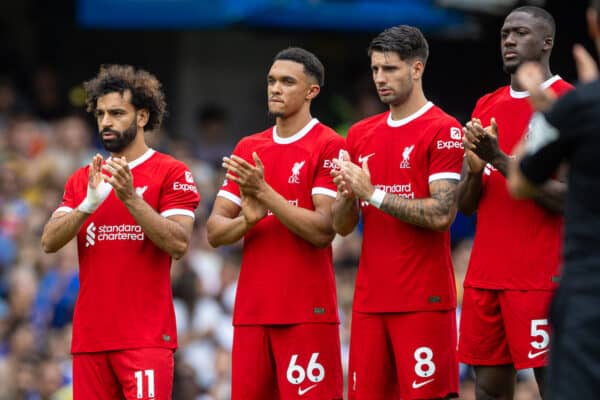 While judgements shouldn't be carved in concrete after just one game, the year ahead looks set to be similar – amazing, exhilarating and agitating supporters all at once.
Take Liverpool's opening-day draw at Chelsea, their quality was clear.
Luis Diaz, Mo Salah, Alexis Mac Allister and Dominik Szoboszlai played a level of free-flowing football that it was hard to believe they were playing together for the first time, competitively anyway.
It was a real throwback to the days of the 'Fab Four', featuring Salah, Philippe Coutinho, Sadio Mane and Roberto Firmino, back when their intuitive chemistry would topple defences in an instant.
From that four, just Salah remains at Liverpool. The Egyptian has so often been the finisher of the bunch but, on Sunday, he was the creator for Diaz's team goal.
Liverpool's flourish of confident play didn't last long, though, and soon we began to see the drawbacks of Liverpool's all-out-attacking nature.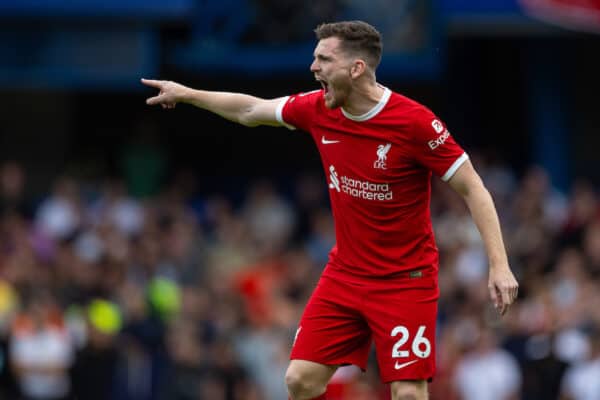 Andy Robertson looked lost and the turning cogs in his head were almost visible as he wrestled with whether to close down Reece James or sick with Raheem Sterling's run. Often he did neither.
His predicament was, in part, down to Mac Allister playing as a No. 6 when this is clearly not his strongest position.
All this chaos felt similar to how Liverpool began the 2017 season under Klopp.
Securing the missing pieces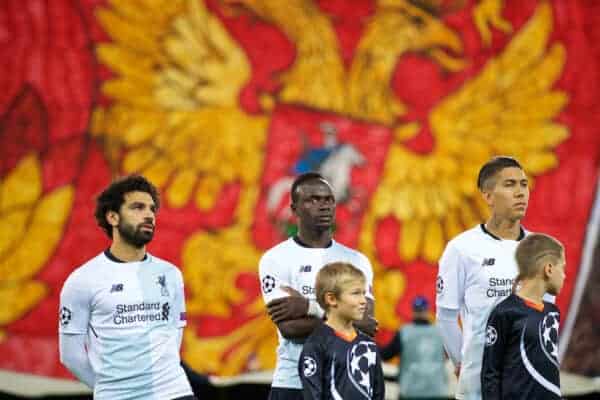 In that campaign, which saw the first half defined by the aforementioned 'Fab Four', Liverpool were missing two outfield key components of a great team – a top centre-back and a midfield destroyer.
The Reds are definitely missing one of those now, and you could even argue they're short on the left of the defence too, with Robertson left exposed all too often.
In 2017/18, Liverpool made a statement by signing Virgil van Dijk in January, six months after they declared they were stepping away from the Southampton player.
The Reds then acquired Fabinho in astonishingly smooth fashion barely 48 hours after losing the Champions League final to Real Madrid.
Along with Alisson in goal, these players finished the jigsaw and formed the spine of a team that went from thrilling to downright formidable.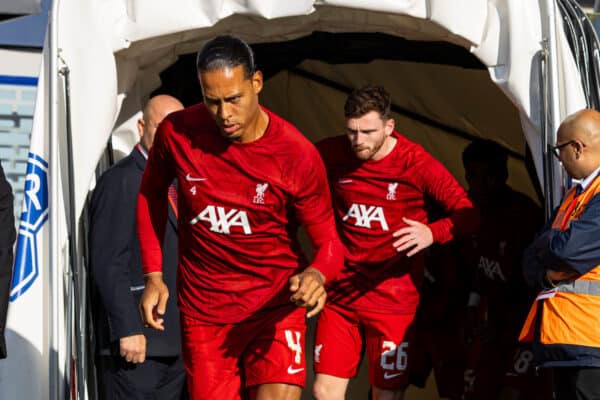 We're now onto 'Liverpool Reloaded' (TM Jurgen Klopp) and there are familiar feelings of anticipation mixed with anxiety.
The chaos on the pitch seems to be mirrored off it, with a temporary sporting director muddying waters further as Liverpool stumble over their own feet in the transfer market.
True, being outbid to the tune of £115 million is hardly a strategic problem, but Liverpool's dirty washing is becoming increasingly easy to view.
Gone are the days when transfers would come from nowhere, at least not when dealing with English teams anyway.
Liverpool need to regain stability. They need this on the field of play too, and a midfield destroyer would help achieve this.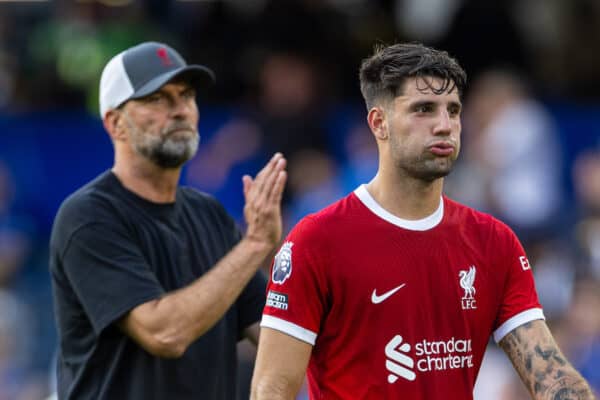 The Reds have the ability to destroy any team on their day, even last year it happened on occasion, but what matters most are consistent results.
Like Van Dijk and Fabinho, Moises Caicedo felt like the statement that could well have proved an important part of the puzzle had he moved to Anfield but, as it is, Klopp is looking for alternative solutions, and they're not easy to come by.
The bones are there for the second evolution of this side but Liverpool need to have all their puzzle pieces in play if they are to make significant strides forward.
The Reds are at risk of repeating history if they leave themselves short on key players but the early evidence suggests the start of something special, so long as the right balance is achieved.
T-minus 16 days to achieve it.