Liverpool chief executive Billy Hogan has spoken out about the 'incredibly disappointing' delays to the full opening of the Anfield Road end.
Work to complete the top tier of the stand ceased last week when it was announced that contractor Buckingham Group had filed a notice to appoint administrators.
As a result, the Reds' opening home game against Bournemouth was played with that section of the stadium entirely closed, resulting in an attendance under 50,000.
Providing an update on the situation, Hogan said: "Effectively major work stopped on the site on Thursday morning after the announcement so clearly that impacts all of our planning.
"Timing, obviously, is incredibly fluid right now, there's a lot of uncertainty around where we are and obviously in time that will become more clear.
"It's important that we don't want to set any false expectations. We wanted to make sure that we provided an update.
"We announced a couple of weeks ago that we were going to be working through a phased opening [and] that plan remains, obviously.
"We will continue to provide updates as we have them and we will be able to provide more clarity over the coming weeks on the timescales to complete the project.
"Just to speak plainly, we are in a bit of a holding pattern right now based on the news that we got on Thursday and that needs to reach its conclusion before we can truly start to take the next steps.
"But if Buckingham does enter into administration then we'll need to address any delays that may arise from completing the new stand as a result of that."

Liverpool will next be back at Anfield on September 3, when they host Aston Villa in the Premier League.
And Hogan has revealed that the game will be played with a similar attendance to that seen against Bournemouth due to the delays resulting from the uncertainty over Buckingham's future.
"Based on the current situation, we will run the Villa game exactly the same as we did against Bournemouth," he said.
"The capacity will be around the same, so about 50,000.
"Obviously without the second tier on Anfield Road that does have an impact on the overall capacity so just the lower tier will be open and we are working through the same programmes to manage the match as we did and obviously at the same time, as I said there is a lot of work going on the background to manage the long-term plan to complete the stand.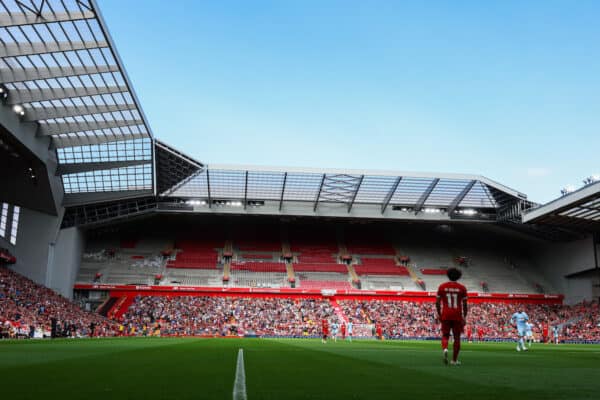 "And effectively by having that reduced capacity for the Villa game, that will mean some reductions in allocations across the stadium but we're really working and looking to make the impact minimal.
"[We will] still be able to accommodate all season ticket holders and those with 13+ credits as we did for the Bournemouth game.
"We will be updating supporters with all the details of the Aston Villa game over the course of this week so look out for more information coming out from the club in the days ahead."