Liverpool fans were in ecstasy when Darwin Nunez scored his winner. Now we're starting to come down, we can start to make sense of Sunday's proceedings.
It was a massive win for Liverpool. The comeback reminded us that the new-look Liverpool still have the spirit of Klopp's first great team.
While there were clear shortcomings at times, the result will boost confidence and hopefully instil a real belief in this Liverpool side.
Now the shock has subsided, slightly, we can attempt to attempt to look deeper into Sunday's win at St James' Park.
Here, Sam Millne (@sam_millne) and Patrick Allen (@P_Allen21) discuss Nunez's impact and why the Reds improved with 10 men against Newcastle.
Firstly, was there any inkling we could win with 20 mins to go?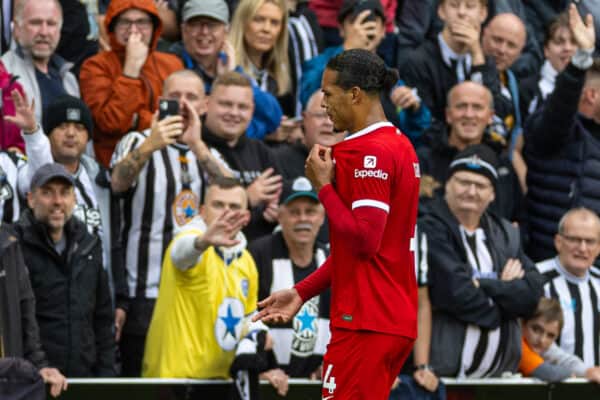 Paddy: I mean, at 1-0 there's always a chance of nicking a point, but I definitely didn't see us winning it.
The introduction of Harvey Elliott and Diogo Jota just turned the tide, though, and when you've got someone like Darwin up top, who's proved on Sunday he can finish, you've always got a chance.
Sam: Elliott definitely helped change the game when he came on. Once the substitutes were on, I thought there was definitely a chance of a draw.
To win, though, and obviously not concede again was wild. As someone who was six months old when Michael Owen's brace won the FA Cup in 2001, this is only how I can imagine that day felt, but on another level in a cup final!
What do you think changed for us to look more solid with 10 men?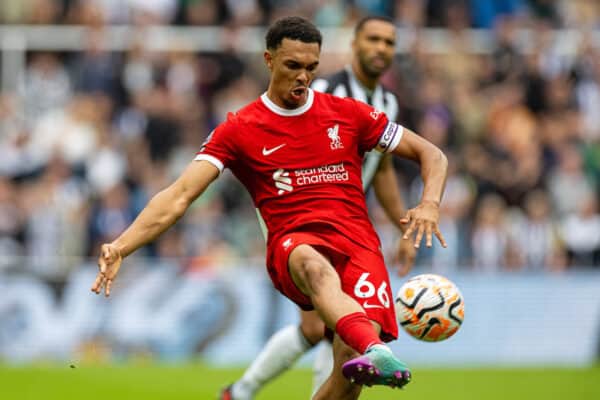 Paddy: I think it was a combination of Newcastle becoming wary and us just stepping up a little bit.
We started to test them, especially after Nunez came on, with balls in behind and they got deeper and deeper. It just allowed us to maintain a bit of ground and push on from there.
Sam: It is the second game running that we've arguably actually improved with fewer players. I would suggest it is due to players being more focussed on their jobs, sitting in and closing spaces.
With the new system, there seems to be an element of players not knowing their jobs at times, especially with midfielders playing in unnatural roles at the start of the season.
It is also important we don't underestimate how crucial Alisson was. Newcastle did still create chances, and it was only the goalkeeper's sheer brilliance that meant Nunez even had the chance to win the game.
Would you start Nunez vs. Aston Villa?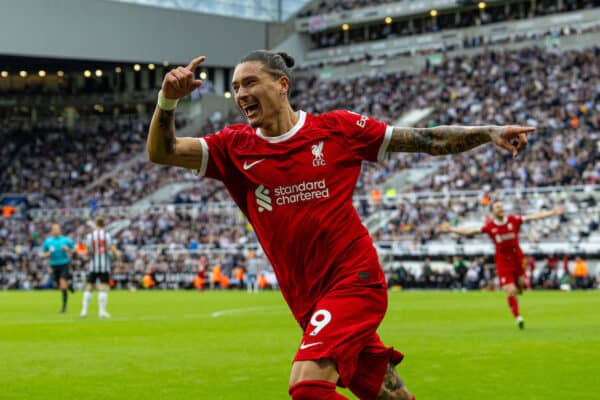 Sam: Personally, I would be inclined to however, Klopp's post-match interview suggested Nunez will be more involved after the international break and once the Europa League gets going.
I think the manager will largely pick his attackers based on the opposition's strengths and weaknesses this season.
I actually had a suspicion Nunez would start against Newcastle given is ability to run in behind. Thankfully, we had him from the bench!
Is this a launch pad or will squad shortcomings see us falter this season?
Limbs. Nice one @Darwinn99 ? pic.twitter.com/4sOyWTFmCC

— Paddy Allen (@P_Allen21) August 27, 2023
Paddy: Absolutely, but there's certainly a case to be made for the latter.
They'll take massive amounts of confidence from this win and, should we beat Aston Villa next week, we've actually had a really, really good start to the season.
The question remains, can the squad cope? Konate has already picked up an injury, Curtis Jones the same. We absolutely need further reinforcements otherwise I see us struggling in the long run.
Sam: Both can be true. I've said since the start that Liverpool will improve as the season goes on. With the Reds' first XI out, we can rival anybody on our day.
The issue comes when you look further down the ranks. While the bench was talented vs. Newcastle, and proved their worth by the way, it was so inexperienced.
We're going to see a lot of goals this season, but a lack of stellar holding midfielder and a defender could cost us when it comes to trophies.
Finally, should Trent have been sent off?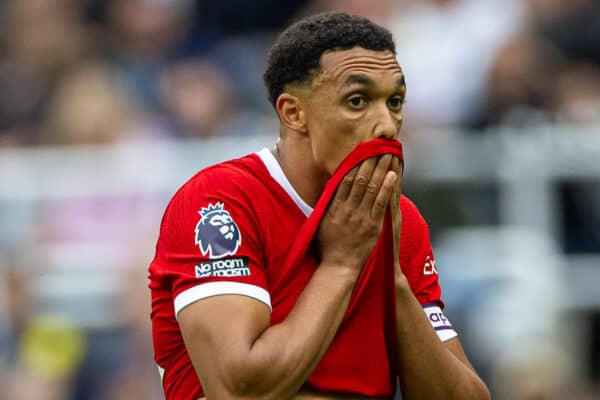 Paddy: Short answer, yes. The first yellow is a farce as it's a foul on him in the first place, but he absolutely gets booked for the foul on Gordon if he's not booked already.
It's one of them when the referee probably thinks it's too early, but I'd have been fuming if it was the other way around.
Sam: Agreed.
By the letter of the law, he should have been off. It would have been extremely harsh, though, given he wouldn't have seen the first yellow if the referee had spotted the obvious push that even the fourth official deemed a foul.
On the second incident, he gets away with it because the game is still young. Having said that, the bar for a booking was very high given the amount of cynical fouls Newcastle go away.