Liverpool wrapped up their pre-season visit to Singapore with another thrilling friendly outing as they suffered a 4-3 defeat to Bayern Munich.
The Reds raced into a two-goal lead thanks to Cody Gakpo and Virgil van Dijk, but were pegged back before the break as Serge Gnabry and Leroy Sane got on the scoresheet.
And the goals continued to flow after the restart, Luis Diaz restoring Liverpool's advantage before Josip Stanisic levelled things up and Frans Kratzig's wonderstrike won it at the death.
Check out five things we learned from an entertaining game below.
Defensive tweaks surely a must

It is worth saying as a starting point that most people involved in football would find it amusing how much us outsiders read into pre-season friendlies.
The players come into these glorified training exercises with triple training sessions in their legs and are then expected to perform at their best as part of unbalanced teams changed in each half.
With that in mind, it is perhaps possible to read a little too much into Liverpool's defensive performance here – I mean, does anyone think Bayern Munich will be this much of a shambles at the back next season, too?
Still, it is quite hard to shake the feeling that, when the real stuff starts, it might be that Liverpool's new (or not-that-new) system is exposed.
It was not an unfamiliar problem that the space left by Trent Alexander-Arnold at right-back is exploited by a team with the pace and quality to get there and then find the right pass or shot.
And we saw that with Bayern's first two goals in particular, Gnabry finding acres to firstly score and then again to set up Sane.
As much as a left-sided centre-back is described as a need for this side, Joel Matip's lack of pace as a backup option covering that right-sided space seems to be just as big an issue, and offers a real problem for Klopp going forward.
But, whichever defensive concern is considered worse, it is difficult to think of a solution that doesn't involve Liverpool dipping into the transfer market for defensive reinforcements.
Where were the linesmen!?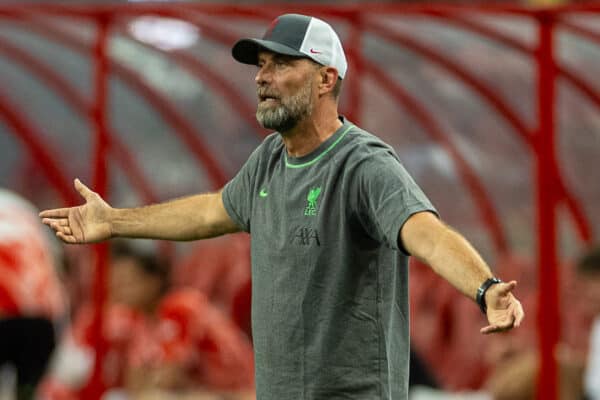 As a brief counter to the above, we should perhaps point out that Liverpool's analysis of this game will likely see them wonder what exactly was going on with the officiating.
The replays weren't perfect in showing it, but there seemed a strong case to suggest that Bayern's first and fourth goals had a serious hint of offside about them.
And that was not the only situation in which a raised flag might have brought eased the defensive pressure, with a one-on-one chance for Kingsley Coman also coming to mind.
There might be work for Liverpool to do at the back, but they could also argue that playing in games with VAR will also be a big help going forward.
Elite opposition underline Jones' strengths and weaknesses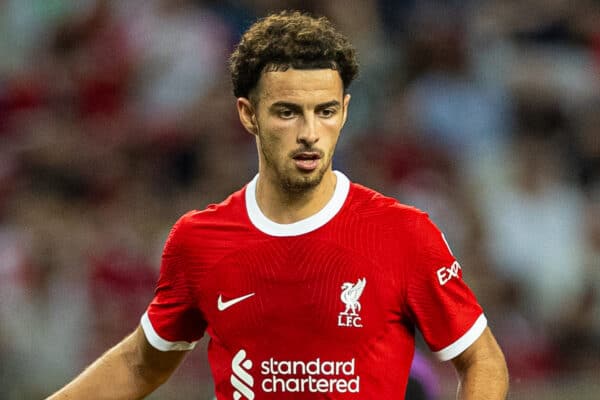 Speaking in his press conference previewing this match, Klopp somewhat prophetically said of Curtis Jones' take on the holding midfield role: "In possession, there's no doubt that Curtis can have a massive impact from that position."
Here, against top-level opposition, we saw exactly what the manager meant as the young Scouser completed more first-half passes than any other Liverpool player (31) at a remarkable 100 percent completion rate.
Unfortunately, we were also shown why Klopp didn't describe Jones' defensive instincts in equally glowing terms, as he occasionally struggled to help keep things tight in the middle.
One situation in particular that saw Jamal Musiala drive through the centre with alarming ease will have Chelsea boss Mauricio Pochettino licking his lips ahead of the season opener at Stamford Bridge.
Jones still looks the likeliest to start in the No. 6 there but, as this game showed, there is still plenty of work to be done for him to perfect the role.
Salah the creator strikes again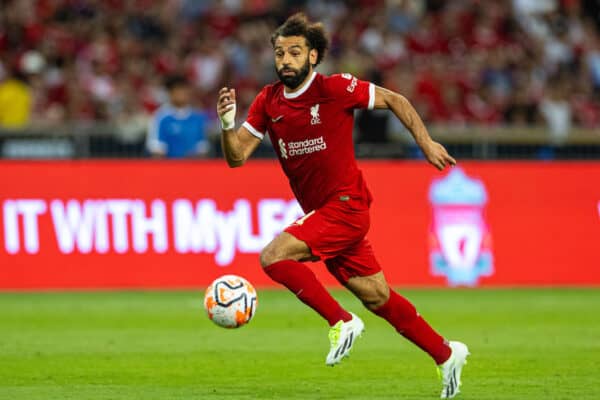 He may be primarily renowned for his goalscoring exploits, but only those who do not watch Mohamed Salah closely on a regular basis underrate his skills as a creator.
The Egyptian once against evidenced that quality in this match, making it a whopping six assists across pre-season as he laid on Luis Diaz's goal.
Of course, when the season starts, you would like to see Salah as close to goal as possible so that he can make the most of his unrivalled finishing ability.
But it can only be considered a positive that he is playing a part in lightening his own goalscoring load by now setting up his team-mates on a regular basis.
It also gives opposition defences even more to think about.
Mac Allister concerns played down

Given Liverpool's injury struggles last season, supporters can be forgiven for fearing the worst when Alexis Mac Allister went down just before half-time here clutching his knee.
And those concerns will only have grown when the Argentine was one of just three players who started the game that did not emerge for the second period.
Fortunately, Klopp struck a positive note in his post-match interview with LFCTV when he was asked to list the positives of pre-season and replied: "Nobody got injured."
"[It was] knee on knee, he could have played on," he told reporters in his post-match press conference.
In truth, Mac Allister's issue looked like little more than a bang to the knee, and supporters will hope that means he can be ready in time to face Chelsea next weekend.