Jurgen Klopp has been criticised by some fans after raging at those singing his song on Saturday, with the Liverpool boss having previously explained.
Liverpool were 3-1 up in their victory over Bournemouth at Anfield when, in the 74th minute, supporters began to sing Klopp's song.
"I'm so glad, that Jurgen is a Red," rang around the stadium during a spell of possession, as the ball went from Mo Salah to Alisson, onto Ibrahima Konate and then back to Salah.
But the manager gestured to supporters to stop, clearly furious.
Klopp was even heard during the international broadcast of the Premier League game saying: "Can you stop singing that shit? Can you stop!?"
His comments were not universally appreciated by fans, with many – including those at the game – critical of Klopp's stance.
Just me that finds this quite disrespectful from Klopp towards our fans?

Made up a song because they love him, only for him to call it "that sh*t".

I get he asked for them not to sing it before the final whistle, but come on man…

— ?????? (@WilcoFtbl) August 20, 2023
I love him, but Klopp doesn't get to decide what the fans sing, not now, not ever. He also seems to think his song is a celebration of winning the game that is currently being played. It isn't. He needs to pack it in with with one, he's way out of line.

— Adam Rowe (@adamrowecomedy) August 20, 2023
Agree with this completely – pissed me off a bit today.

Wants atmosphere. Moans about good songs. He's being too literal. It's just a song Jurgen, it's support if it's sang about you, Shanks, Albert Stubbins or Rigobert Song. https://t.co/Mw1TGjnMV8

— Paul Senior?? (@PaulSenior1) August 19, 2023
Love Klopp. He doesn't get to tell us what we can and can't sing though.

— Joe Connolly (@JoeMConnolly) August 19, 2023
It could certainly be seen as ungrateful from the manager, with the lyrics of the song, to the tune of The Beatles' 'I Feel Fine', designed to pay tribute to him.
But speaking in April, Klopp explained why he preferred fans not to sing it until after games, having seen Liverpool let a 3-0 lead slip against Tottenham before a late 4-3 win.
"If you want to sing it, sing it after the game in the bar, wherever," he said.
"Because it's almost like we're closing the game, we are 3-0 up [after 15 minutes] and they start 'I'm so glad Jurgen is a Red' and I thought: 'It's not over'.
"So, it would be really nice if you could leave that for later."
It does explain, to an extent, why Klopp was furious with fans on Saturday, as though his side were 3-1 up, there were still 16 minutes to play with 10 men.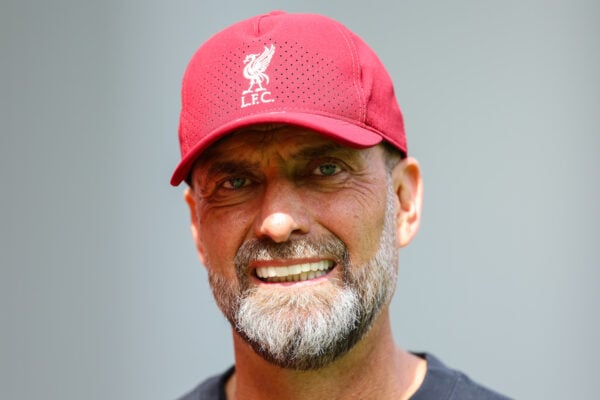 Alexis Mac Allister had received a red card, and though Diogo Jota's goal came after that, there was still a risk of Bournemouth fighting back.
That is particularly the case given the uncertainty over stoppage time under new directives this season, with six minutes ultimately added on.
There is certainly a debate to be had over whether Klopp was right or not, but his insistence over the song earlier this year does make sense – he simply does not want complacency to creep in.