Liverpool made it a winning return to Anfield after coming from behind to beat Bournemouth 3-1 despite a more than debatable red card.
The Reds were hit with an early setback courtesy of an Antoine Semenyo strike but turned things around before the break with goals from Luis Diaz and Mohamed Salah.
Alexis Mac Allister's afternoon ended prematurely when he was sent off for a challenge on Ryan Christie, but Diogo Jota's goal shortly after allayed fears of a tense finish with 10 men.
Adam Beattie (@beatts94), and Harry McMullen (@mcmulhar) are here to dissect the first home game of 2023/24.
A shaky start to say the least but we got the job done, happy with the three points?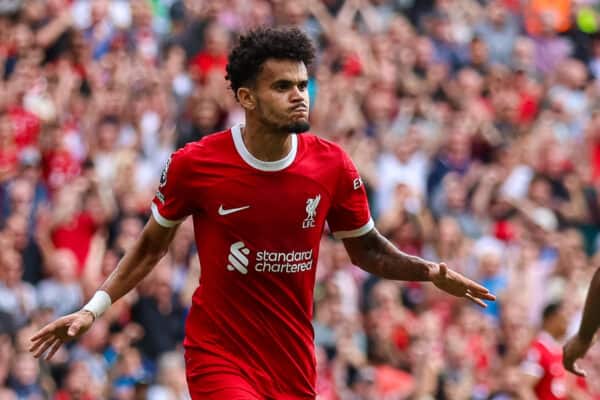 HARRY: Very happy! We gave Bournemouth such a kind start to the game, but it's worth pointing out they've looked great under Andoni Iraola so far.
These might look an even better three points by the end of the season.
ADAM: I agree with all of that. We got away with the offside just before the goal then handed them one on a plate almost straight away afterwards.
Once the equaliser came I never felt like we were in too much danger and that was pretty much how it panned out, maybe they needed that setback to wake themselves up!
An interesting red card and no help from Mr. Tierney! Would you say we looked a better side with 10 men?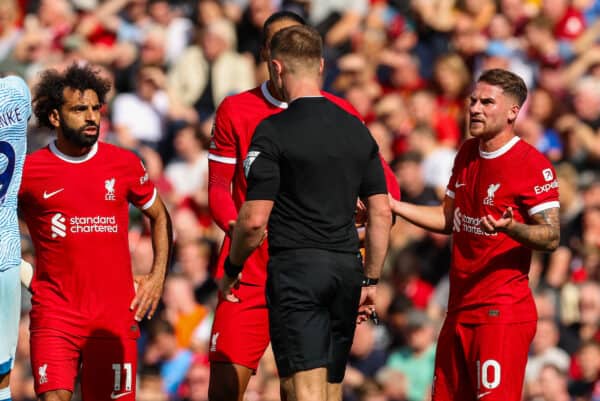 ADAM: Definitely. The Jota goal killed the game and that obviously helped, but barring a couple of late Alisson saves we were never really under much threat.
The decision itself was a baffling one and on another afternoon it could have really cost us, it was the first thing I watched when I came out of the ground because even in real time it looked harsh.
HARRY: These decisions can happen but the VAR absolutely has to catch it – I suppose that's too much to ask of Paul Tierney!
Liverpool did look really good with 10 men – we dropped into a much more compact 4-3-2 shape and Salah especially did a great job of coming deep to be a passing option. That drop created space for Szoboszlai to burst into which he did to great effect.
It's very early days but how would you sum up Endo's brief contribution?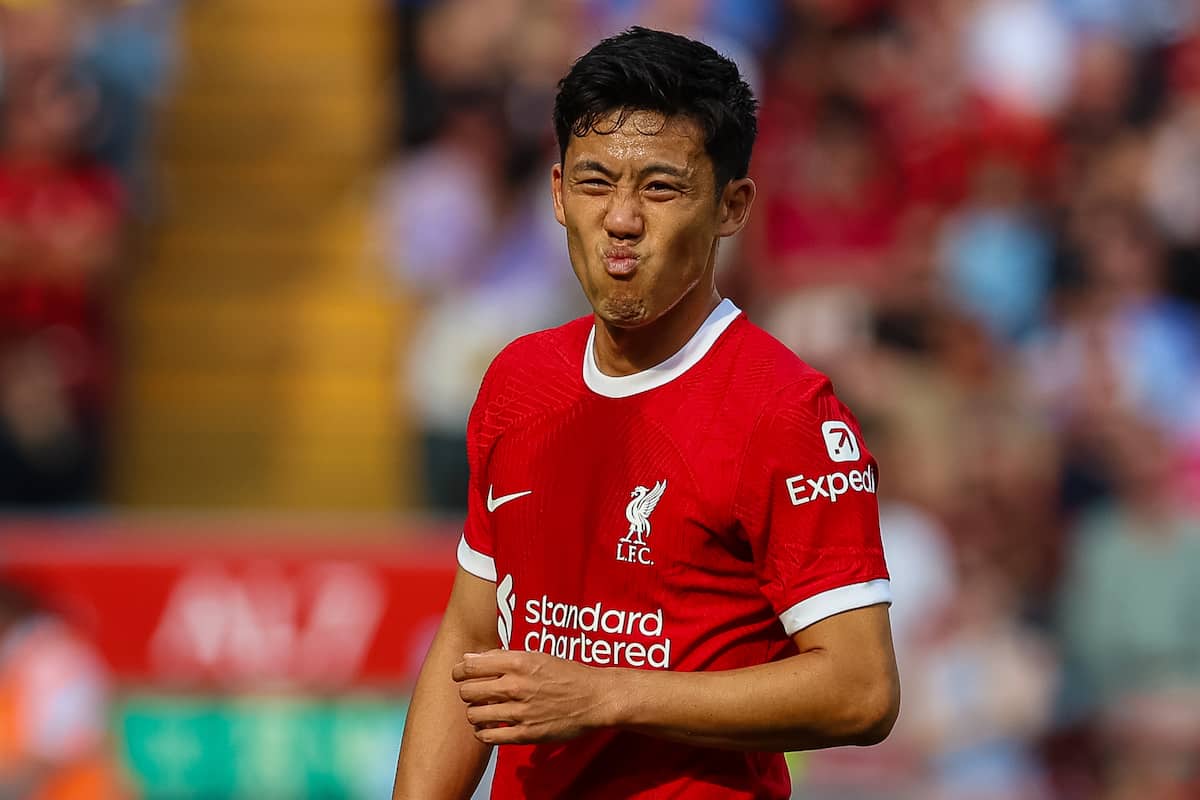 ADAM: It would have been a huge ask to bring him into that game at 2-1, which was obviously the plan until Jota made life easier for us.
It's far too early to make too many bold claims about how good he can be for us but we've seen already what we have missed in the security that protective layer gives us with a real No. 6.
HARRY: Endo's introduction made us so much more secure. There was one moment he managed to get in the box, and when the cross didn't immediately come he sidled back out rather than staying up. He's the only midfielder in our "very offensive" squad who'll do that!
Long term, he can allow his teammates Alexander-Arnold, Robertson, Mac Allister and Gakpo to all play in their best positions, rather than the adaptations each of them are making in the 3-box-3.
With him as the anchor, I could see us going back to the 4-3-3 and having a much more compact, effective press. "Liverpool reloaded" looked far more physical with a midfield three than last year's shambles ever did.
What would you say still needs to be done in the window?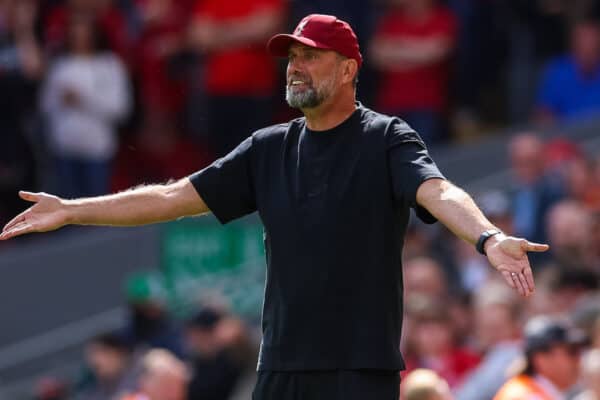 HARRY: I think I'm in the minority here but I feel our business for the window is concluded.
I'm nervous of what an Endo injury would do – and it's never smart to rely on a new signing as your only option – but with the potential arrival of André in January, I think we've got what we need for a top four finish this season. Long term we do need a new centre-back but with Matip likely in his last season with us and the season already underway, that's one for next summer now.
ADAM: I'm definitely in the camp of believing that we still need to do something at centre-back.
All of our defenders have got an injury in them and it is worth remembering that Nat Phillips started the first home game of last season.
I'm not necessarily of the view that it has to be a left-sided defender – although that would probably be ideal – because like Harry said I can see us playing a lot more 4-3-3 this season and I think numbers are the issue rather than finding a player to play that specific role.
Finally, who was man of the match for you?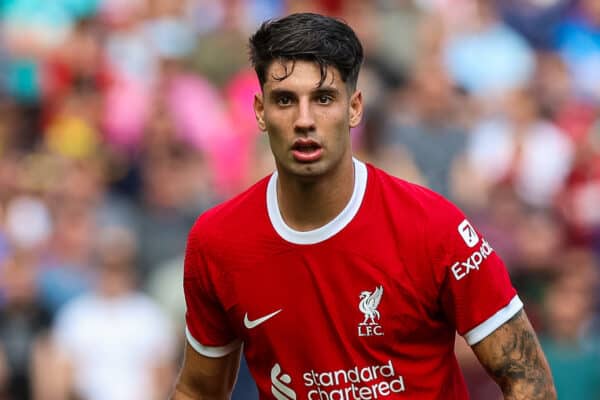 HARRY: Dominik Szoboszlai. He showed us the silk of our current midfield maestros with the steel of our classic midfield monsters.
As much as we need ballers who can play through pressure, we also need bullies to burst past opponents and smash a hopeful ball in from 30 yards – without Szoboszlai doing that there's no third goal, and potentially a much nervier finish.
Once the silly suspension of Alexis is over, I'm really excited to see a midfield three of Endo, Mac Allister and Szoboszlai play 90 minutes together. On the evidence of today, they'll take some beating.
ADAM: Yes, an easy decision that one.
I came away from Stamford Bridge raving about Mac Allister and how he is the exact player we've needed, this time it was the exact same for Szoboszlai but for different reasons.
The best compliment I can give is that he looked like he'd been playing in that midfield for years, Liverpool weren't dreadful by any means but he looked head and shoulders above every outfield player on that pitch.
We could have a serious midfield on our hands and even though we're in the early stages we're already getting a glimpse of what it might look like.