Liverpool's clash with Newcastle this weekend is a huge gauge of where both sides are at, and the Magpies' spine could ultimately prove to be decisive.
Jurgen Klopp's men sealed their first win of the season last Saturday, seeing off Bournemouth 3-1 at Anfield, but bigger tests lie ahead.
One of those arrives on Sunday afternoon, as Liverpool face a Newcastle side who are improving all the time, once again pushing for a top-four finish.
They were only narrowly beaten at Man City last time around, and if the Reds aren't switched on at St James' Park, it could be a tough 90 minutes for them.
With kickoff now just a few days away, we spoke to Newcastle fan and writer Dave Black (@cm9798) to hear about an in-form Magpies side, Liverpool's best player and Sunday's mouthwatering encounter.
You've started out with a win and a loss – how optimistic are you for the season ahead?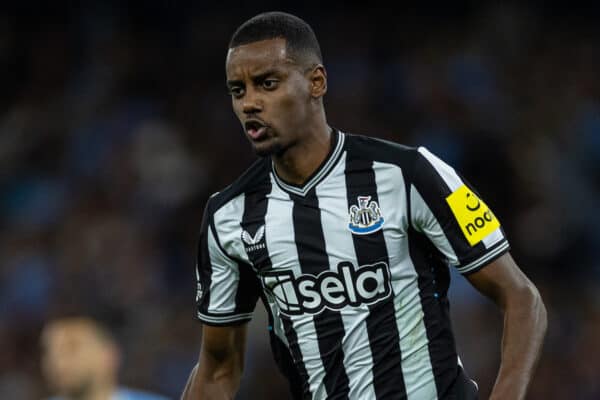 I'm still relatively optimistic, despite the reality check given to us by Man City on Saturday.
We've got a really tough start with four of last season's top seven to start us off, and then we get into playing twice a week with Champions League commitments, so it's a different kind of challenge.
I said in the preview a few weeks ago that we would struggle to match last season, but having seen some of the competition so far, I'm not as fearful of the likes of Chelsea and Man United as I was.
Who do you view as Newcastle's key players this season?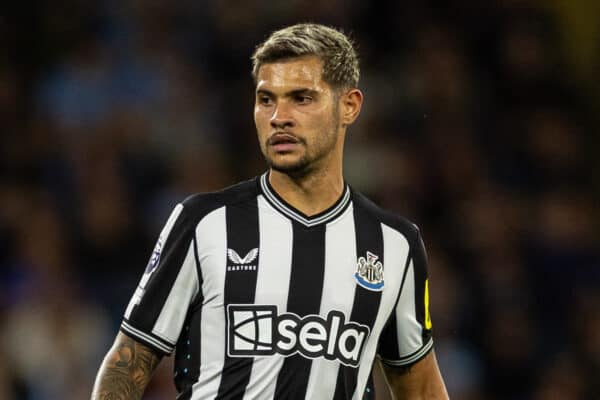 I think if you look at the spine of the team then Sven Botman, Bruno Guimaraes and Alexander Isak are all going to be key.
Botman I am more impressed with in every passing game – I thought he was outstanding against City. He's a ball-playing centre back, but he reads the game so well and his positioning is excellent.
In front of him, Bruno has always been key for us since he joined, but there's a bit of an expectation on him now and he's not been at his best in 2023.
With Sandro Tonali now alongside him, who should be afforded time to settle, there's a feeling he should start stamping his authority on more games, especially if we have more of the ball.
Finally, Isak is a real talent up front who could go on to be one of the best players we've ever seen in a Newcastle shirt.
Liverpool have seen the potential he has with some of the moments he pulled out last season, and now we will see him in his first full season with a full "Newcastle" pre-season behind him and hopefully no injury setbacks.
What's one thing you'd change at your club currently?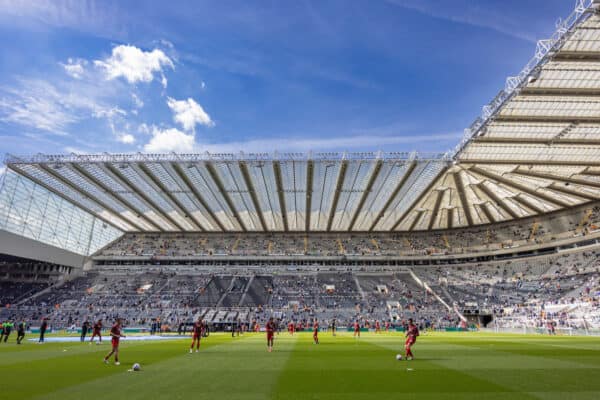 I'll keep this to a footballing answer before we get all geopolitical – the ticketing process is in transition if we're being kind.
It's not working out well so far.
Away from the Magpies, which team will surprise us in 2023/24?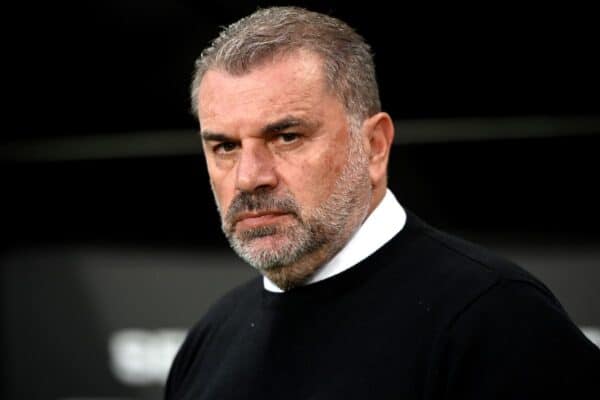 From the early signs, I'd have to say Tottenham.
A lot of people, myself included, thought they'd struggle to even get as high as eighth without Kane, but the early signs are that they are a better team than last season without that star individual.
I don't know whether it's sustainable over a whole season, but they don't have Europe to worry about, which should help.
Which Liverpool player would you most want at Newcastle?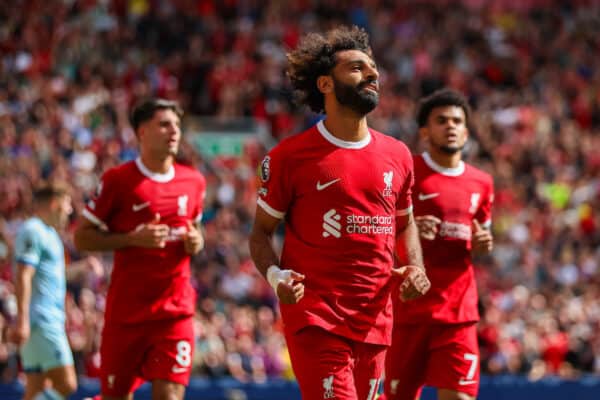 Mo Salah. I've always had a soft spot for him since he joined Liverpool and he just seems to effortlessly score goals.
He would be a nice replacement for Miguel Almiron if he fancies a move further north.
Sunday's game is an away one for Liverpool, but what's it like visiting Anfield as an away fan?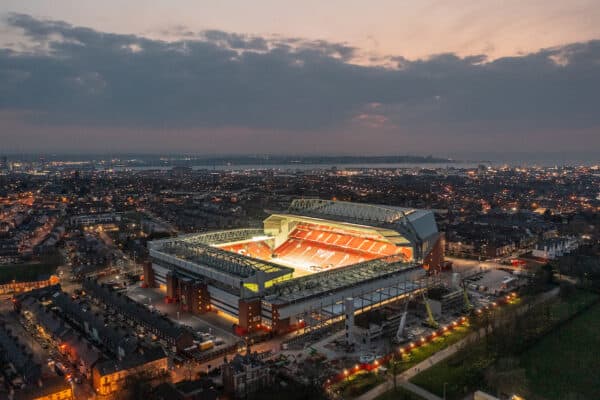 I think there are a lot of similarities in our fanbases in terms of hugely passionate crowds, but it definitely works both ways.
It's a bit chicken and egg sometimes – does the team get the crowd going or does the crowd get the team going?
There's no doubt the away team at both stadiums comes to try and quieten the crowd as that's half the battle, but generally, it's a famous old stadium and it has an aura about it which is the way it should be.
We very rarely win at Anfield, though, so it's not my favourite place to go!
Where will the key battles take place on Sunday?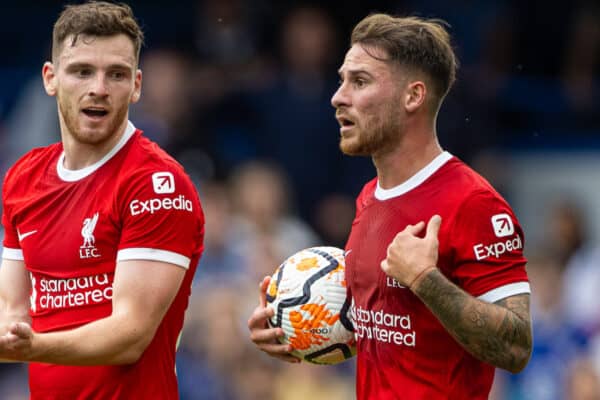 If Alexis Mac Allister's suspension was upheld I think that would have given us a huge advantage in midfield.
The formation you are playing encourages a bit of a basketball-style match and one of our biggest strengths is our running power and stamina, so that sort of game would suit us rather than a chess match.
Last season was a bit of an eye-opener, which I hope Eddie Howe has learned from. We were picked off very easily three times which cost us two goals and a goalkeeper, so less of that this time would be good.
On a more philosophical answer, the dugouts will be key.
Jurgen Klopp really doesn't seem to like us for various reasons and I feel like he will really not want to lose this one.
Finally, what's your prediction?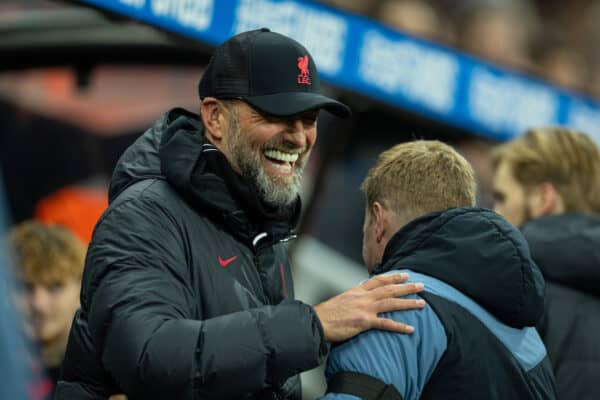 Liverpool are a hard team to predict, as I don't feel like this is your final squad, but it's still stacked with talent.
We generally do well against teams who come to attack, but as I mentioned earlier, you did that last season to great effect, so it's a bit of a tactical quandary for us.
We are usually very good at home and Howe doesn't tend to make the same mistake twice, so I think we might edge it 2-1.
As ever when these two teams meet, though, it could be absolutely any score.