Alisson has not featured for Brazil since their exit from the World Cup at the quarter-final stage, with the decision described as "difficult."
Brazil's failure to progress to the semi-finals of the World Cup was considered a colossal failure in South America, having lost to Croatia in the last eight.
Tite stepped down from his position as manager immediately after the tournament, with a shakeup of staff seeing Claudio Taffarel, who also coaches at Liverpool, briefly leave too before returning.
Six players from the World Cup squad, including Fabinho, have not been called up since Qatar, either.
While Alisson remains part of the group led by interim manager Fernando Diniz, the 30-year-old has not played a minute in five games since the World Cup.
He was omitted entirely from the squad for a 2-1 friendly defeat to Morocco in March, before watching clashes with Guinea and Senegal as an unused substitute in June.
Alisson again warmed the bench for 5-1 and 1-0 victories over Bolivia and Peru respectively this month, prompting questions over his role as Ederson started both.
"I don't know if Alisson would be Tite's starter today, because Ederson also played some games," Diniz told reporters last week.
"I think it's always difficult. It was also difficult for Tite.
"I think both are among the three best goalkeepers in the world, so it's always hard for you to make an assessment and decide.
"Any time, any of them can play, including [Lucas] Perri, including Bento who was being drafted, including Weverton who was also here, who is a great goalkeeper.
"But specifically, of these two, they have been playing at a very high level for a long time.
"Then it's a matter of feeling the moment, for you to decide.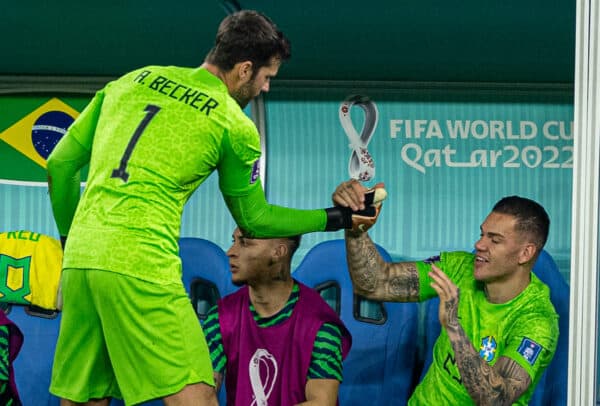 "Right now, we're going to start with Ederson, but it's a dispute that will always be open."
It is an admittedly rare position for a national team to boast two of the most high-profile goalkeepers in football, playing for two of the biggest clubs in the Premier League.
But that Ederson is preferred to Alisson remains a bizarre reality, particularly given the Liverpool No. 1 has consistently outperformed his Man City counterpart.
Of course, for Liverpool, the positive will be that Alisson returns from his trip to South America unscathed – but it could be asked whether the journey is even worth it.