Harvey Elliott has urged Mo Salah to stay at Liverpool for the "rest of his career" and explained how the Egyptian is "one of the best in the world."
Salah is an idol for Liverpool supporters and has been consistently world class for the last six years.
Despite being a teammate, boyhood Red Elliott is just as enamoured with Salah as supporters, and said he would 'do his best' to keep him at Anfield.
After beating Wolves, Elliott told reporters, including the Liverpool Echo: "Touch wood he doesn't ever leave but, if he does go, then I want to be that person to learn from him and apply it in my game.
"Hopefully, as I say, he doesn't leave and he's here for the rest of his career.
"I will do my best [to keep him] but to be just learning from him and in the same team as him is just a dream come true, as well as everyone else in the team."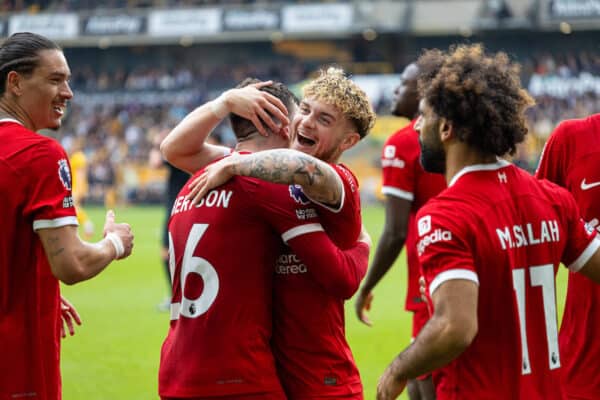 During the summer transfer window, This Is Anfield understands that Liverpool turned down a £150 million approach from Al-Ittihad for Salah.
"Mo is an absolutely unbelievable player as well as an unbelievable guy and he's got that finishing ability and he's got that creative ability as well," Elliott added.
"It's not hard to see the quality player that he is and why he is one of the best in the world.
"To be able to play with him and to be able to learn from him, be close to him is a dream come true. I am not surprised [by his assists]."
Like Salah, Elliott is left-footed and he is trying to glean as much information as possible from Liverpool's No. 11.
The 20-year-old said: "He has eyes all over the place and I do try and ask him, you know, I am close to him in that sense, so I do try and work as close to him as possible, to learn.
"Learning from the best, it's exactly that."
Long may it continue.