Darwin Nunez has showcased his growth in the early stages of this season, and with goals and assists coupled with off the ball work, are we now seeing the start of him as a regular starter?
That was what both Gareth Roberts and Paul Cope contemplated on This Is Anfield's latest podcast with The Late Challenge, with the No. 9 the subject of adulation from the pair.
Nunez's start at West Ham was his third in the last four games, and with his relentlessness in his attacking pursuits now starting to be matched by defensive work, a combination Jurgen Klopp has longed to see.
"I think the more encouraging thing for me was, I don't know why it happens but sometimes you notice a player a bit more when you're there [at Anfield], and you pick up on his movement a bit more," Roberts started.
"I just thought he looked more of a team player all of a sudden, there was loads of nice link up play and things like that, he looked settled and part of the side, and he looked like he was enjoying himself."
The chaos that Nunez is known for still exists, but you feel it is more part of the team structure.
And the evidence of what we've seen from the No. 9 so far had Roberts asking the question, "is this it now? Is this where he gets on a bit of a run, a regular starter or will it keep rotating?"
With Cody Gakpo, Diogo Jota, Luis Diaz and Mohamed Salah also forming part of the senior forward options, Cope feels like "we'll see him [Klopp] keep rotating it, "but noted that the manager does often have "his boys who he sticks with."
If Nunez continues his good form, he can certainly be one of Klopp's "boys" and as the discussion continued, Cope raised the pertinent point of the Nunez perception having been a glass half empty.
Instead of focusing on the 15 goals he scored last season, the headlines were about the chances he missed – leaving Cope to question: "what did you want from him in his first season?
"Goalscorers all miss loads of chances, that's just part of the game. The most important thing is, he's getting in the positions."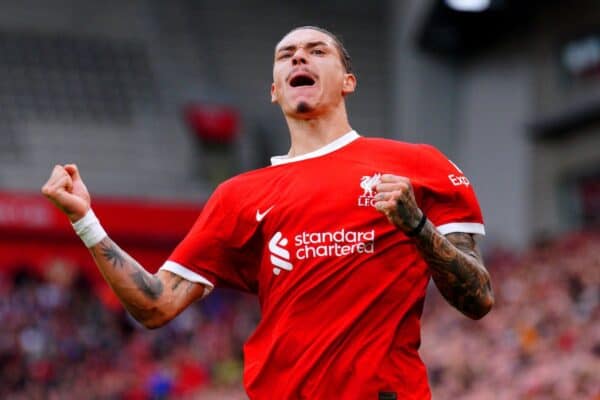 Against West Ham, Nunez scored and missed two big chances – but he has added more strings to his bow this season and his off ball work is the golden ticket into the side.
Cope and Roberts will not be the only ones to recognise the change in Nunez and with Klopp having acknowledged the "massive steps" made by his No. 9, are we now seeing the 24-year-old considered as a regular in a first-choice XI?
---
Paul Cope and Gareth Roberts were speaking on a new show from This Is Anfield and The Late Challenge Podcast.
There is a live show that airs each Monday at 5pm (UK) on This Is Anfield's YouTube, with our second show each Wednesday (UK).
You can also listen as an audio show, here.