Though Liverpool is close to completing a £34 million move for Ryan Gravenberch, Jurgen Klopp has remained tightlipped on his situation.
Gravenberch arrived on Merseyside early on Friday morning and will undergo his medical before signing a five-year contract with Liverpool.
The 21-year-old arrives as the fourth signing of the summer and likely the last, with the only other business before tonight's 11pm deadline expected to be outgoings.
As Gravenberch was welcomed to the club elsewhere, Klopp held his pre-Aston Villa press conference, playing down speculation before a contract is signed.
"I'm really sorry to disappoint you. I cannot talk about that, because nothing really happened yet," he told reporters.
"All the decisive stuff has to happen.
"It's Friday, right? If something happens, we can talk about it [after the Villa game] on Sunday!"
Asked if any further business is expected if Gravenberch does, in fact, sign, Klopp suggested it would be a quiet deadline day.
"It's deadline day. I don't want to kill the excitement of the people! But I'm busy today with other things," he explained.
For those outside the club, the priority beyond another midfielder would be a new centre-back, with Virgil van Dijk's suspension and Ibrahima Konate's injury highlighting the issues with depth.
"If we could bring in a centre-half for a weekend, we would think about it," Klopp said.
"No, we can't."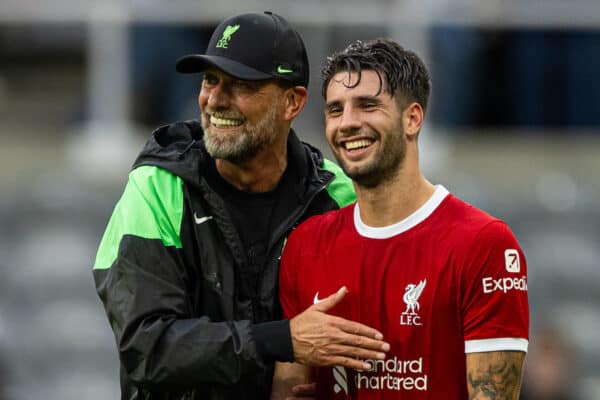 On Liverpool's business in general, Klopp evaluated: "The midfield is now already and will be completely new.
"Over the last few years we had to do the same with our front line."
He later added: "The players we brought in are really good, will help the team, will even get better.
"Especially for Macca and Dom, everybody could see that already. For Endo, it's a massive step, massive change. Will need a bit of time to get there, but it's no problem.
"I really like the team."