The Reds return to League Cup action on Wednesday night looking to replicate the journey towards lifting the trophy in 2021/22.
Leicester are up first at Anfield in a repeat of the quarter-final from that season's competition and it presents Jurgen Klopp with an opportunity to share minutes around his squad.
The manager will be keen to go all the way once again, but he will almost certainly attempt to do so while resting some of his key players during the earlier rounds.
As we look ahead to the start of another year in the domestic cups, Adam Beattie (@beatts94), Joanna Durkan (@JoannaDurkan_), Jack Lusby (@LusbyJack) and David Lynch (@dmlynchlfc) discuss selection options, priorities and preview the third-round clash.
Which players are you most looking forward to seeing in the competition?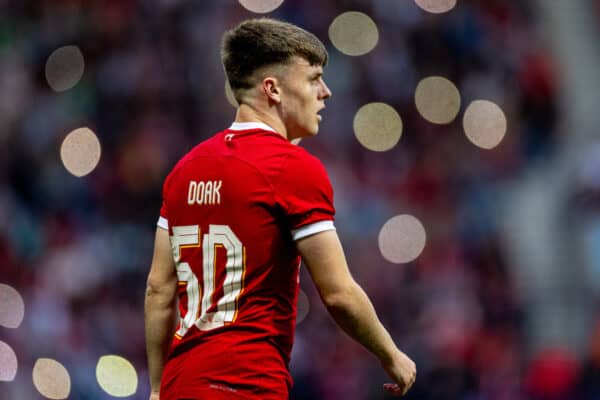 ADAM: Ben Doak feels like the obvious answer and you get the sense he will be a permanent feature in the 'cup team' we see across this and the Europa League up until Christmas, hopefully beyond!
It also gives Stefan Bajcetic an opportunity to feel his way back from injury without too much pressure or expectation, it would be great to see him get back to the level he reached last season.
JOANNA: In the early rounds, as I anticipate us to progress, I would appreciate any opportunity to see some of the youngsters – Adam, you've named two there already.
I would throw Jarell Quansah in the mix too, it not only offers him more experience but will give at least one of the senior options a rest – and with our injury record, we can never take that for granted.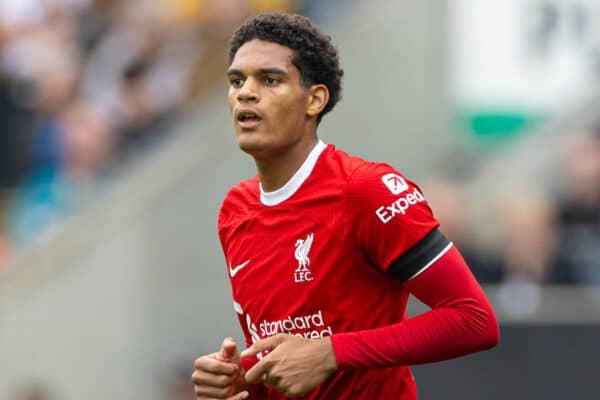 JACK: I feel like, beyond those we've already seen, this might be the competition for some of those other youngsters on the fringes.
Bobby Clark seems a dead cert for the League Cup and could excel, but there's also Calum Scanlon, James McConnell, Melkamu Frauendorf and Lewis Koumas.
Personally I'd like to see more of Luke Chambers, whose absence during pre-season came as a surprise – a loan move never came about but he's well-liked among first-team staff and can play both centre-back and left-back.
DAVID: I'm really hoping this competition can provide opportunities for Jarell Quansah to back up what's been an extremely encouraging introduction to the first team.
I know the emergence of a defender isn't quite as thrilling as that of a forward player who gets fans off their seats, but given Liverpool's need for depth at the back this season, it'd be extremely handy if Quansah can show he is worthy of stepping up.
Of course, if all four senior centre-halves are fit, then the EFL Cup is likely to be the chance for the two who aren't playing regularly to come in and keep sharpness. But that rarely happens, so I'm thinking we'll see plenty of Quansah.
How much of a priority should the League Cup be this season?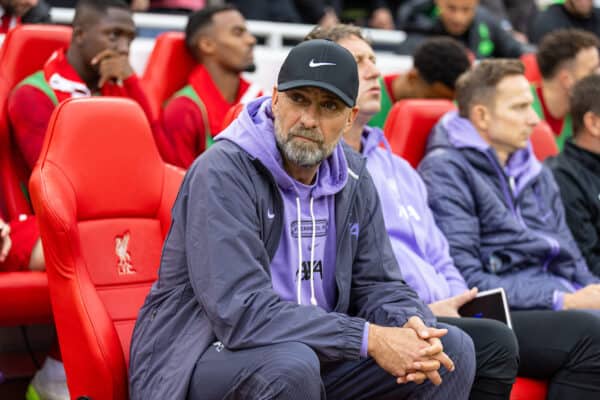 JOANNA: It is, until it isn't. The more opportunities there are to rest and rotate the better and a lot of that is swayed by the draw and the timing of the fixtures.
There's strength to compete and I wouldn't mind seeing the Reds make a February trip to Wembley. It is far from a season-defining competition but we've seen what a run can do not that long ago.
DAVID: Two seasons ago, we saw Liverpool reach the final of this competition by making use of their squad depth, and I think that's entirely possible again this time around.
I'm not expecting Klopp to treat it as anything other than the last priority this year, but that doesn't mean his team can't go deep given the strength in depth they possess.
The key to how far they go is probably whether they can avoid drawing Manchester City at any point or one of the other big hitters away from home.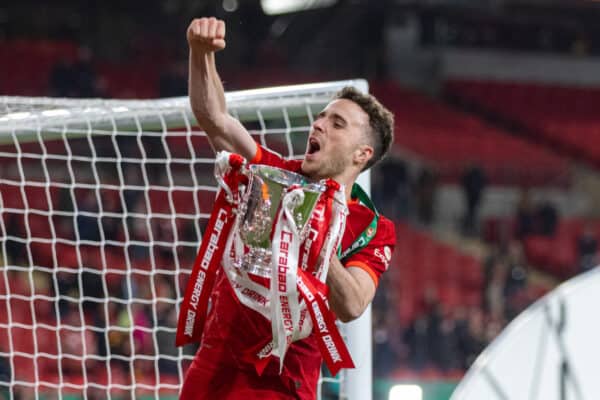 JACK: I don't see why Liverpool can have a crack at all four competitions again this season, fitness permitting.
As it stands, Klopp has a squad capable of rotating its way through the Premier League, Europa League, FA Cup and League Cup.
We have to remember there's still Thiago and Conor Bradley to come in having yet to feature this season, while I'd expect the likes of Clark and Quansah to step up.
It's a low priority, but why not go for it?
ADAM: A lot will depend on the difficulty of the fixtures and how the schedule fits in each round but Klopp has enough depth to field strong enough sides to give us a good run at it.
Being in the Europa League gives us a lot more scope to rotate and the players should be able to get familiar with each other pretty quickly which can only help.
Is this going to be Kelleher's competition from start to finish again?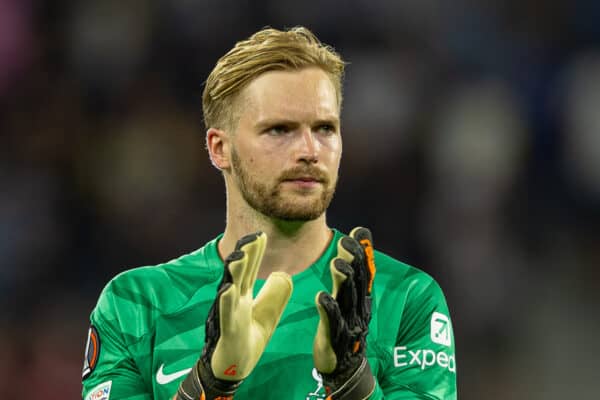 JACK: Definitely.
I wasn't convinced Klopp would go for him as Europa League goalkeeper, but the start at LASK suggests he'll start in the group stage at least.
In any case, the domestic cups are made for Kelleher, who probably has another season in him before he decides he needs to be a No. 1.
ADAM: I would be surprised if not.
I'm pretty confident we'll see Alisson introduced as the Europa League wears on – all being well – but this feels like the obvious means of getting Kelleher on the pitch.
I honestly believe the run in 2021/22 and being a hero in this competition in the past has been a factor in him being content to stick around as a No. 2 for as long as he has, although I do get the feeling this will be his last season at Anfield.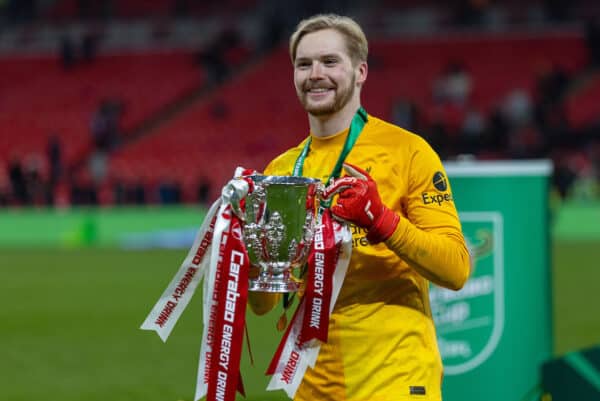 DAVID: I really hope so. Liverpool were quite fortunate to keep hold of him this summer and should make the most of having one of the best back-up goalkeepers of any top English side.
If Kelleher gets the EFL Cup and Europa League group stages – as well as the odd FA Cup game – I think he'd be happy with that. And I have absolutely no doubts that he'll prove himself to be up to the task again.
JOANNA: I'd expect so. Alisson will likely hold onto the FA Cup spot and jump back in for some of the Europa group games and then the knockouts, but this one ought to be for the Irishman.
There's plenty of incentive for Kelleher and those on the fringe to progress as it all but guarantees them game time, and for a backup with the quality he has, Kelleher is worthy of calling the competition his own this season.
Finally, pick us a team for Leicester!

DAVID: Kelleher; Bajcetic, Gomez, Quansah, Tsimikas; Endo, Elliott, Gravenberch; Doak, Gakpo, Jota
JOANNA: I really can't see it being anything other than: Kelleher; Bajcetic, Konate, Quansah, Tsimikas; Endo, Elliott, Gravenberch; Doak, Jota, Gakpo
ADAM: Kelleher; Bajcetic, Konate, Quansah, Tsimikas; Endo, Gravenberch, Elliott; Doak, Gakpo, Jota
JACK: I'd echo Joanna and Adam. That XI picks itself for me.
If Trent's fit, bring him on for Bajcetic after an hour. Similar with Van Dijk or Matip replacing Konate at some stage.
Clark for Gravenberch if all goes well. Then send on Nunez and Salah for some late chaos…