Luis Diaz has highlighted two areas of his game he believes he can still improve while working under Jurgen Klopp at Liverpool.
The Colombian has netted two goals across the first four games of the new Premier League season, continuing what has been a strong start to his Reds career since arriving in January 2021.
However, he is keen to keep on getting better, and has cited his decision-making and appreciation of the tactical side of the game as two aspects where he can do more.
"It's all about improving day on day. But if I was picking a particular area [to improve], it would probably be my decision-making," he told LiveScore.
"I think it's an area I've got a lot better in, but there is always room for improvement. Also, my tactical knowledge is something I'd like to grow.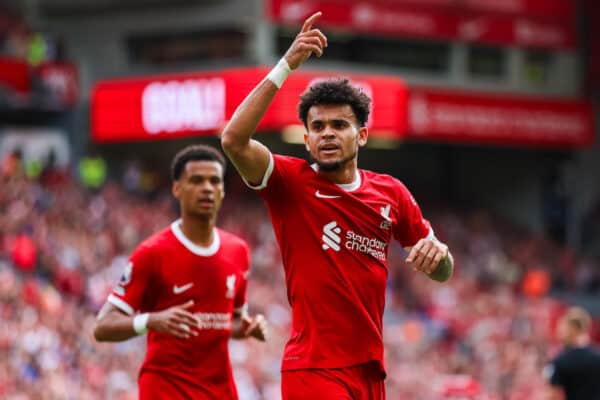 "Working with Jurgen [Klopp] has improved me hugely. He has made me a better player.
"The work he and the coaching staff have done has been absolutely fantastic.
"They've improved me tactically and physically and it's all about giving 100 percent in every single game."
Diaz's development at Liverpool was disrupted last season as he suffered a knee injury in October and a further recurrence in December that ultimately restricted him to just 21 appearances.
But the 26-year-old insists that tricky period has only left him more determined than ever to succeed at Anfield.
"To be honest, it was difficult," he continued.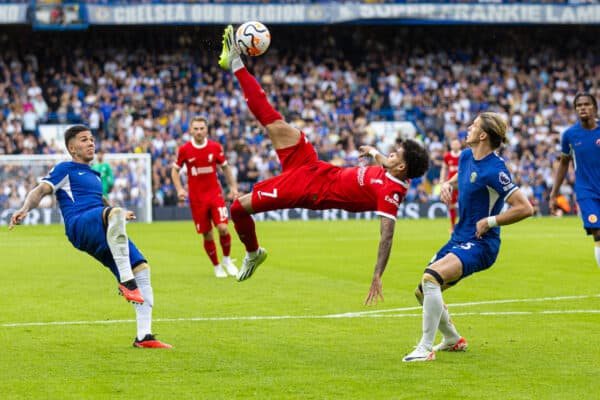 "It was a tough injury and now I'm delighted to be back on the pitch doing what I love.
"It was a difficult period and I think it was about my mentality and capacity to react well and come back better.
"Years ago, I didn't have those training facilities other players have. I didn't have that schooling in an academy.
"But it makes me feel better now, seeing where I've got to and knowing I needed to fight to achieve big things and play for a big club like Liverpool."
Diaz certainly underlined his positive intentions by taking on the iconic No. 7 shirt from James Milner ahead of the new campaign.
On wearing a number made famous by Kop legend Kenny Dalglish, he added: "It's not pressure I feel. I actually really enjoy it.
"I know great players have worn this shirt so I try and enjoy it without pressure as much as I possibly can.
"It's a number I like, one that I've worn for previous clubs, and it makes me determined to play even better and enjoy wearing the No. 7."
Diaz's absence through injury was one of several factors that resulted in Liverpool enduring a season to forget last time out.

But the have moved decisively to ensure things play out differently this time around, completely rebuilding their midfield over the course of the summer window.
Asked about the club's new additions, the winger said: "I love the players that have come into the club, there's no denying that.
"It's amazing they are now here, showing their quality. I'm very confident we can have a good season. I'm feeling very positive about it.
"It was difficult [in 2022-23] but we are in a good place. We have great players, a great manager and great coaching staff."