Mohamed Salah seems to break records on a weekly basis, and if he stays at Liverpool he could enter one more exclusive club.
Salah's name is up there as one of the best attackers to ever grace the English game. At fifth on Liverpool's all-time top scorers list, his goal tally speaks for itself.
Though, he has quietly excelled in the creative side of his game, too, so much so that he could break into an exclusive list.
Currently, only Wayne Rooney and Frank Lampard feature in the Premier League's top 10 lists for goals scored AND assists – and Salah could soon join them.
Liverpool's No. 11 is currently ranked 14th in the Premier League era for goals (141) and 21st for assists (61).
To break into the respective top 10 lists, though, Salah needs a further 10 goals and 20 assists – a more than feasible target for a player who amassed 31 goal contributions in the league last season.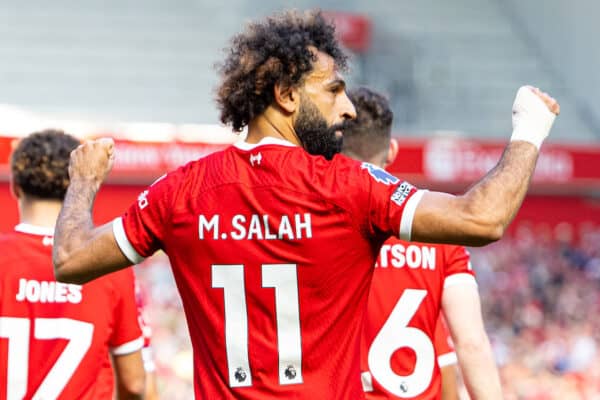 There is no doubt the goals will take care of themselves before we even hit the midpoint of this season, he already has two, but he could need more than 2023/24 to accumulate the necessary assists.
That would require sticking around beyond the current campaign to add yet another impressive all-time record to his long list of accomplishments.
However, the 31-year-old's future was thrown into the spotlight this summer, and there is no doubt the Saudi Pro League will be back next year for another attempt at luring him their way.
It will all balance on Salah's proficiency this season and what his next step will entail.
Salah is not quite alone in being on the cusp of breaking into both lists, though he is the closest as both Raheem Sterling and Son Heung-Min respectively need 34 goals, 22 assists and 45 goals, 29 assists to break into the league's top 10s.
That Salah is on the cusp of this exclusive list is a direct shot at those who have labelled him greedy, which was a point of discussion this week on This Is Anfield's podcast with The Late Challenge.
"I remember Souness saying he was greedy, other pundits touched on this greediness thing," Gareth Roberts, alongside Paul Cope, noted.
"And yet there was a piece in the Athletic not long ago saying that his assist against Newcastle was his 76th in all competitions for the club, and took him to second outright in Premier League assists for the club, passing Steve McManaman.
"Only Steven Gerrard in the Premier League era has more. So he's setting up a lot of goals for someone that's greedy!"
So much for greedy, indeed!