The audio recording of conversations between VAR, referee and players as Virgil van Dijk was sent off against Newcastle has now been revealed.
Van Dijk was dismissed for a last-man challenge on Alexander Isak in Liverpool's eventual 2-1 win over Newcastle at St James' Park.
The decision was certainly clearly than Alexis Mac Allister's dismissal against Bournemouth a week prior, but the centre-back was furious with referee John Brooks.
His protests to both Brooks and then fourth official Craig Pawson saw Van Dijk receive a further charge from the FA, and he awaits confirmation of any extended ban.
On the first episode of a new Sky Sports series, Match Officials: Mic'd Up, the audio between Brooks and VAR official Stuart Attwell was released.
Attwell and his assistant can be heard making a series of checks including whether the foul came in the attacking possession phase (APP), whether Isak was offside and whether it denied an obvious goalscoring opportunity (DOGSO).
Brooks was adamant he made the right call from the off, with it eventually confirmed to Van Dijk's disgust.
Full transcript of the incident below: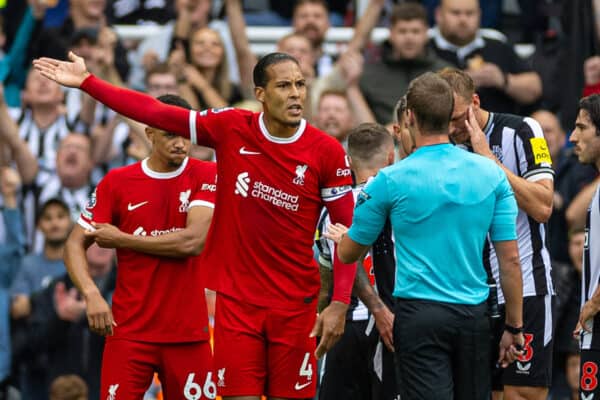 VAR: APP, possible offside, possible DOGSO.
Ref: It's outside, outside, outside. And it's a red card. He's gone through, he's gone through the man. Red card.
VAR: Delay, delay. Just checking mate.
Ref: No, he comes through the man. He comes through the man, through the man to play the ball.
VAR: OK, can you shift it? Have you got another angle on point of contact please?
Ref: He comes through the man, Stuart. It's outside.
VAR: OK, it's a clear foul. Brooksy, it's Stuart. I'm happy with the foul, I'm just going to check sanction and APP, standby.
Ref (to players): They will check. And he's not [in the box], he's going inside. They will check, they will check.
VAR: OK, so the ball's going to roll across the front of him. With the challenge, the attacker's got position. He's moving directly into the penalty area, that's fine. Brooksy, I'm happy with the sanction. Just checking APP, standby.
Ref (to Van Dijk): Just wait. I'll tell you, but you need to go immediately if you need to go.
VAR: OK, so the front two on the pass is a possibility of offside. OK, so I'm going to need a line on this nearside defender please. Just on his heel, please.
Ref (to Van Dijk): Just wait. It's clearly a foul, they're just checking the location. It's clearly a foul. I'll have the ball, don't do anything silly.
VAR (checking offside): Thank you, confirmed. Nearest defender, left heel please. Matip, please, I think. Let's try Van Dijk.
Assistant VAR: Brooksy, we're just checking a tight offside in the buildup, OK?
Ref: OK.
Ref (to Van Dijk): Listen, you will be sent off unless he's offside. It's very, very tight, OK?
VAR: He's clearly, yeah, he's clearly onside. Check complete, mate. Confirmed all of the decision.
Ref (to Van Dijk): Free-kick. Go, go! Go now. Yes, no offside.
Van Dijk (to ref): Fucking joke.