Jurgen Klopp was full of praise for his players as they won 3-1 for the fourth consecutive game against Leicester.
Here are four key points from the manager after he reflected on his side's relatively comfortable progression in the League Cup.
Coming from behind again
The Reds are making a habit of conceding first this season, but it doesn't seem to concern the boss too much.
"It will probably be a headline that we are 1-0 down again but [it was] a completely different goal to all the others again," insisted Klopp.
"Could we have defended better in the first moment? Maybe yes and then the last pass was really good and then the finish is a good finish.
"It happened like that, but it happened and it's all about the reaction."
"Super signs" from dominant performance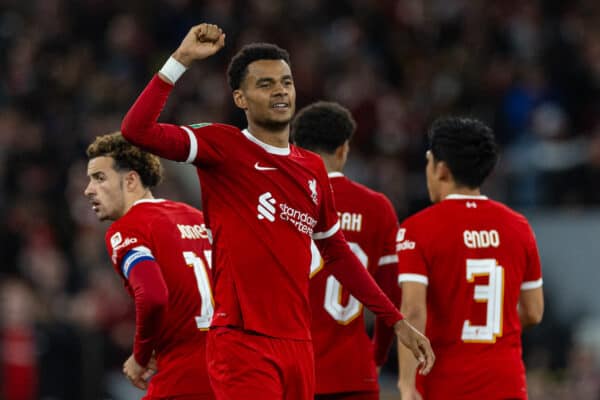 Liverpool produced an emphatic reaction to going a goal behind and had 29 shots throughout what was a dominant display at Anfield.
Klopp was pleased with the goals that were taken, but he was equally happy with the chances that were created.
"Absolutely top goals, but the goals we didn't score were pretty good as well," Klopp joked.
"[There were] super signs tonight, I really liked that a lot and the boys enjoyed playing it."
Seamless start from Szobo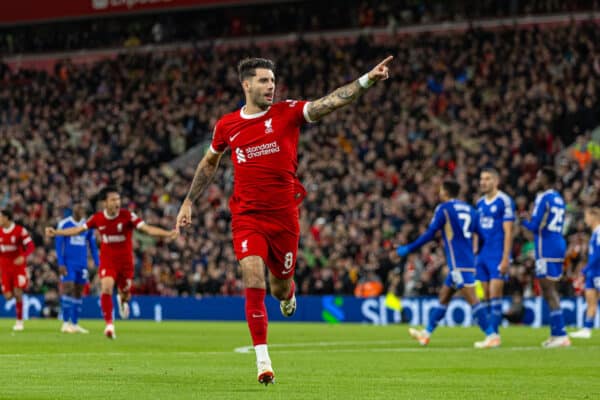 Szoboszlai's performances make it look as though he has been a part of the Liverpool midfield for years, to an extent that made the boss say he "forgot what I thought when he came."
He continued: "Easiest step into the team dressing room wise, stuff like this, and he is a very naturally confident boy.
"Long may it continue."
Praise for the stand-in captain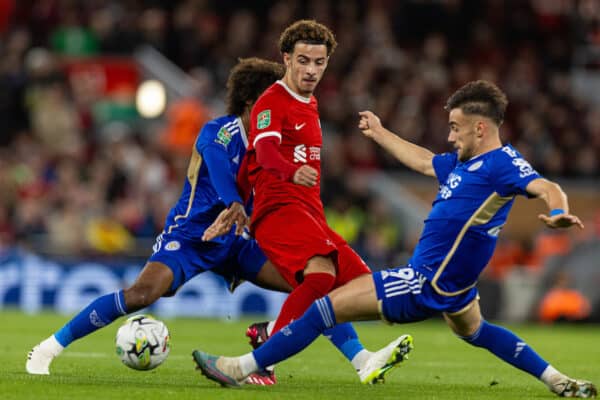 Klopp beamed when he referred to his midfielder as "skipper" when he was asked about Curtis Jones' performance in the hybrid role at right-back against Leicester.
The manager revealed he told Jones on Tuesday that he was going to wear the armband against the Foxes and joked that he "sold the right-back idea with the captaincy."
He continued: "The way he executed it was super special, wow."