Liverpool's Europa League adventure started in Austria and the night ended in another comeback victory, as the Reds picked up three points in Group E.
LASK 1-3 Liverpool
Europa League (1)
September 21, 2023
Goals: Flecker 13′; Nunez (pen) 55′, Diaz 63′, Salah 87′
---
A dismally nostalgic type of performance

Well this was like turning back time – and not in a good way.
Being in the Champions League doesn't tend to lend itself to too many matches of this kind, the early 'minor' cups let's say, but a trip to LASK was very reminiscent of group games under Rafa Benitez in the second tier of Europe, or the horrific half-season under Roy Hodgson.
Basically, what we got was a fully-rotated team, a total lack of cohesion, very little pace or intensity about the game, plenty of mistakes and a real trudge of an hour or so to get through.
Thankfully, there are plenty of decent individuals these days, even if the team is somewhat lacking in any given game, and it's probably individuality that initially got the Reds back on track – and certainly finished off the win late on.
This may be the type of performance we have to get to grips with if the team is to be changed so much in Europe, particularly in away matches.
But, if the points are secured at Anfield, allied with this win on the road, it probably won't matter much anyway.
The Europa League is winnable for the Reds, but it will take an awful lot of terrible watching first to get anywhere close.
---
The men in the middle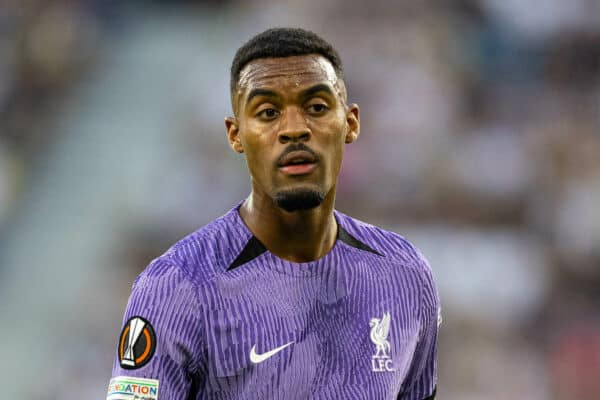 Perhaps of most interest, in terms of potential new faces, were the three in central midfield: two new signings and one young player, who seems to have largely lost his starting spot over the last eight months or so.
Harvey Elliott has been one of the first off the bench for Jurgen Klopp this season and his performance was…alright, good in parts, but naturally lacking the rhythm and precision that comes from non-stop minutes.
He was involved in plenty of the team's better moments and certainly deserved his start after impacting off the bench against Wolves, but it's hard to really argue he did enough to suggest he'll be staying in the 11.
That also goes for the other two, though Wataru Endo and Ryan Gravenberch were at different ends of the 'effectiveness spectrum', if we can quickly invent such a thing.
Endo still looks off the pace, on and off the ball, despite a couple of good moments trying to push the team forward.
This type of game is hard to shine in for a defensive player – there was no team continuity and there were big spaces. The Japan captain is a way off where he needs to be right now.
As for the Ryan Gravenberch, he was much more impressive, even claiming a fine assist with a great burst and cross for Luis Diaz.
Hopefully, a slight injury is nothing of note beyond fatigue, as his bursts forward, ability to carry the ball and willingness to get into the box all bode well for the future.
---
Did anyone stake their claim?

Well, Virgil van Dijk was pretty clean in the first half, making some good recoveries and clearances. But, as the club captain and returning from a suspension domestically, his position isn't exactly under threat anyway.
Similarly, despite conceding early on – he could do nothing about a great hit – Caoimhin Kelleher had a pretty good game and made two very good saves in the second half, but is absolutely not winning the shirt from Alisson Becker.
Klopp will perhaps be disappointed with the output from Kostas Tsimikas and Stefan Bajcetic at full-back, but both were making their first starts of the season and the latter in an unfamiliar role.
Therefore, it's in attack where the main threats to the league starters might come, with Diaz a fairly constant threat and Darwin Nunez making plenty of runs and showing good hold-up play.
At the moment it's very much Mohamed Salah starting on the right and two from four on a bit of a rotation for Klopp, with Cody Gakpo and Diogo Jota perhaps feeling they might be edged out for the weekend and that the two South Americans will get the nod.
---
The two season stand-outs

Two off the bench were immediately miles better than everyone else and despite it being obvious, it should be noted.
LASK were tiring, LASK are not as good, LASK were hanging on a little at the stage Dominik Szoboszlai came on. Nevertheless, the Hungarian immediately strolled through everything.
He is miles better than most in the Premier League, so this was like park football for him.
The same can be said for Salah, who created two chances and scored even though he was only on the pitch for about 10 minutes.
Consistency is massive and these two give it to us, even in short spells of games like this.
---
The Sunday grind begins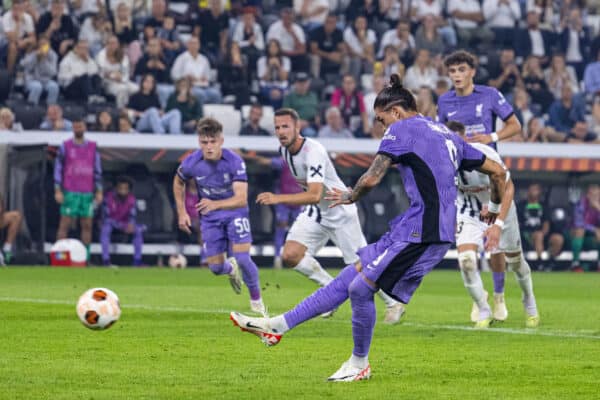 OK, so we're onto Thursday-Sunday for the rest of eternity. Well, a few weeks this side of Christmas, anyway, starting with the visit of West Ham this coming weekend.
We'll have to deal with it but it shouldn't be that much of a problem, especially considering the amount of rest and rotation on show for most of the players – and half an hour here or there won't be the worst idea either to keep sharpness up.
Midweek action continues next week with the Carabao Cup, so two more victories should be seen as the minimum even if we're taking the one-game-at-a-time approach. Then it's Spurs, and we will all be intrigued to measure up both where we are and where they are at that stage.
Meanwhile, we're already top of Europa League Group E thanks to a draw between Toulouse and Union SG so, as noted, we could reasonably feel as though the last 16 is more or less in touch.
But that's for beyond; for now, let's get back to starting matches better and not needing to score three in 45 minutes.