Though he admitted his two-match suspension was "very frustrating," Virgil van Dijk also saw the benefits as he watched his team-mates thrive.
Van Dijk has not played for Liverpool now in almost a month, having been sent off in the 2-1 win at Newcastle on September 21.
The Dutchman missed one match due to his red card and another following an additional charge from the FA, but is now back and expected to start against LASK on Thursday night.
Liverpool won both of their games in the absence of their captain, who travelled for the 3-1 comeback at Wolves and watched from the dugout.
Speaking ahead of his return to the fold in the Europa League, Van Dijk saw the silver lining to his time out, which allowed him to relish his side's "team spirit."
"It's been very frustrating personally, but it also brought me a lot of good things," he told reporters.
"I really enjoyed the team spirit, obviously the results, the way we worked as a squad.
"So yeah, everything happens for a reason, that's how I see it. I'm back now and I'm definitely looking forward to it.
"I was quite lucky that there were two international games in between, otherwise it would have been quite some time for me to play again."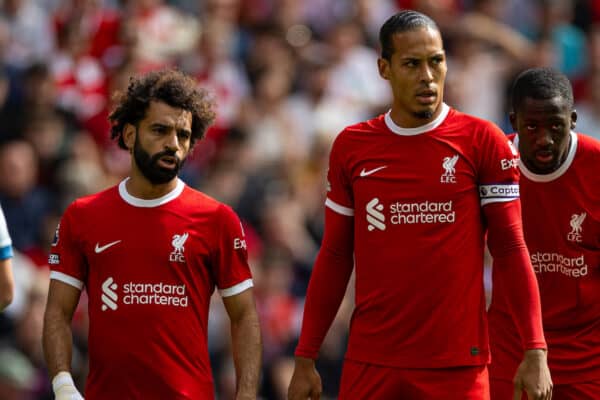 Despite twice going down to 10 men and on three occasions conceding the first goal, the Reds remain unbeaten after five games this season, winning four.
This comes after a summer of considerable change, with seven senior players departing and four arriving, in an overhaul that has led Jurgen Klopp to label his squad "Liverpool 2.0."
In his pre-LASK press conference, Van Dijk was asked if it excited him watching and being part of a new setup.
"Definitely, it's an exciting time, a lot of young players, a lot of quality players," the No. 4 said.
"If you especially look at the last game, I watched like all of you guys from the sideline, the first half was not how we wanted to perform but the reaction that we showed, that's a sign of good things that could happen this year.
"The way we played, the way we stayed calm, kept doing our principles, that's something I really enjoyed to see as well, and I think everyone at the club.
"It's a good foundation to build on and we just have to keep going.
"There will be a lot of tough moments during this whole season, we have to be ready to face them.
"I think we're looking good, but we're obviously in September. Nothing is decided, nothing is proven, but it's a good start."