Liverpool will debut their new purple third kit from Nike during their Europa League opener at LASK, but there are two very different versions.
The club have confirmed Jurgen Klopp's side will wear their third kit for the trip to Austrian side LASK which kicks off their return to the Europa League.
A 5.45pm kickoff on Thursday, the Reds will hope that it proves a good omen as they aim for a perfect start to their campaign in Europe's second-tier tournament.
In truth, it is often the case that shirts don't quite look the same on supporters in the stands as they do the players on the pitch.
But this time around, this is due to noticeable and marked differences between the 'stadium' and 'match' versions of the kit.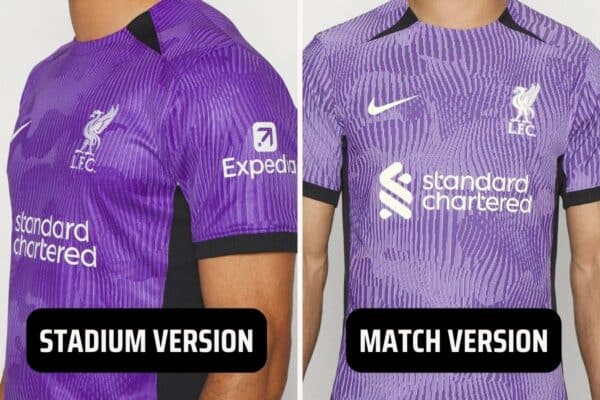 The 'stadium' version retails at an RRP of £79.95, while the 'match' version is sold at an RRP of £124.95.
Nike's 'match' version is the closest to that which will be worn by the players when they make their way out at the Raiffeisen Arena.
But while there is typically an increase in quality from the 'stadium' kit to the 'match' kit, this season's third kits are different colours entirely.
The cheaper 'stadium' kit is a darker purple, while the 'match' kit is much lighter with an almost lilac tone – even the pattern on the shirts is arguably different.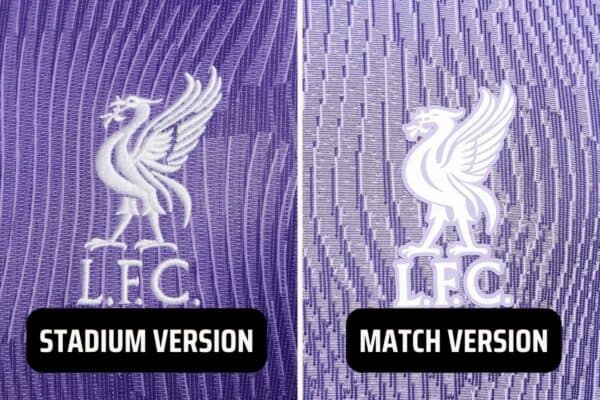 According to kit specialists Footy Headlines, this is "a first in the history of authentic and replica kits, which tend to have other differences, but not the colour."
It is not only the colour and design of the shirt that appears different, but also the LFC badge, with the 'stadium' version stitched on and the 'match' version rubberised.
While there is no official explanation for the differences between the shirts, Nike advertise them as utilising different technologies in their fabric.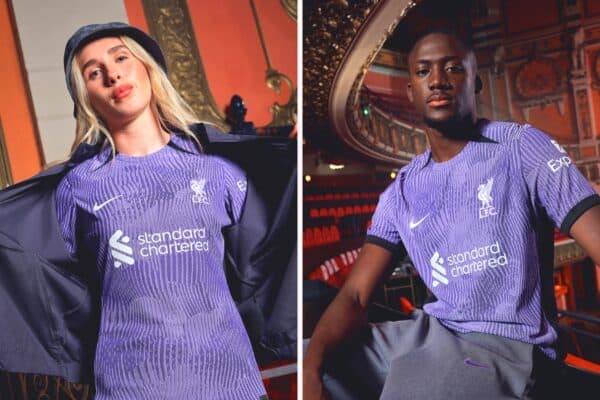 The 'stadium' version is made using Nike Dri-FIT while the 'match' version is made of Nike Dri-FIT ADV, the latter of which "combines moisture-wicking fabric with advanced engineering."
In short, it seems as though Nike have focused on more detail and quality with their 'match' version, which will feel like a completely different fabric.
* Order the new Liverpool FC third kit from the official LFC online store here.