Liverpool are one of the most well-supported football clubs on the planet and the summer arrival of Wataru Endo has ignited that love even further in Japan.
The Reds have official supporters' clubs across the globe, with fans tuning in at all hours of the day to watch their team from near and far.
Takumi Minamino became the first Japanese player to sign for the club in January 2020, but his stint on Merseyside was shortlived and he now plies his trade at Monaco.
Endo followed in those footsteps when he completed his £16 million move from Stuttgart and it is fair to say his arrival has been greeted warmly back in his home country!
This Is Anfield spoke with Yumiko Tamaru from the Official Liverpool Supporters' Club in Japan to find out more about their experiences following the Reds from afar.
Firstly, how was the supporter's club formed?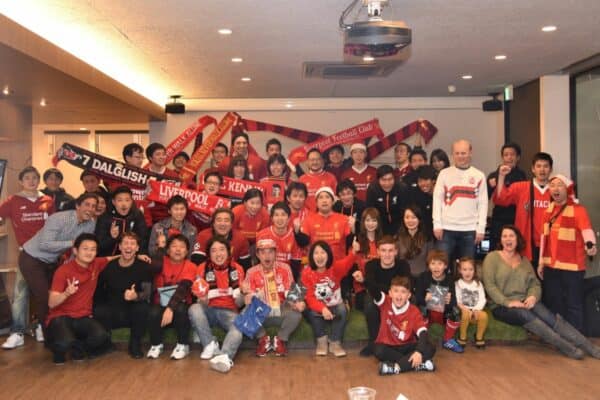 "The founder of OLSC Japan is Keiko Hirano, who learned about Liverpool FC through her love for music in 1986.
"She had an opportunity to live in Dublin from 1989 to 1990 and attended a Liverpool match at Anfield for the first time in November 1989. She attended five matches at Anfield during this period.
"Then she had to come back to Japan but visited Liverpool again in 1994. She attended the last match of the Kop as a standing terrace that year.
"After she came back to Japan from Liverpool, she sent a letter to the club to tell them how much she was impressed by both the players and supporters.
"When she received a reply from the club, she was asked if she was interested in founding an official supporters club in Japan.
"She then founded OLSC Japan in February 1995, with only 28 members at the time."
Describe a typical matchday at the clubs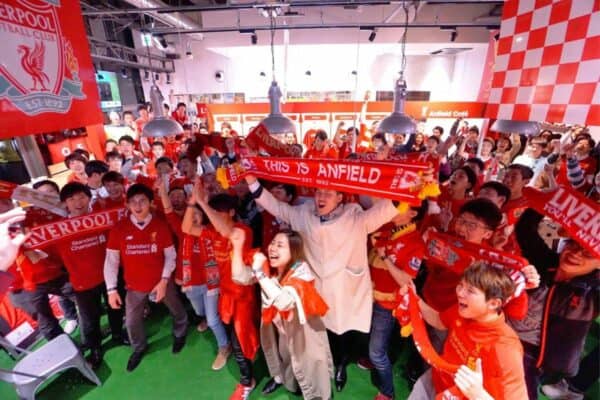 "We hold viewing events in five cities: Tokyo, Kanazawa, Osaka, Aichi and Fukuoka.
"When the kickoff time is early like 8:30pm (12:30pm UK) lots of people in Liverpool shirts turn up.
"Even when the kickoff time is 4am here, some fans take the last train to the cities where the bars to watch the match are, wait there drinking until the kickoff time and then take the first train to go back home."
What have been some of your fondest memories during your involvement?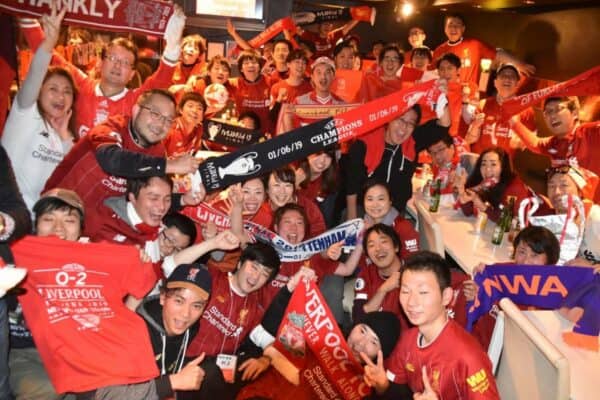 "Celebrating winning the Champions League in 2019. We held a big event to celebrate it in Tokyo. We enjoyed singing lots of Liverpool songs. It was like having a small BOSS Night in Tokyo!
"We are also happy to have another Japanese player, Wataru Endo! We hope he will do well and be loved by Liverpool fans all around the world!"
Do you have any interesting stories from the club?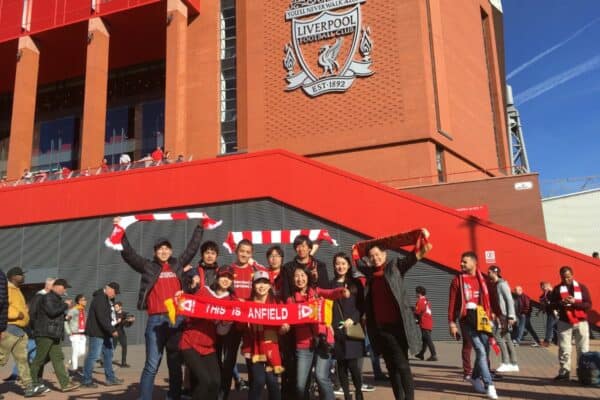 "We have a tradition to make what we call 'one thousand paper cranes' with 1,000 colourful origami paper when your friend or a family member is ill or injured to wish them quick recovery.
"When Alex Oxlade-Chamberlain suffered his terrible injury in 2018, we decided to make 'one thousand paper cranes' to wish him quick recovery.
"More than 200 Japanese Liverpool fans folded paper cranes with origami paper and we bound them together with strings. Then I asked one of our members to take it to Liverpool when he had an opportunity to fly there and attend a Liverpool match.
"The club kindly invited him to Melwood and let him meet Ox. We heard that Ox was very happy to have this gift from Japan and he gave us his shirt with his autograph in return. It was a very special experience."
You were pitchside with Peter Moore during the Stoke game a few years ago, can you tell us a bit about that?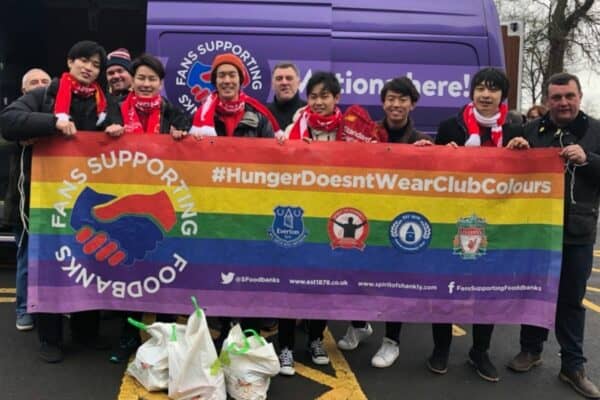 "Every year we organise a charity event at Christmas time. We hold charity auctions and raise money to donate to the LFC Foundation and other charitable causes like Fans Supporting Foodbanks.
"The club found out about this and we were awarded a Family Award from the LFC Foundation in 2018. The club invited me and Keiko to the Stoke match in April to attend the ceremony on the pitchside at halftime.
"We felt very honoured to receive such an award."
Have you met any interesting people as a result of your involvement with the supporters' club?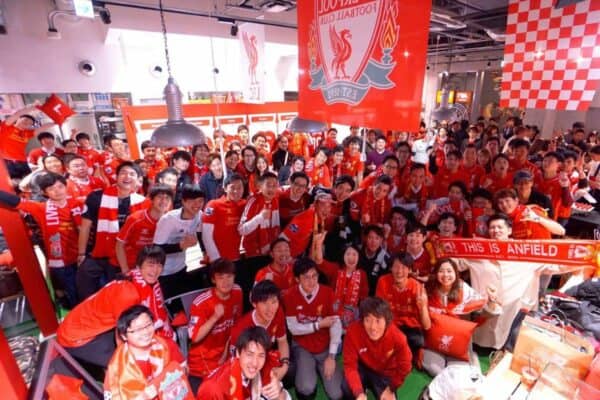 "It is amazing that OLSCs all around the world are connected. When someone from other OLSCs visit Japan, we invite them to the pubs we hold viewing events and have a great time together.
"When we visit other countries, we are welcomed by the OLSCs there. It is like having family members all over the world!"
---
Thank you to Yumiko for sharing, you can find OLSC Japan on Twitter here.