Curtis Jones is currently serving a three-match ban after a yellow card at Tottenham was upgraded to a red after VAR intervention, which Liverpool argued was 'inappropriate'.
Jones is one match into his three-game ban and will not return for domestic action until the trip to Bournemouth in the League Cup at the start of next month.
His challenge on Tottenham's Yves Bissouma was upgraded from a yellow card to a red after referee Simon Hooper was advised to consult the pitch-side monitor.
Hooper was instantly shown a freeze frame of the worst possible angle of Jones' challenge, and Liverpool subsequently submitted an appeal.
The club's argument was two-fold, as revealed by the FA.
First, the club submitted that Jones' red should be rescinded due to the referee making an "obvious error," with their next argument being that the "three game ban is 'clearly excessive'."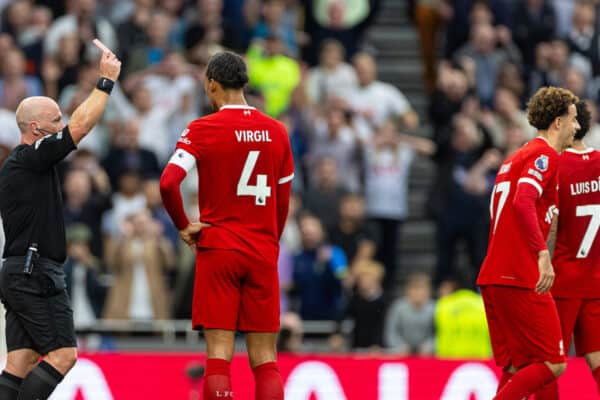 The commission presiding over the case were "unanimous in deciding the player clearly endangered the safety of his opponent" and that referee "had not made a clear and obvious error."
But to Liverpool, and the Reds faithful, there were faults with the use of VAR, which the club said: "Was not appropriate and has pushed the referee to arrive at a decision which he should not have."
Liverpool cited that there was "no 'clear and obvious error'" with the initial on-field decision of a yellow card and reiterated that the technology is "not intended to re-referee" the match.
The panel "acknowledged" the argument but, unsurprisingly, moved on with the case, which was Liverpool's argument that three games was an excessive ban.
Liverpool cited that Jones made "a genuine attempt to get the ball fairly," there was no injury to Bissouma and that the club and player had already "suffered a significant impact" after playing over 70 minutes with 10 men and losing the match.
This, again, was rejected as "no truly exceptional circumstances existed within this case" – though, many fans will point to the lack of consistency after seeing Man City's Mateo Kovacic escape a red for a challenge worse than Jones'.
As for Jones' view of the challenge, his statement said: "My sole intention was to touch the ball away from my opponent and into the path of my team mate, Luis Diaz who I could see to my left hand side.
"I did not consider myself as challenging an opponent for the ball as I felt I had possession of the ball and was trying to move the ball to stop my opponent gaining control."