Jamie Carragher says he is "sick of things being slowed down" and insists referees are not being shown the correct footage when asked to go over to the VAR monitor.
Curtis Jones was shown a yellow card for his challenge on Yves Bissouma in Saturday's 2-1 defeat at Tottenham, only for referee Simon Hooper to later brandish a red card after being advised to rewatch the tackle from pitch side.
Liverpool have appealed the decision in a bid to see his three-match ban overturned, an outcome Carragher doesn't feel is likely.
The ex-Reds defender did however suggest that the clip the referee was shown on the monitor did not do justice to the context of the situation.
"I think it probably split people in terms of how you saw it," admitted Carragher on Sky Sports.
"My big problem was what the referee was shown when he went to the VAR monitor and how they got to that decision.
"People feel that the referee is going to the monitor to have a second look, this is not true, this doesn't happen.
"He's getting taken to the monitor to show why he's made a mistake, we've got to get that into our heads with VAR."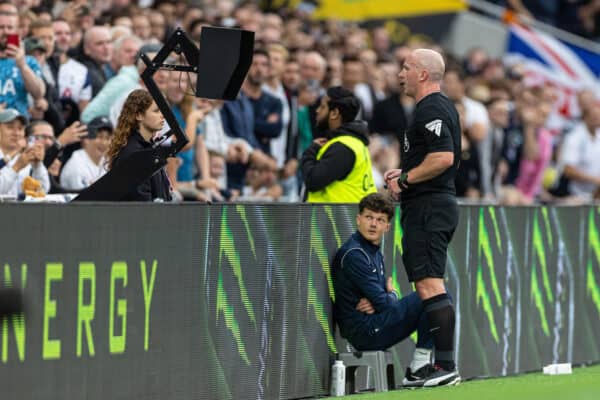 The first shot the official was shown at the Tottenham Hotspur Stadium was a still photograph of Jones' tackle during impact followed by a slowed-down version of what came before it.
Carragher added that Hooper – and referees in general – should watch such incidents "in full speed" to allow them to give a considered account of what they have seen.
"That should not be the first shot, I don't believe that, and if the referee is going there to have a look he should watch the situation, for me, at full speed. I'm sick of things being slowed down," he continued.
"I just don't like this idea when the referee goes to the monitor we think he's having a look, he's not, he's getting told he's got to change the decision.
"I don't like that, I think you've got to let them look at it and make their minds up and give them the proper angles at full speed."
Liverpool launched their appeal at the decision to try and have Jones' three-game ban overturned, but if the appeal is deemed 'frivolous' the suspension could be extended by an extra match.
The midfielder is currently set to miss the clashes with Brighton, Everton and Nottingham Forest and an extension would also see him sit out the League Cup fourth round against Bournemouth.