Jurgen Klopp clearly sees a lot of himself in Roberto De Zerbi, revealing he attempted to diffuse the "outraged" Brighton manager, at risk of a red card.
Sunday brought a 2-2 draw between Brighton and Liverpool that involved, as ever, a series of contentious decisions at either end.
For the Reds, that included a potential red card for Pascal Gross as he hauled Dominik Szoboszlai down for a first-half penalty, while Brighton saw a shout for a spot-kick of their own waved away.
With the ball bouncing off Virgil van Dijk's thigh and onto his arm, Brighton players and their manager urged referee Anthony Taylor to award a penalty.
But Taylor dismissed the situation, and with De Zerbi protesting furiously on the touchline, he was eventually shown a yellow card.
It could have been worse for a manager who was sent off twice last season, and Klopp was asked about his exchange with De Zerbi in his post-match press conference.
"[After the game we spoke about] a mix of everything," he said.
"I have to say, I cannot respect more what he is doing. Honestly, I'm a real supporter of it.
"I'm a football lover and if someone comes in [like him] and the impact he has on football [it] should not be underestimated.
"The moment when he got a bit outraged, I used my age and tried to calm him down.
"I had no clue what they were talking about, I just saw and if I'm in a moment like this, there is a point of not coming back. I think he was close to that.
"I tried to calm him down. I'm not sure if he needed it or not, you can ask him.
"He told me something about a penalty, but I have no clue what he was talking about. I think he wanted a penalty. But I couldn't say anything about it because I didn't remember."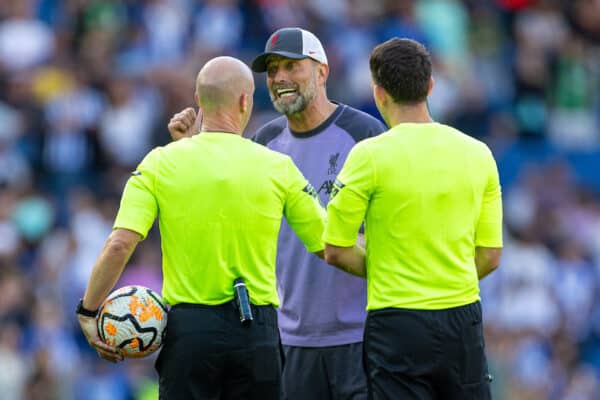 Klopp is clearly making a point of being more composed, and perhaps mature, in his words on refereeing decisions in the wake of the week just gone.
Asked about whether Gross should have been dismissed for his foul on Szoboszlai – which, according to IFAB laws, he should have – the manager insisted he was "over it."
"Your colleagues from radio [told me before]. I didn't even realise it, to be honest," he said.
"It was a penalty and I didn't think about a red [card].
"I heard now it's about goalscoring opportunity; if it's a goalscoring opportunity.
"I can ask the question here, what do you think? Was it a goalscoring opportunity? Hands up. I didn't see it back. Oh, we had a few hands up!
"What can I say about that? I'm over it, over these kinds of things. We will not change it, I heard, anymore."