Liverpool were awarded a penalty in the first half of their clash with Brighton, but rules suggest Pascal Gross should have also been sent off.
The Reds were a goal down after a sloppy start at the AMEX saw Simon Adingra's early strike, but fought back for a 2-1 lead at half-time.
Salah had already converted following a brilliant flowing move to equalise, when the Egyptian was handed a chance to put Liverpool ahead from the spot.
Referee Anthony Taylor belatedly awarded a penalty after Gross hauled down Dominik Szoboszlai with a pull of the shirt, with the Hungarian snatching onto a loose ball.
The decision was upheld by VAR and Salah despatched the penalty, but there were questions over whether Taylor should have also sent Gross off.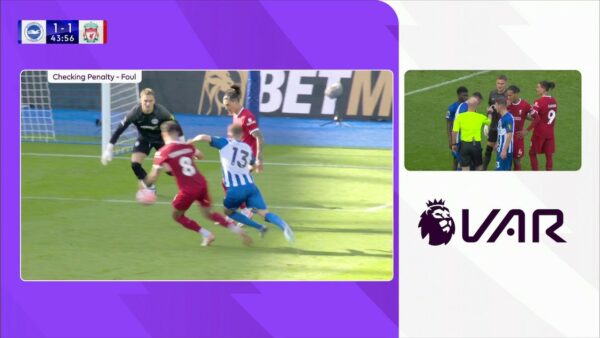 It was quickly suggested that he would avoid any sanction under 'double jeopardy' rules.
But according to laws for the 2023/24 campaign via the International Football Association Board (IFAB), the German should have received a red card.
Under laws for denying a goal or an obvious goalscoring opportunity, IFAB explain:
"Where a player commits an offence against an opponent within their own penalty area which denies an opponent an obvious goal-scoring opportunity and the referee awards a penalty kick, the offender is cautioned if the offence was an attempt to play the ball or a challenge for the ball; in all other circumstances (e.g. holding, pulling, pushing, no possibility to play the ball etc.), the offending player must be sent off.

Gross made no attempt to play the ball while he dragged Szoboszlai back via the neck of his shirt, denying the No. 8 a shot from 10 yards out.
The decision comes just over a week after the uproar regarding Liverpool's 2-1 defeat at Tottenham and the scrutiny over Premier League officials.
While Taylor's call did not impede the Reds as Salah was able to score the penalty, the fact that Gross was not even booked for his challenge is baffling.