Mohamed Salah has ensured an exclusive two-man list has now grown to three after scoring against Nottingham Forest at Anfield, his sixth home league goal already this season.
There is no stopping this man from achieving one milestone or record after another, the list at this point feels endless such is the speed he racks them up.
Sunday, against Forest, was no different as he notched his 10th goal of the campaign across all competitions.
But what made it special was that it saw him become only the third player in Liverpool history to score in each of the club's opening five home league games of a season.
He follows in the footsteps of only Harry Chambers (1922) and John Aldridge (1987).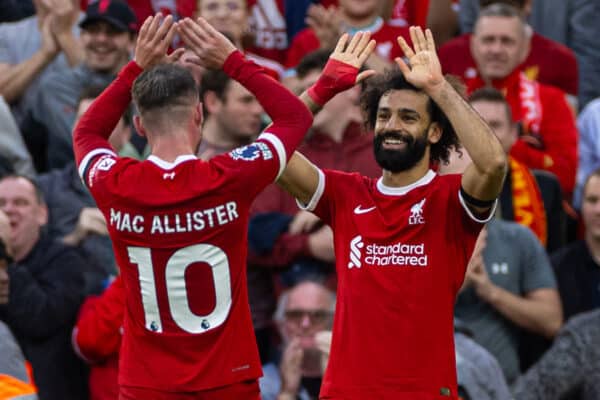 The Reds have hosted Bournemouth, Aston Villa, West Ham, Everton and Forest in their first five home league games, and Salah has scored against all of them – including a brace vs. Everton for good measure.
Considering the incredible talent the Reds have had in attack throughout their 131-year history, it makes it all the more special that only three players have achieved the feat in that time.
And Salah could be the first to score in all opening six home league games of a season when Jurgen Klopp's side host Brentford on November 12.
You certainly would put your money on it, he has started the campaign in frightening form with 10 goals and four assists in 13 outings so far.
It means he continues to close in on Billy Liddell's goal tally for the club, Salah is currently fifth in the all-time standings with 196 – that's 32 behind Liddell.