Mohamed Salah may have been short of his world-class best, but that did not stop him from hitting one milestone after another as Liverpool served up a derby defeat for a 10-man Everton.
An early kickoff straight after the international break was never likely to serve up the most free-flowing game, and it being a Merseyside derby did not help matters either.
Jurgen Klopp's side frustrated having failed to turn their obvious momentum (as shown by FotMob below) into goals, until Luis Diaz earned a penalty after 75 minutes.


Salah was not fazed by the pressure, converting with ease before making sure of the result in stoppage time for a match-winning brace.
A red card, a penalty, clean sheet and two goals were the headline moments, and there was greater significance for each than just this match in isolation.
Pick a record, any record!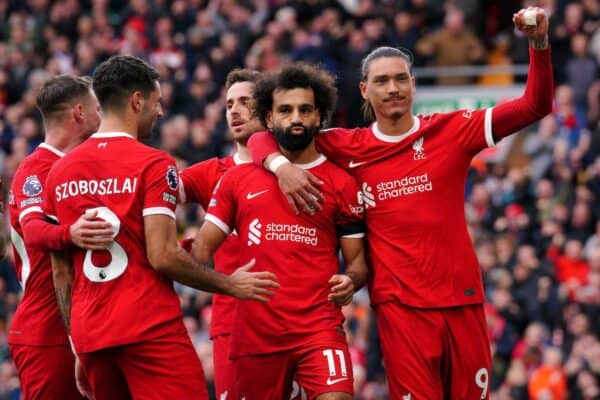 Klopp was not wrong when he said "today was not his best game" when assessing Salah's all round performance against the Blues.
He had just 42 touches (the fewest of any Reds starter) and was uncharacteristically sloppy, but players of his calibre stand up when needed, and he did just that for both goals.
It continued his incredible record at Anfield and for the calendar year, a testament to his incredible consistency:
Scored or assisted in each of his last 13 league appearances at Anfield
Leapfrogs Dalglish and Gerrard for most Anfield goals (105)
First PL player to be involved in 30+ goals in 2023 (19 goals, 12 assists)
Involved in 8 goals in 10 league appearances vs. Everton, only Gerrard has more (9)
He really is playing in his own league, even when things are not quite going his way!
First two yellows since 2015!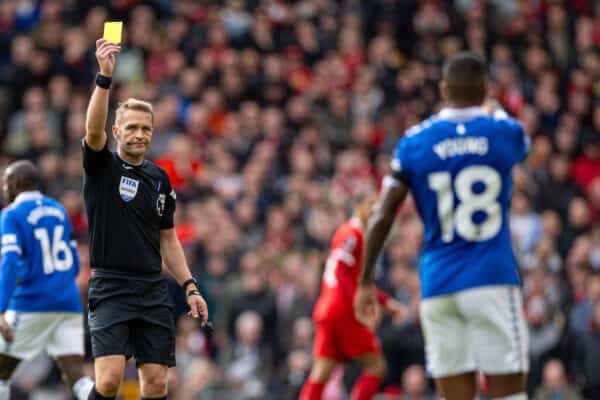 Liverpool are no strangers to red cards this season and to be on the other side of one being branded was a welcome change.
But you'll be amazed – or not, depending on your view of English referees – to discover that Ashley Young was the first opposition player to be sent off for two yellow cards in a Premier League game against Liverpool since 2015.
That's right, 2015. The last player to befall a similar fate was Sadio Mane when playing for Southampton, that really puts into perspective how long it has been!
Some may shrug this one off, but it is an incredible anomaly that it has taken eight years for a player to receive two yellows in a match against the Reds.
You wouldn't be surprised if we had to wait another eight years for the next, but surely this statistical anomaly won't be so quick to repeat itself, right?!
Alisson's day 'off'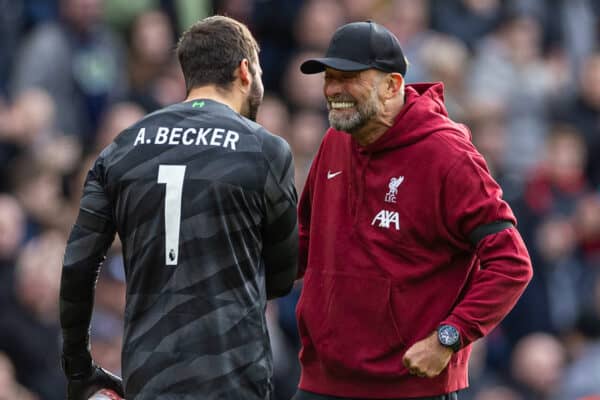 Alisson enjoyed a quiet day under the Anfield sunshine, and later rain – making just one save and completing all 34 passes with 100 percent accuracy.
It was a welcome change from hailing the Brazilian for keeping the Reds in the game, as Liverpool restricted Everton to 0.12xG while themselves managing 2.24xG.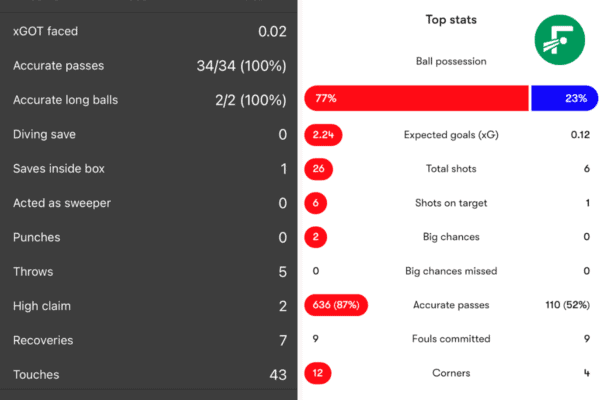 The clean sheet is Alisson's second of the league season and 12th in 2023, the latter is the most of any other league 'keeper in the same amount of time.
We're lucky to be in his safe hands, but we could get used to needing to rely on him less!
---
FotMob is an essential app for any fan to keep up with their team or follow football worldwide, it has everything you could want and you can download the FotMob App here.