After Liverpool lost to Tottenham in controversial circumstances, supporters have had time to digest what happened and discuss the good, the bad and the nonsense from the match.
There was plenty to discuss after Liverpool's 2-1 defeat at the Tottenham Hotspur Stadium.
Having had time to go over what happened, Liverpool supporters have managed to take some positives from the loss but are still aggrieved at the officiating that changed the game.
Here, Sam Millne (@sam_millne), Patrick Allen (@Pallen_21) and Tom Eves (@TomEvesJourno) discuss the performances from Liverpool and the officials as the Reds took on Tottenham.
What were your emotions after the loss?

Sam: Had we taken a point, it would have been easier to stomach, but my immediate reaction was of frustration and pride.
It was seriously annoying to have the game taken away from us, but there was a definite spirit in the team that will carry the team forward this season.
Tom: I'm very proud of the lads. Each and every one of them showed heart to hold on to the end, just unlucky to lose it at the end. Everything was against us on Saturday.
Paddy: I'm more angry at the circumstances of the defeat than the defeat itself. Stuff happens, you can get beat anywhere, but for it to happen as it did was a heartbreaker.
They put a right shift in and deserved to come away from a game, in which everything went against them, with something.
Before Jones' red card, how was the game was shaping up?

Paddy: It was looking like one of those games Sky like to market as a 'classic'. You could see both sides were brimming with confidence by the football played inside the first 20 minutes or so, but the red card ended up changing everything.
Sam: Before Curtis Jones was dismissed, the match very much looked like it was going to be a great game for the neutral – most likely with a Liverpool end.
Given that the Reds seem to get better as the minutes tick on this season, I would definitely have thought Liverpool were in the driving seat for three points.
Your takes on the key decisions…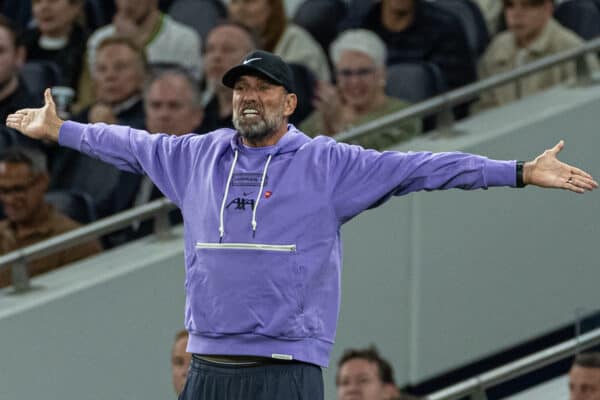 Paddy: I feel really sorry for Jones. He's come a cropper to the poor laws in place.
It's a 'modern day' red card; of course it doesn't help when Darren England prepares a freeze-frame of the point of contact.
Diogo Jota's first yellow is an absolute farce and, to be honest, but, for the second, he was incredibly naive to lunge in like he did.
As for Luis Diaz, I'm not calling it offside because it wasn't, the disallowed goal. It's ineptitude at best, corruption at worse.
I'm not one to go down that line but, until the PGMOL and Howard Webb can prove to me that it was just people being incredibly bad (to a sackable level) at their jobs, they'll never remove the idea there's something more to it. Great finish, anyway.
Sam: By the letter of the law, Jones' dismissal was probably correct. That doesn't make it easier to stomach, though, especially when the view shown to the referee is a freeze frame. That helps nobody.
As for Jota, it was silly to get booked again but he shouldn't have been in that situation in the first place given the first yellow was a mistake.
On the offside, I don't think more needs to be said. Absolute incompetence. More transparency if needed if we are to persist with video assistant refereeing.

Tom: I do not think Jones' tackle is a red at all – he gets the ball first and is unlucky for his foot to slip off the ball and catch Yves Bissouma.
As for the VAR decision for deny Diaz his goal, that is one of the worst decisions I've seen. The fact they didn't show the lines for it says it all really. After football games nowadays, we don't tend to speak about the performances of both sides anymore, we always speak about the performance of the officials. That's how you know there's a problem.
What are the positives?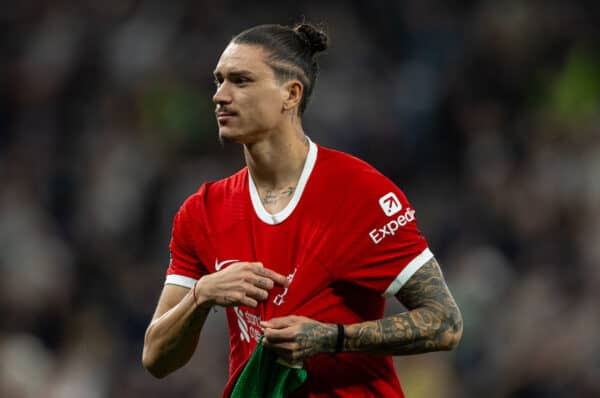 Tom: I think the positives to take are that, even when everything seemed to be against us, we fought to the very end and put in 110 per cent.
Like I said earlier, I'm so proud of the lads for the heart they showed. The togetherness I've seen after the game makes me believe we're in for a special season. We have a special group.
Sam: The spirit in the team was great to see. There was a period when a Newcastle-like result was on the cards but, ultimately, Jota's second yellow killed off any chances of a victory.
I think the only player who perhaps let themselves down was Jota, and that situation shouldn't have come about in the first place. The signs are all good for Liverpool who, if they were playing with 11, could have won that comfortably.
How many changes would you make on Thursday?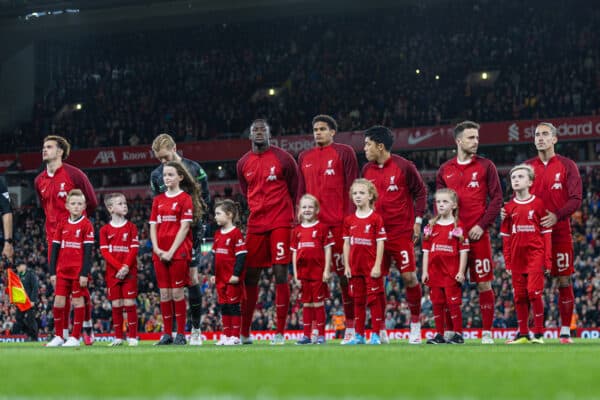 Paddy: A fair few. I think it'll be more or less the side that played against Leicester and LASK, obviously without Cody Gakpo because it looks like his knee problem might be a bad one.
It's always nice to see Ben Doak, Jarell Quansah and Caoimhin Kelleher get their time in the spotlight and, no disrespect to Union SG, but we should have enough without needing the big guns.
Tom: I'd like to see Ryan Gravenberch start in midfield given how impressive he's been since joining, and maybe Darwin Nunez as he didn't get any minutes vs. Tottenham.
I would also like to see Stefan Bajcetic get his second start of the season.
Sam: Well, Jones might as well play seeing as he is suspended domestically until the League Cup tie at Bournemouth, on November 1. Jota should start, too, as he will miss the trip to Brighton next weekend.
I would like to see Wataru Endo continue to get game time as, against Leicester, he showed his quality in the second half.