For lovers of the statistical side of football, Darwin Nunez's explosion this season will have come as absolutely no surprise.
In that particular sphere, there is no prediction that more frequently delivers than the claim that a striker who is missing chances will soon become prolific.
And that is exactly what we are finally seeing from Nunez, who has put a mixed first season on Merseyside behind him to show why the Reds were so desperate to recruit him two summers ago.
Even as the Uruguayan put up a respectable 15 goals across his 42 appearances last term, his ability to find new and more bizarre ways to waste opportunities made it hard to believe he might become truly elite.
Most concerning of all was a return of one goal from 11 outings during the run-in, when Liverpool had begun to find their feet and he should, in theory, have been fully settled in.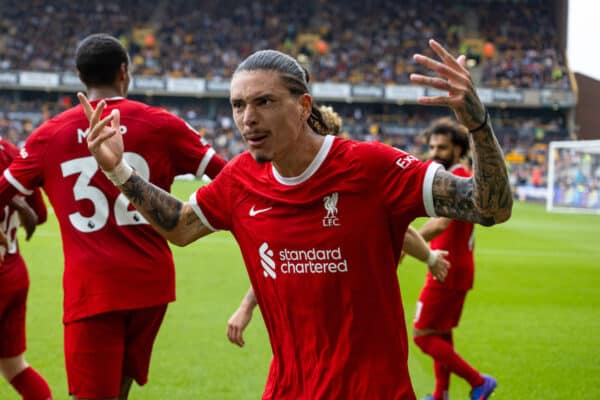 But, even with that barren run of form included, the underlying numbers continued to suggest more was to come.
Nunez ended the 2022/23 season with an unrivalled 4.46 shots per 90 in the Premier League, way ahead of second and third-placed Aleksandar Mitrovic (3.81) and Erling Haaland (3.77), who scored 14 and 36 goals respectively.
These weren't just pot shots, either, as proven by the fact the striker generated the third-best non-penalty xG tally in the division (0.64), narrowly behind Haaland (0.75) and Callum Wilson (0.72).
The difference now is that a more confident Nunez is turning these baseline figures into something more tangible, as evidenced by a sensational winner at Bournemouth that made it five goals in his last six games for club and country.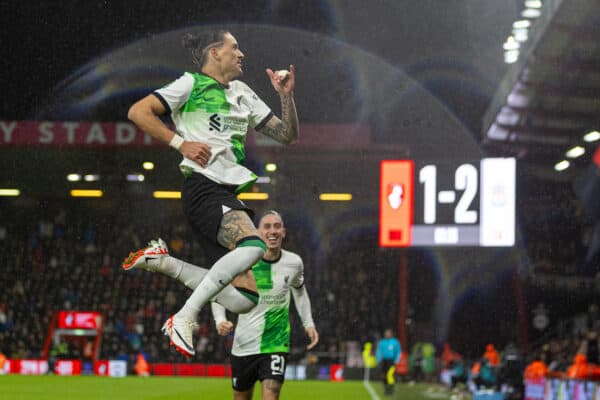 The 24-year-old is up to seven goals in all competitions for Liverpool so far this term and, rather pleasingly, has also added five assists to make it 12 goal contributions across 14 outings.
Those numbers are made all the more impressive by the fact he has been restricted to just seven starts, after beginning the campaign on the bench and then being occasionally returned there by 12.30pm kickoffs after the international break.
And the potential for further improvement is underlined by an almost ludicrous rate of 1.5 non-penalty xG + assists per 90 minutes in Premier League – way, way ahead of Haaland (1.11) and Wilson (1.06) in second and third.
Going forward, Nunez should get more chances to deliver on those promising numbers given he has also upgraded an area of his game that his manager recently described as the "ticket into the team": defending.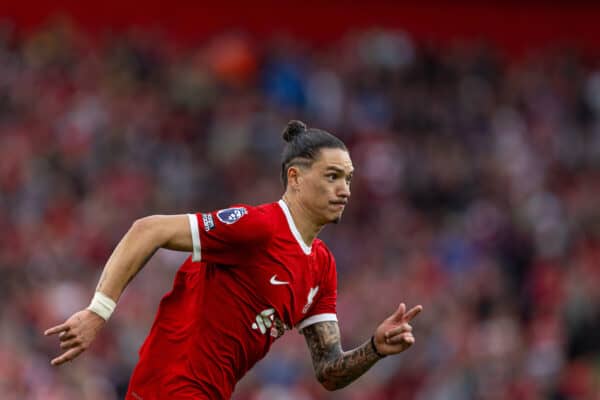 The striker's tackles won per 90 has leapt from 0.27 to 0.85 this season, while his attempted challenges has gone from 0.90 to 1.28, putting him on track for the best figures of his career by some distance in both regards.
This all adds up to Liverpool now possessing a striker who not only scores and assists at a world-class rate but also presses exactly like a Jurgen Klopp forward should.
And that sounds a lot like the complete centre-forward Kopites hoped they were getting before seeds of doubt were sown by a debut campaign that now looks set to be an insignificant footnote in a successful Anfield career.