Luis Diaz will be joined on Merseyside by his parents following the international break, with the family only recently reunited after the kidnapping in Colombia.
Liverpool's No. 7 was back in the arms of his father, Luis Manuel Diaz, on Monday as he returned to Colombia for international duty more than two weeks on from when his parents were first kidnapped.
It was an emotional occasion as the Diaz family reunited following Diaz Sr.'s release, with Luis having stayed on Merseyside throughout the ordeal.
But they will soon all be in Liverpool together, with the Athletic reporting that his parents "will travel to Merseyside after the international break," in time for the festive season and a hectic run of fixtures.
? ¡?? ????? ????? ????? ????? ?? ????????! ?

Con @LuisFDiaz19 y el recibimiento de su familia, sumamos una llegada más a nuestra concentración ?#TodosSomosColombia?? pic.twitter.com/2vwQD6dLxj

— Selección Colombia (@FCFSeleccionCol) November 14, 2023
In the days since his release, more details have emerged over the ordeal that saw ELN (Colombian National Liberation Army), the guerrilla group, hold Diaz Sr. for nearly two weeks.
Josher Jesus Brito Diaz, Luis' cousin, told the Athletic that the group that first took Diaz's parents were not ELN, but "common criminals" who handed him over after three days.
Reports from Colombia suggested the ELN planned the kidnapping at least five months in advance, but the Diaz family is of the belief the "ELN intercepted him."
No ransom demands were ever made by the guerrilla group, but the release process dragged on as the group sought security guarantees amid a mass search operation on land and in the air.
The rescue took place in a remote mountain location almost two weeks on from when Diaz Sr. was first taken, and after his release he revealed he went "almost 12 days without sleep."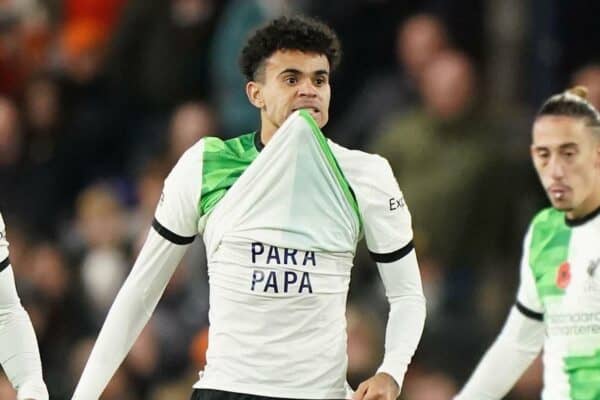 He added: "Even though the treatment was good, I didn't feel very comfortable. A lot of quite difficult horseback riding, lots of mountains, rain."
And he has insisted that he does not intend to leave Colombia despite the ordeal as "I have my entire family in my town."
Before reuniting in person, father and son did get to briefly speak prior to the Reds' Europa League match against Toulouse.
"I had the opportunity to greet him before he played a football match with his club," Diaz Sr. explained.
"I was happy because I was already with my family, with my wife, with my son, with Luis' mother-in-law, with Alejandro and with some people who accompanied us.
"[Luis told me] to keep going because things don't end here and to have a lot of strength to recover from everything that has happened."