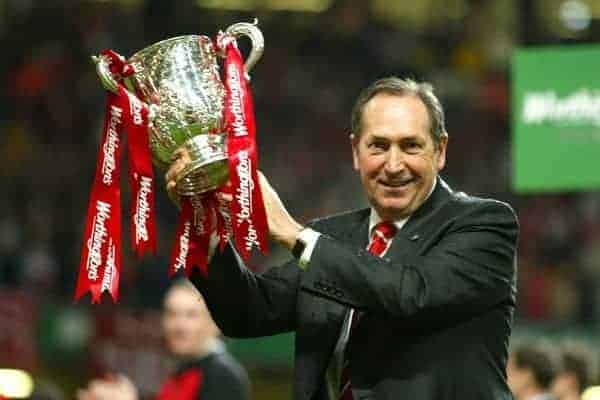 Manager from:1998 – 2004
Honours:
League Cup 2003
League Cup 2001
FA Cup 2001
UEFA Cup 2001
European Super Cup 2001
Charity Shield 2001
One of the Frenchman's first tasks was to bring ex-skipper Phil Thompson back to the club as his assistant. It was a popular appointment because everyone knew what the club meant to Phil. The Gerard Houllier reign started for real with a home defeat by Leeds United, the club's 3rd loss at Anfield in a week. Other disappointments were to follow as the new management team introduced their own ideas to try to turn round what had so far been a disappointing season. There was an early exit from Europe where Celta Vigo beat Liverpool home and away but at the time there were still restrictions on the number of foreign players that could participate and this affected the team that could be named for those matches. Steven Gerrard was introduced into the first-team as a late substitute in the home fixture with Blackburn at the end of November but results were inconsistent and a finishing place of 7th was not enough to guarantee European football for the next season. The most heartbreaking result came at Old Trafford in the F.A. cup 4th round when Liverpool held on to Michael Owen's early goal until the match was virtually over, only to concede two goals in injury-time. Defeat to United was bad enough on its own; the fact that United went on to win that cup and the Treble just made it harder to bear.
The winds of change swept through Anfield in the summer. Sami Hyypia & Stephane Hechoz had arrived to bolster an at times fragile defence; and with immediate effect because 19 fewer goals were conceded in the league programme than during the previous season. Other arrivals included Titi Camara as a forward and Vladimir Smicer in midfield. But four league defeats before the end of September did not suggest that the club was suddenly about to challenge for the major prizes again. However, a decent second half to the season which included a run of only 1 defeat in 18 league matches saw the team climb the table until they were in with a realistic chance of claiming a place in the lucrative Champions' League. But it all fell apart in the final weeks of the season. There were no wins in the final 5 fixtures and not even a goal to cheer. Defeat on the final day at Bradford City meant that the Yorkshiremen secured their place in the top division and at the same time consigned Liverpool to the UEFA cup.
Several more signings of variable quality arrived. The experience of Babbel and McAllister was welcome and the latter became a real talisman for the side, especially in the closing weeks of what was to be a truly remarkable season. The same could not be said of Barmby, Ziege & Litmanen, whose Liverpool careers would only be brief. The team was proving difficult to beat and although 9 league defeats was the same as the previous season, three of those (all away) came during a depressing spell in November. The final league position was improved by one place to 3rd and although faced with having to win their final match again to qualify for the Champions' League, this was achieved with some comfort at the Valley, where it should be noted that Charlton's supporters gave the Liverpool team very genuine applause considering they had been on the wrong end of a 4-0 scoreline.
It was in the cup competitions that Liverpool took their place in the history books with an unprecedented triple success. It took penalties to beat a stubborn Birmingham City side in the League cup and the team certainly enjoyed some huge slices of luck in the F.A. cup final with Arsenal, being outplayed for most of the match before Michael Owen's two late strikes at last saw some sort of revenge for three previous final defeats by the Gunners. But perhaps the UEFA cup adventure was the most praiseworthy. The club certainly had some favourable draws in the two domestic knock-out competitions but the same could not be said of the final stages of the European equivalent, where Roma, Porto & Barcelona had to be faced in consecutive rounds. Winning in Rome's Olympic Stadium was a massive achievement, even if the second leg ended in controversy after the Spanish referee appeared to give the Italians a chance of equalising the aggregate score only to change his mind and give a corner-kick after seeming to originally point to the spot following a handball in the area by Babbel. Gary McAllister's confident penalty was the only goal of the semi-final with Barcelona and he repeated that feat in Dortmund in a crazy match that finally saw Liverpool prevail over Alaves with a '˜golden goal' own-goal in the closing minutes of extra-time.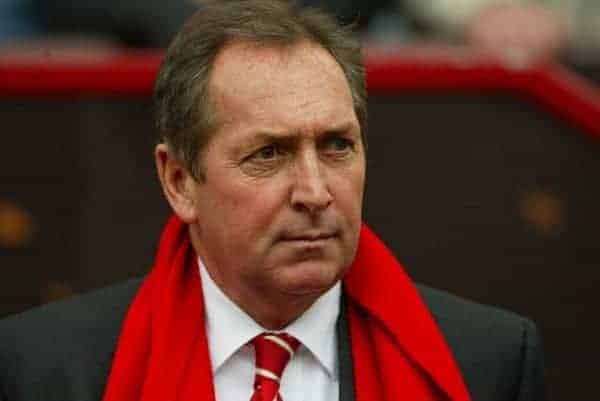 There were now real hopes of mounting a serious challenge for the championship in 2001-2002. Once again Liverpool improved their final league position by one place. 80 points might have won the title in other seasons but it wasn't enough to beat a very good Arsenal team. The manager proved that he wasn't afraid to make difficult and controversial decisions. Sander Westerveld's late error at Bolton meant that he was ruthlessly axed with Dudek and Kirkland immediately arriving to replace him. Houllier had already moved Ince on and it became clear the manager was not a man to mess with. But his own situation changed dramatically during the home match with Leeds in October. He failed to come out for the 2nd half and it was later announced that he had been rushed into hospital for immediate and life-saving heart surgery. It was a big shock to the whole club but Phil Thompson stepped in to deputise and did an admirable job until Gerard Houllier returned to take his place on the bench before an emotional match with Roma in the middle of March. The team got safely through the two group stages of the Champions' League and had real hopes of further progress when they were paired with the Germans of Leverkusen. But a narrow home victory was not enough. Houllier controversially substituted Hamann for Smicer after an hour and the tie was eventually lost 3-4 on aggregate.
Optimism was higher than ever during the summer of 2002 and with good reason. The team made a blistering start to the league programme with 9 wins and 3 draws from the opening dozen matches. But the next match at Middlesbrough would prove to a real watershed in Liverpool's season and probably looking back on Houllier's management too. The manager was criticised for having too cautious an approach in a match that a confident team should have been capable of winning. It resulted in a 1-0 defeat. Liverpool would not taste victory again in a league match until the 2nd half of January, a terrible run that hadn't been seen since the relegation season of 1953-54.
As the performances and results worsened, so did the criticism. A fortune had been spent in the summer on Diouf, Cheyrou & Diao. None of them proved to be worth a fraction of what the club had paid for them. Apart from that, Gerard Houllier seemed to have a never-ending supply of excuses to explain the latest miserable performance. Anything and everything it seemed was to blame more than his team selection, the players and the tactics they had been asked to employ. The team had failed to negotiate the opening group stage of the Champions' League and Liverpool were knocked out of the UEFA cup by Celtic despite managing a decent 1-1 draw in the away leg in Glasgow. What probably saved the manager was another success in the League cup, this time against bitter rivals Manchester United. It is always nice to win a cup, of course it is. But everyone knew that it wasn't the sort of success the club really craved.
Harry Kewell arrived from Leeds and the two French starlets le Tallec & Pongolle were also paraded pre-season. But there were many comparisons with 2002-2003 when it came to form and (lack of) entertainment. One difference however was that there was no Champions' League football to look forward to and no consolation cup victory either. The manager's excuses became more and more difficult to listen to. It seemed clear that he was living on borrowed time. But it was also clear he had no intention of resigning. Playing in the Champions' League was financially important for the club but many supporters found it difficult to associate a '˜target' of finishing 4th as success. It was for Gerard Houllier though. He reached his target, perhaps as much due to Newcastle's faltering end to the season as his own team's ability, but it wasn't enough to pacify the Liverpool board and during the following week a press conference was called to announce that Gerard Houllier would be leaving the club with one year of his contract still to run.
Who knows how much his life-threatening illness took out of Gerard Houllier ? In one respect he really was living on borrowed time since then. But he was never the same man after he returned. Certainly some of his expensive signings failed to deliver the goods but he also changed a lot of the negative culture that can be around a football club when it comes to diet and lifestyle. Houllier was also criticised for his failure to blood more youngsters in the team and there does seem to have been some friction between himself and Steve Heighway at the Academy. Four trophies in five seasons gave the supporters some unforgettable memories. But in the end there were too many other memories that were not as good and too much money wasted on players that just weren't up to the job. Gerard Houllier had a dream for Liverpool Football club, a dream that he wasn't allowed to fulfil. Right to the end, he still believed he was the man to take Liverpool that one step further. But long before the end, most of us realised that he wasn't. He was too proud to admit his mistakes and he had to be pushed out of the door instead of opening it himself and walking away with some pride and dignity intact. Nobody could say that he had been an unqualified success; but nobody could say that he had been an outright failure either.
Profile by Chris Wood, January 2005